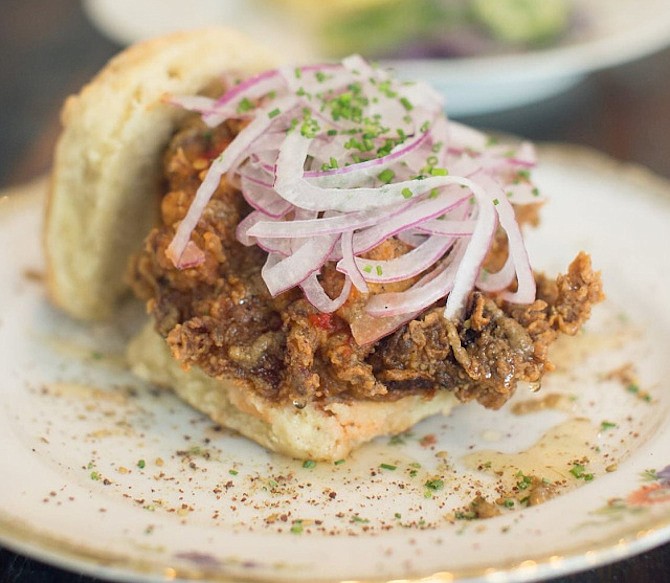 The old adage is common wisdom: Breakfast is the most important meal of the day. And these days, starting your day off on the right foot is more important than ever. Why not pick up a bite to eat that accommodates such a morale boost? With online or telephone ordering and curbside pickup, here are four spots to get your day going – and fast.
Stomping Ground, 2309 Mount Vernon Ave. https://www.stompdelray.com/
The café with a Southern flair offers what is arguably the best biscuits in the city, and thankfully those biscuits are on offer daily for pickup until 3 p.m. Enjoy them plain or as two sides of a sandwich – Stomping Ground has two fried chicken varieties, both "Classic" and not so much. Or go further afield than biscuits and order up some breakfast nachos with all the fixings or a gouda grits bowl (and given that grits are noticeably absent from grocery stores around the city at the moment, this is one good way to enjoy them!). Bring home some coffee or banana bread to go alongside and you'll be full until lunchtime.
Bagel Uprising, 2307-A Mount Vernon Ave. http://bageluprising.com/
Any breakfast lover would be remiss not to stick their heads around the corner from Stomping Ground to take advantage of Bagel Uprising's location as well. Six days a week – the shop is currently closed on Tuesdays – you'll find a plethora of bagels on offer for ordering online (no on-site orders are allowed at the moment). From poppyseed to everything to sesame to salt – and, yes, even to cinnamon, though it's acknowledged this offering is heresy – Bagel Uprising has you covered by the baker's dozen. Add a tub of cream cheese to your order and delight your housemates with fresh-baked breakfast.
Fontaine, 119 S. Royal St. https://fontainebistro.com/
Old Town's local creperie is proceeding forth in this new world order, dishing up crepes and all manner of accoutrements seven days a week. From sweet crepes like the Grand Chocolate or the Just Peachy to savory options like the Norwegian (with salmon) or the Farmer's Market, the menu depth is strong. Feeling like something non-crepe? Quiche, vanilla French toast or overnight oats are at your service.
Taqueria Poblano, 2400 Mount Vernon Ave. www.taqueriapoblano.com/
First they offered up margaritas; now Taqueria Poblano is serving mimosas. Despite social distancing measures, Sunday brunch continues at the Baja California restaurant. Instead of sitting down to a leisurely meal, bring it home to enjoy instead with chips, salsa and all the rest. Huevos rancheros, huevos motulenos, breakfast tacos, breakfast burritos: All your favorites are in attendance! Be sure to pick up a batch of those aforementioned mimosas or margaritas, too.
Hope Nelson is the author of "Classic Restaurants of Alexandria" and owns the Kitchen Recessionista blog, located at www.kitchenrecessionista.com. Email her any time at hope@kitchenrecessionista.com.