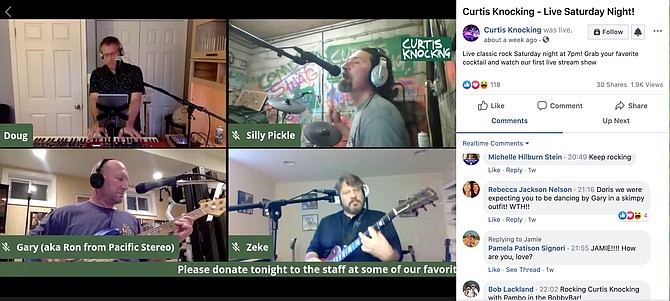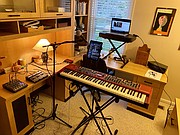 Since social distancing started, concerts have been canceled or postponed, but that didn't stop Curtis Knocking, a Northern Virginia based classic rock band, from entertaining their fans. On Saturday, May 2, the band went live on their Facebook page to play music for more than 90 people and the video later went on to garner more than 1,800 views.
For those who aren't familiar with Curtis Knocking, keyboard player Doug Sharpe explains the roles of each member.
"The band is made up of four 50-something Virginia Tech grads: Doug Sharpe on the keyboard, Zeke Gladstone on guitar, Gary Stein on bass, and Dave Signori on drums & vocals."
The sudden disruption of social life in March prompted Curtis Knocking to cancel their original plans following the social-distancing policies. Sharpe shared some of the band's traditions, stretching back years.
"The band plays shows about once a month, mostly at local restaurants in Falls Church and Arlington, such as Dogwood Tavern, Clare & Don's, Cowboy Cafe, Westover Beer Garden, and Ragtime. For many years, we have looked forward to practice & beers at our drummer's house every Thursday night. However, due to the pandemic, we canceled all in-person shows and practices starting the second week of March."
PLAYING VIRTUALLY wasn't initially a success; the band faced problems with the sound syncing. Sharpe mentioned that they used Zoom before switching software.
"Connecting with each other and our fans through music is a big part of our lives. So at the end of March, we started virtual practice over the internet. Initially, we tried a Zoom meeting. However, there was way too much delay. We all sounded a beat behind each other."
With problem-solving and IT knowledge, Curtis Knocking arrived at the solution of a server with Jamulus software. This allowed them to produce better audio quality and move forward with the live performance.
"The key part of our solution was setting up a hosted server with Jamulus software. Jamulus is what mixes all four live performances together on a server and then plays the result back in our headphones. Once we worked out the kinks, we were surprised at how crisp the sound was – and how well we could play in sync with each other. So we decided it was time to perform a livestream show for our fans."
Wendy Jensen, of Falls Church, a viewer of the virtual performance, describes her history with Curtis Knocking. She commends the band for keeping followers up-to-date on their events.
"I'm good friends with the members of the band and have been attending shows for years. They were the main attraction for my 50th birthday and were a huge hit! Curtis Knocking does an excellent job of emailing newsletters to inform friends/family/followers of upcoming appearances."
Two other fans, Bela and Hari Sastry of Vienna, are neighbors of Sharpe and share the impact the performance has made on their life during social distancing. They highlight that Curtis Knocking used the opportunity to raise money for their usual venue.
"The impact was reminding us that we are all part of a community; one that is sticking together but facing real challenges. The band did a nice tribute to Adam Schlesinger of Fountains of Wayne, who recently passed away from COVID, by playing one of his songs (Stacy's Mom), and also made the event a fundraiser to help support staff at local venues including Dogwood Tavern where we have seen the band play."
Although the virtual performance couldn't fully replicate the experience of an in-person concert, it brought new aspects to the experience. Jensen added that socializing with her friends was something she missed.
"I missed the live experience of spending time with the band & friends (especially being able to get out on the dance floor & boogie down)! But enjoying the show from your own home was also fun and a great in-home treat since we aren't allowed to venture out to a bar!"
THE SASTRYS enjoyed the comment feature of Facebook Live and felt that it gave the feeling of community.
"Having the concert streamed live on FaceBook was awesome because all of Curtis Knocking's fans were posting comments throughout, so even though we weren't in a room with a bunch of other people, we still felt like we were part of an audience that was rocking out to the band! And our kids were able to watch too which was a nice bonus!"
Through the support shown on the Facebook page, Sharpe noted that Curtis Knocking will make the 30-minute installment routine moving forward.
"Based on our initial success, we plan to make our Facebook Live "happy half-hours" a regular thing. The next one is scheduled for Saturday, May 16 at 7 p.m. EDT. Fans can request songs in advance at http://jukebox.curtisknocking.com."