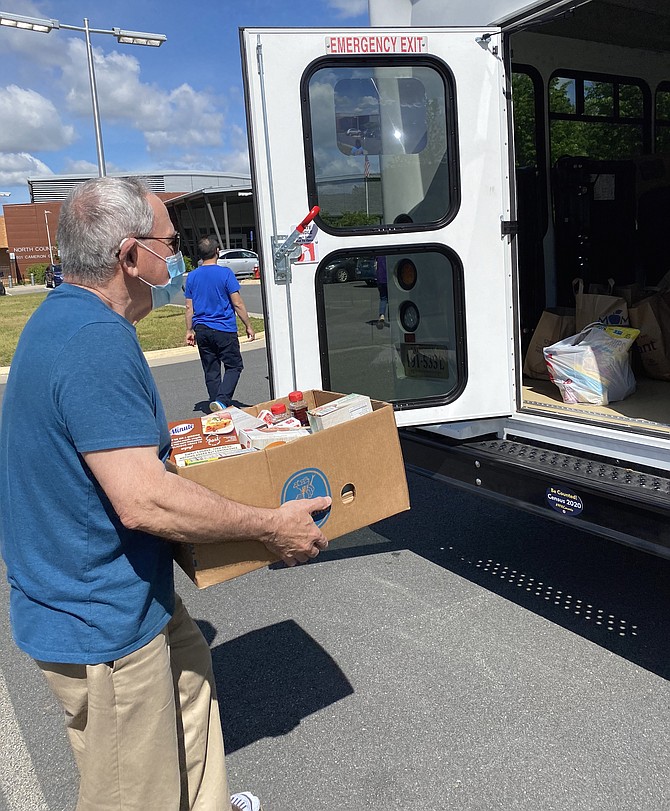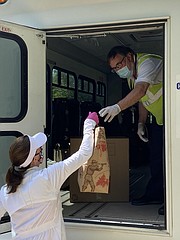 For nine years, the Stuff the Bus food drive served to fill the quickly emptying food pantry shelves of local Fairfax County nonprofits. On Saturday, May 16, from 10 a.m. to 3 p.m., Fairfax County Government and the community came together once again to support the biannual campaign. Unlike past years, Fastran buses did not park in grocery store lots. Instead, they pulled into less-frequented lots, those for the offices of County Supervisors, such as the one at North Government Center in Reston, the Fairfax County Government Center in Fairfax, and even the County's Great Falls Library lot on Georgetown Pike. Organizers changed the locations to allow donor compliance with social distancing recommendations during the COVID-19 emergency.
At the office lot for Supervisor Walter Alcorn (D-Hunter Mill) in Reston, the clock clicked toward 10:30 with no sign of the bus but not one car packed with groceries left. Jay and Carol Hadlock of Herndon were among the many donors who patiently waited. "Where's the bus?" Carol asked. "I filled up our trunk," she said. The Hadlocks understood that this year, 2020, was forever marked by the COVID-19 pandemic.
Food for cash-strapped families was critical. Owners of small and large businesses across the County shuttered their doors and let staff go. Unemployment rates escalated. Demand for the County's Microloan program for small businesses maxed out and closed within three days. Even before COVID-19, Fairfax County, one of the richest in the nation, had announced 8 percent of its public school students reported going hungry, and 30 percent of its students received free or reduced price lunches. These students no longer attended a physical school during the shutdown. They remained housebound because of the emergency stay at home orders.
Tony and Karen Smith of Reston walked over with bags of groceries. New to Reston, they learned of the county need in their condominium's morning newsletter. "We live in the Carlton House, and they sent out the announcement this morning," said Tony holding up multiple bags of groceries willing to share.
At a second Stuff the Bus location in Great Falls, Fastran driver Robert Barbieri said management had asked who would like to drive the bus for the effort and he had put his hand up. Off to slow start with nothing but an empty bus to show at 11 a.m., a car pulled up, loaded with bags of groceries. "It's a group effort of a couple of Great Falls families," said the woman who asked not to be identified. Barbieri helped load the bags into his bus. Four more hours to go and then he or another driver would be back Tuesday, May 19, for the second drive. Donations would benefit ten nonprofits serving those in need in Fairfax County.
How to Donate
The need for food is surging in Fairfax County. For individuals or families who can but were unable to donate food in person Saturday, May 16, or Tuesday, May 19, but who want to contribute to Stuff the Bus, Volunteer Fairfax created a Donation Page, https://www.volunteerfairfax.org/signature-events/ for online contributions.