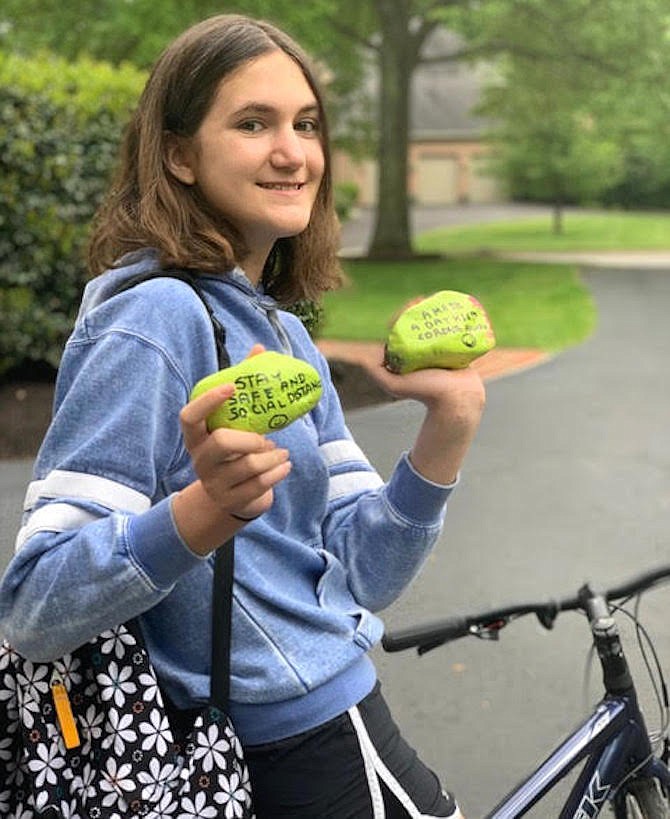 Brooke Dawn, 15, a Great Falls resident, student at The Madeira School, and Kawasaki Disease survivor, loves to ride her bike and take walks to keep her heart healthy. When she does, she loves to read the different uplifting messages written on brightly colored stones left by others. Great Falls and Reston are two communities where residents walk and bike trails frequently. As Covid-19 took hold of Northern Virginia, her daily exercise became more important to her than ever. When it was revealed that some kids and teens might be impacted by a Kawasaki Disease-like illness called Multisystem Inflammatory Syndrome, Brooke, a long-time Kawasaki Disease ambassador and fundraiser, brainstormed ways she could help. She still remembers her recovery from Kawasaki Disease and wants no one to suffer those or similar symptoms. She was exploring quite a few ways to help through the Kawasaki Disease Foundation this summer, and thought a great way to start in her community now was to spread the word and remind others to use the tools we all have to help stop the spread of Covid-19. She thought brightly colored safety reminders on rocks along the trails might remind neighbors to social distance, wear masks, and wash hands not only for their safety, but for the safety of others. Two of her favorite slogans to encourage mask usage are: "a mask today keeps Corona away" and "masks rock".
"I want these kids to have the same chance to feel better and have hope."
— Brooke Dawn
Each morning, she collects rocks, washes them, and once her school work is done, she spray paints them and writes a message. She delivers the rocks to various trails that are open in Great Falls and Reston, and loads up new ones in her backpack to start all over again. Once some of the parks are open, she will leave stones there and plans to have 500 done by early July. It is a small act, but one that she hopes will remind her community that their safe behavior can keep others safe and healthy. Additionally, she is figuring out a way to reach sufferers of the new syndrome in hospitals and connect them to the Kawasaki Disease community. "Maybe they can form friendships. The KD community is very loving and supportive, and I want everyone to have access to it. Also, friends always helped me feel better when I was struggling with health issues. I want these kids to have the same chance to feel better and have hope," says Brooke.