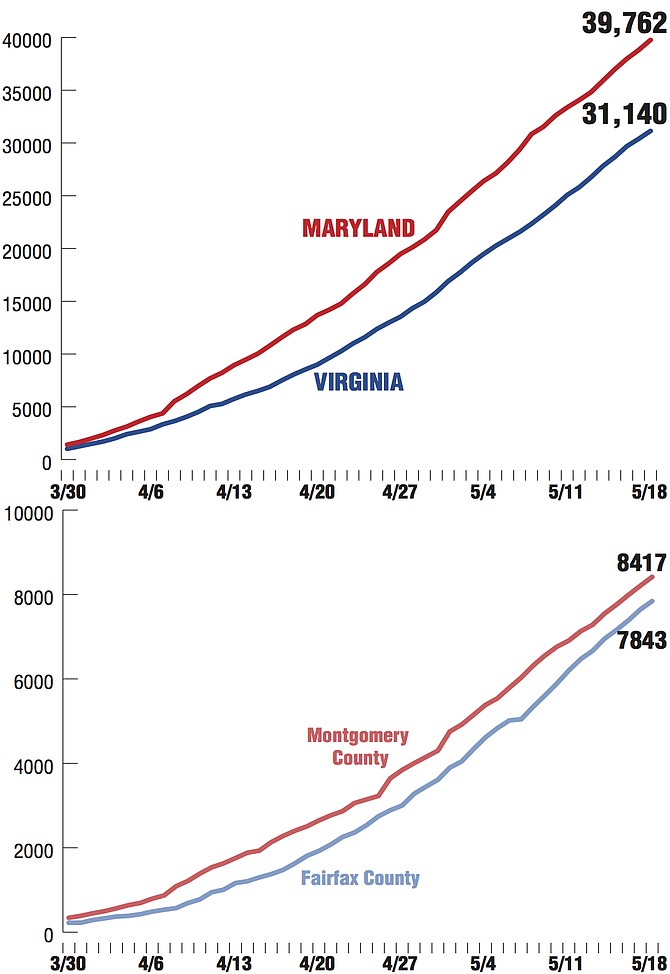 Monday, May 18
Potomac Cases: 216
Montgomery County Cases: 8,417
Maryland Cases: 39,762
United States Cases: 1,480,349
Montgomery County Deaths: 442
Maryland Deaths: 1,903
United States Deaths: 89,407
Monday, May 11
Potomac Cases: 201
Montgomery County Cases: 6,909
Maryland Cases: 33,373
United States Cases: 1,300,696
Montgomery County Deaths: 353
Maryland Deaths: 1,573
United States Deaths: 78,771
Montgomery County Executive Marc Elrich continued the County's Stay at Home order until COVID-19 data shows it is safe to move towards reopening. Montgomery County Council unanimously approved Elrich's decision.
"This is what we need to protect the health of our residents. We all understand that we cannot risk undoing the progress we have made to slow the spread," said Elrich. "The Governor gave local jurisdictions authority to act in the best interest of our area. That is what we are doing, just as Prince George's County and other neighboring jurisdictions are as well."
The order, which is now in effect, keeps in place the current restrictions and permitted activities that were in place during the State's stay at home order. Gov. Larry Hogan moved the rest of the state to Phase One of 'Maryland Strong: Roadmap to Recovery' on May 15
"I appreciate the Governor providing local jurisdictions the latitude to address reopening based on local needs. While we have made progress, the data is not signaling that we are out of the woods yet, so no local restrictions are being lifted," said County Executive Marc Elrich. "Montgomery County has the second highest number of positive COVID-19 cases in the state, behind Prince George's County. Unlike Western Maryland and the Eastern Shore, we are a densely populated area and disease spreads more easily."
The order will stay in effect until five key metrics, detailed below, are met, according to Elrich and County Health Officer Dr. Travis Gayles: a sustained decrease during a 14-day period of new cases in an environment of increased testing; a sustained decrease in the COVID-19 related hospitalization rate; a sustained decrease in the percentage of COVID-19 related ICU beds in use; a sustained decrease in the number of COVID-19 related daily deaths; and a sustained decrease in the number of COVID-19 related patients going to County emergency rooms.
Residents should continue to be vigilant in practicing preventive measures such as: only going out for essential travel and permitted exercise; practicing physical distancing of at least six feet; refraining from congregating in groups of more than 10 people; wearing a face covering when going out in public; washing hands frequently.
Testing capacity is also key to having data to support reopening, according to Gayles. "So far, three percent of residents have been tested but the County's goal is to test five percent. A sustained decrease in the number of cases while increased testing is occurring, is one of the benchmarks we are looking for before we think about easing restrictions and reopening," he said. "We continue to expand testing and we are scaling up an aggressive effort to screen and test essential employees."
REST OF THE STATE: Gov. Hogan announced that retail stores may reopen at up to 50 percent capacity, with curbside pickup and delivery strongly encouraged, and all public health precautions in place. Establishments that may reopen (but not in Montgomery County) include: animal adoption shelters, art galleries, bookstores, car washes, clothing and shoe stores, florists, furniture stores, jewelers, lawn and garden stores, pawn shops, pet groomers, sporting goods stores, tobacco and vape shops.
PERSONAL SERVICES. Some personal services, including barber shops and hair salons, may reopen with up to 50 percent capacity, by appointment only and with appropriate health and safety guidelines.
CHURCHES AND HOUSES OF WORSHIP. Churches and houses of worship may begin to hold religious services, at up to 50 percent capacity, with outdoor services strongly encouraged. Religious leaders are strongly urged to do everything possible to keep their congregants safe, and particularly to protect the elderly and vulnerable within their congregations.
Marylanders, particularly older and more vulnerable Marylanders, are strongly advised to continue staying home as much as possible. Employers should continue to encourage telework for their employees when possible. Individuals who can work from home should continue to do so. Maryland citizens should continue wearing masks in indoor public areas, retail stores, and on public transportation. Additionally, Marylanders should continue practicing physical distancing, continue avoiding gatherings of more than 10 people, keep washing their hands often, and frequently sanitize high-touch areas.
PEOPLE WITH DISABILITIES: By May 22, hospitals will adopt visitation policies that support individuals with disabilities and their families and also comply with applicable U.S. Centers for Disease Control and Prevention (CDC) guidance.
Policies include the authorization of support persons to accompany to, visit and stay in the hospital with individuals with disabilities; the designation of support persons who may visit individuals with disabilities during their hospital stay; the defining of support persons as those who are legally authorized to make decisions for that individual, family members, personal care assistants or disability service providers; and the establishment of a process for individuals with disabilities to propose other reasonable accommodations that also comply with the hospital's infection control policy. Hospitals shall also adopt policies regarding communications with families and caregivers of patients with disabilities who do not have a support person at the bedside.
All support persons shall be subject to screening for COVID-19 symptoms upon arrival at the hospital and periodically during their stay. Persons with COVID-19 symptoms shall not be permitted to serve as a support person and must immediately leave the hospital. In addition, all support persons shall be required to don appropriate PPE and comply with hospital policies regarding use and conservation of that PPE.
SWIM SEASON: Swim season will not open Memorial Day weekend for the traditional start of summer, due to COVID-19 restrictions. Restrictions apply to pools operated by Montgomery County Recreation, as well as apartment and condominium complex pools, and private swim clubs. The Department of Health and Human Services' Licensure & Regulatory Services program recommends that pool operators: continue with all pre-opening maintenance and repairs until further guidance and information is released by the Maryland Department of Health. Indoor pools will remain closed. When pools reopen, patrons can expect to see new procedures in place to ensure the safety of everyone.
FOOD ASSISTANCE: More than $1.2 million was awarded to 38 food assistance grants to community groups providing food assistance to vulnerable residents and families in the county. Nonprofit organizations were eligible for up to $75,000. A portion of the funds will help in partnerships with ethnic grocery stores to increase the availability of culturally appropriate food assistance, as well as to deliver hot meals to residents and purchasing food from local kosher markets to distribute to seniors. The COVID-19 Emergency Food Access Grant is a partnership between the Montgomery County Department of Health and Human Services, the Montgomery County Food Council and the Healthcare Initiative Foundation. The County's Food Security Task Force, recently formed by the Office of Emergency Management and Homeland Security, reviewed and determined all grant awards. https://hifmc.org/for-grantseekers/covid-19-food-access-grant/
TELEWORK ASSISTANCE: More than $1.25 million will provide $2,500 grants to businesses and non-profit organizations that implemented a teleworking program and purchased teleworking equipment and software since the beginning of the health crisis in March. The Council recently approved a special appropriation of $250,000, also initiated by Councilmember Andrew Friedson, to begin providing emergency funds for telework assistance. The Montgomery County Telework Assistance Program is currently open to applicants. The Telework Assistance Program grant application can be found at MCEDC's website. Residents with inquiries can email teleworkgrant@thinkmoco.com.
BUILDING USE POSTPONED: Community use of County Government buildings is suspended until further notice, including Public Libraries Meeting Rooms, Regional Services Center Meeting Rooms, Executive Office Building Meeting Rooms, Council Office Building Meeting Rooms, Police Station Community Meeting Rooms, Clarksburg Cottage
Large event reservation requests for use of Montgomery County Public School facilities such as auditoriums and other similar venues will no longer be accepted or processed until further notice.
SUMMER CAMPS: Montgomery County Recreation has canceled all summer camps and programs and will have new safety standards in place for all programs and services as it plans for eventual reopenings following the COVID-19 health crisis. In addition, facility rentals through May 31 have been canceled. Montgomery County Recreation is working on restructuring a new set of summer camp offerings if guidelines will eventually allow those programs this year. The department also has launched a new "Virtual Rec Room" that offers hundreds of ideas for creative family fun.Montgomery County Recreation launched a new "Virtual Rec Room" that offers hundreds of ideas for fun, creative activities for the whole family. The virtual Rec Room 24/7 is available at https://www.montgomerycountymd.gov/rec/activitiesandprograms/recroom/index.html.
PARKS AND GROUNDS: Montgomery Parks last week reopened and removed restrictions from outdoor tennis courts, campgrounds, archery ranges, and other outdoor activities following Governor Hogan's updated state order allowing certain outdoor recreational activities to restart.
HOW TO SPEND: The Council will approve a plan this week to spend additional federal money received by the County from the CARES Act. The new funding in the Community Development Block Grant (CDBG) will go toward rental assistance for low-income County residents and to small business assistance for low-income owners of micro-enterprises. The Emergency Solutions Grant (ESG) funds will provide for temporary shelter and rapid rehousing assistance to people experiencing homelessness.
MAKING EQUIPMENT: The county awarded Potomac business NDN International $4,000 to make hand-washing devices as part of a $200,000 initiative for the manufacture of Covid-19-related personal protective equipment. The county created the Local Production Fund to provide local small and medium-sized manufacturers and producers with the working capital necessary to make and provide essential PPE and other Covid-19-related products. "These grants are going to help provide essential Covid-19-related equipment, much of which is in short supply," said Councilmember Hans Riemer. "At the same time, it stimulates several sectors of our local economy and positions them for longer-term growth and recovery."
The grants range in size from $2,500 to $25,000 and will fund the production of face shields, face masks, hand sanitizers, home cleansers, gowns and Covid-19 testing kits, among others. Fifty one businesses applied. According to MCEDC, the 25 grant recipients are a diverse group, with 73 percent of the funding awarded to companies led by women or minority entrepreneurs. They work in a variety of fields, including IT/educational consulting, robotics, tech production, automotive electronic/lighting, embroidery/screen printing, biotech, commercial printing, farming, artisan manufacturing/retail, alterations/tailors, nonprofits and farming.The awardees are located in Silver Spring, Germantown, Bethesda/North Bethesda, Rockville, Gaithersburg, Olney, Potomac, Dickerson and Clarksburg.