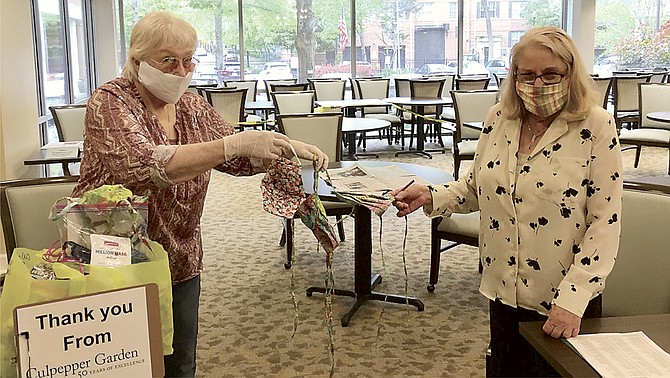 Culpepper Garden low-income retirement property on Henderson Street in Arlington has so far escaped the coronavirus raging through other senior living facilities nationwide. Linda Kelleher, Executive Director of Arlington Retirement Housing Corporation that owns Culpepper Garden says, "Our Assisted Living and Nursing Director, Mary Van Wie, is extremely cautious.
"We started our lockdown on March 9." She adds, "Every day I'm grateful we have no cases so far. I send in the data every day. We've been as careful as we could be."
Kelleher outlines their current operating procedures. The residents are restricted to their apartments, meals are delivered, family visits are curtailed. It is set up so that when staff arrive they have their temperatures taken and they step in a pool of disinfectant to cleanse their shoes. Everybody wears an N-95 surgical mask, and they have some vinyl screens so the masks can be worn for a longer period of time. She says the vinyl screens were originally hard to find but Arlington County was very helpful.
Culpepper Garden has received donations of masks from a number of sources. "We probably have 300 masks from all over. They are beautiful. United Way is sending 500 disposable masks next week." Each resident gets two masks, one to wear and one to wash.
Culpepper Garden has both independent living subsidized by Federal Housing and Urban Development (HUD) funds as well as 73 assisted living apartments with 40 staff working in that area. Kelleher says the assisted living residents must stay in their rooms with meals delivered to them. "Only one person delivers the meals and one person does maintenance and housecleaning to control the number of people who can go there. If there is a delivery, it is taken to the room."
Visitors are restricted to registered caregivers only.
Mesbah Motamed, who is a member of the Board of Directors, says he hasn't seen his 85-year-old mother for over two months. "I used to visit her two-three times a week." But he says, "Since she has dementia her awareness is zero about the coronavirus." His mother's live-in care helper is her 66-year-old little sister who makes sure his mother gets fed with the Iranian food they both like, gives her medication and changes her clothes.
Motamed says, "They are very strict about who can go into the building. If I have groceries for my mother, I have to meet my aunt in the parking lot. It isn't Grand Central Station, and I am grateful for the proactive management. I think this is what has kept the coronavirus out."

But Kelleher acknowledges, "There is some loneliness we are trying to work around. Seniors are hanging in there but are feeling isolated." She says they have knocked on doors to deliver goodie bags to each of the residents in assisted living to check in on how they were doing
They have also initiated a "friendly caller" program manned by volunteers mostly from faith-based communities. They have had about 20 volunteers sign up with the goal of making a call once a week to a resident. "We give the volunteers a whole page of questions to start the conversations, stay away from the worrisome things. It's what we can do. It's really popular."

Edie Mims, Resident Association President, says the many activities which had been offered regularly, such as bingo, music in the lobby with sing-a-longs, Sunday dog day, current event lectures and movie nights have all been temporarily stopped. "We do encourage people to go outside. We have lovely gardens where you can walk around here.
"We are handing out coloring kits and doing word games in the newsletter; for example words that start with C and end with N —things that aren't too difficult but keep your mind occupied. We're doing the best that we can, and the good thing is that there is help here if we need it."
In addition volunteers from E*TRADE, who used to be on site every week, are now helping residents from offsite with technology asking "do you need help?" "What do you want to learn?" They are helping residents Skype with their families.
Independent living is a whole different animal according to Kelleher. She says because HUD subsidizes it, Culpepper Garden can't restrict residents to their rooms because it is considered a violation of their privacy. Under normal circumstances the residents of independent living are actively engaged in the community and some have jobs.
However, under the current pandemic restrictions Culpepper Garden does recommend that residents in independent living don't leave their rooms unless absolutely necessary, and there is no congregate dining. "You do see more residents here walking around or taking their pet for a walk."
They still have several dining options but all are delivered to the rooms. A resident may purchase some or all of their meals prepared in house, and "Chef Riddle is still cooking his wonderful meals." In addition, some residents in independent living leave and go to the grocery store. "The Senior Loop still takes people to the grocery. We have 70 people who need supplemental food assistance which is provided by Arlington Food Assistance Center." They receive protein, fresh fruit and vegetables, canned goods, carbohydrates and they have lots of bread. She adds that some people receive food stamps.
The community has been generous with donations. Since it is National Nurses Week, Arlington Federal Credit Union donated lunch from Rocklands today for the assisted living staff including the night shift. Conkyn's Florist sent a bunch of flowers for the front desk on Mother's Day. Another day a big bag of chocolates arrived from a local chocolatier.
One of the other impacts of the pandemic has been the halted construction of the major Culpepper Garden renovation which began in April 2018 to upgrade all apartment interiors and public spaces, replace all major systems and add six apartments. Kelleher says it was supposed to be completed in April this year but Culpepper Garden halted construction for four weeks beginning March 23 while they brought in an industrial hygienist to develop a protocol for construction to be back on site.
"Now it is very limited how they are working the area. There are no more than 10 workers in a space, and they use outside restrooms. We're being very diligent with the workers wearing masks and having their temperatures taken." The new date for completion has been moved to July.
Some apartments are available and Culpepper is welcoming applications. They recently had four people move in. "We have an incredibly wonderful group of people." Motamed adds, "Even though I haven't seen my mother for two months, which is the longest we've been apart in 10 years, I'm not worried because she is in such good hands."