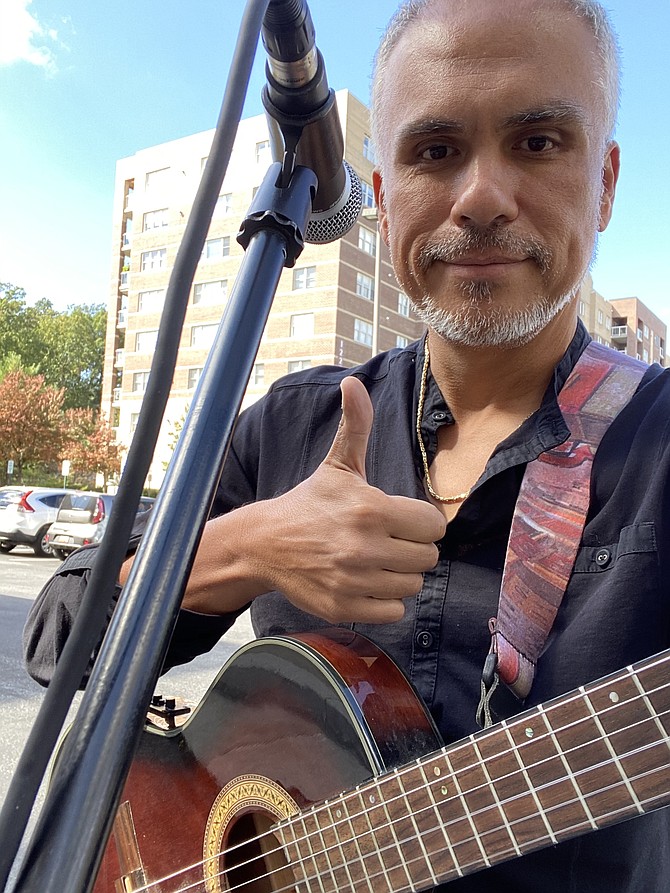 Right about now in November, Jose Sacin would usually be in the middle of the Children's Opera, Opera NOVA's big event of the year.
"We would have just finished our big October fundraiser." Sacin is the Artistic Director of Opera NOVA and a well-known performer. Opera NOVA is a volunteer-based non-profit organization whose purpose is to bring the joy of opera to residents of Northern Virginia.
Sacin says that every November, Opera NOVA prepares a one-hour version of an opera for elementary school children that is a version especially created for them. Sacin says the children's operas are in the words of the performers "the best audience. They are so enthusiastic and so involved in the performance."
Sacin explains that in order to create an opera performance for children, he has to adapt the story to cut a three-hour opera down to one hour but still making sense. "You want to tell a story. You have to choose the right parts."
Same with the orchestra, which has to be cut back to a small ensemble. But the choice of instruments can be complicated. "For instance, there may be a trumpet in the first part but it doesn't appear again. So do you get a trumpet or not just for this moment; do you take a clarinet part later and see whether a trumpet can play it?"
He says last year's bilingual one-act performance, "Monkey See, Monkey Do," was very popular. They have also adopted "The Magic Flute," "Treemonisha," and the "Barber of Seville." Sacin says Opera NOVA performed the Barber of Seville using English for the dialogue and performing the songs in the original Italian. He explains this is how an opera works with the repetitivo where all of the action happens and then the arias are a reflection with no new material.
Before the opera, they give a sort of a quiz by presenting an orchestral instrument for the students.
"We have 10-13 instruments in the orchestra and play one at a time for the children to identify." The violin and flute are pretty easy but the bassoon and clarinet get a little harder.
Sacin says it is a lot of work to adapt an opera for children. It takes about a week to cut back the orchestra. "You have to try things out." Then it takes a month or so to work on the orchestration, "what we will keep in our opera and our script." They can have up to 700 in attendance at the children's performances at the Thomas Jefferson Community Center.
ALTHOUGH ALL of the usual performances have been cancelled since spring, Opera NOVA was able to hold its Summer Program for Young Vocalists on Zoom geared to high school students that are preparing for auditions for college music school. He says they teach vocal technique, diction, interpretation, pronunciation. He adds they also explain about the business of opera, audition techniques and how to do stage make up.
The first year in 2019 the Summer Program was held in person "but this year was doable on Zoom." But Sacin says it is better to hold the Program in person to hear the voice live. The way the audio is set up on Zoom, it will minimize the high notes in a voice. "It can be a little problematic, but it gets the point across."
"But for me I'm a professional singer. So when the pandemic hit, I was supposed to perform Puccini with the Maryland Lyric Opera." It was supposed to open April 1 at Strathmore Hall and I found out a day before rehearsal that it was cancelled. Sacin was also performing Samson and Delilah with Washington opera at the Kennedy Center.

He says, "performers have some months with no income, but April was going to be my busiest month of the year." A number of performers had to go on unemployment.
Sacin says they are currently preparing half hour videotapes to offer to the public and hope to film them at the end of the month. "It is geared to seniors who are more isolated."
In a normal year, Opera NOVA holds smaller performances about every other month at local churches and last year at Kennedy Center's Millennium Stage. Some of these regular performances are geared to seniors and others are for the general public.
"I wasn't as lucky as a child in Peru. I wasn't exposed to opera. It wasn't until I was 18 and saw a Three Tenors concert."
But he says he does this "because it is wonderful to be part of educating children and building audiences of the future."