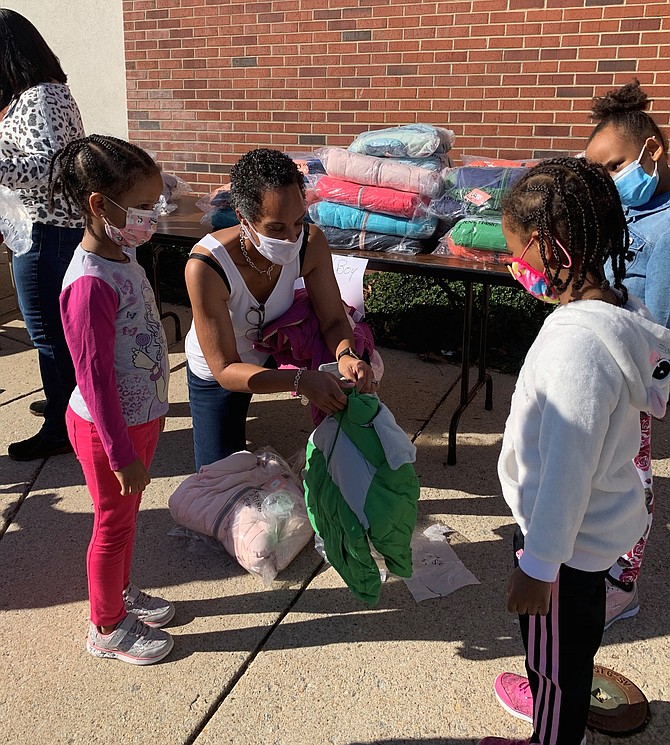 More than 700 new coats and thousands of books were given to Alexandria children and families in need as part of the Firefighters and Friends to the Rescue annual coat drive.
"We gave away 500 coats and nearly 1,000 books donated by InSpireLit at Charles Houston Recreation Center on Oct. 31," said former City councilman Willie Bailey, founder of the organization and coordinator of the coat drive. "On Nov. 7, we distributed 200 coats and approximately 600 books at Oakland Baptist Church. Because of the pandemic, the need was even greater this year than in previous years."
Tables at both locations were piled high with coats, all Made in the U.S.A., that had been sorted according to age and sex. Volunteers helped children select their new winter coats, which were provided through Operation Warm.
Bailey founded Firefighters and Friends to the Rescue 18 years ago as a holiday toy drive. In 2011, Firefighters and Friends joined forces with Operation Warm, a national nonprofit that has provided coats to more than 1.4 million children in need. Since that time firefighters across the country have helped expand coat distribution while supporting American manufacturing jobs.
"The COVID-19 pandemic has impacted everyone, some more drastically than others," Bailey said. "For many families the pandemic has led to a loss of income, childcare and social support. With so many families struggling to make ends meet, fire department events like this are more important than ever."
Sponsors for the coat drive include the Alexandria Redevelopment Housing Authority, the Departmental Progressive Club, InSpireLit, Alexandria Department of Recreation, Jack Taylor Toyota, Firefighters and Friends to the Rescue, and other donors.
"We could not have done this without the support of ARHA and CEO Keith Pettigrew for reaching out and wanting to partner together to make this happen for the residents," Bailey said. "We are working hard and staying safe to make sure children in need have school supplies, warm winter coats and holiday gifts."
For more information or to make a donation to Firefighters and Friends to the Rescue, visit http://www.ffandfriends2therescue.org/ or call Willie Bailey at 571-641-0036.
"Because the need is so great this year, any help in assisting those less fortunate families is appreciated," Bailey added.