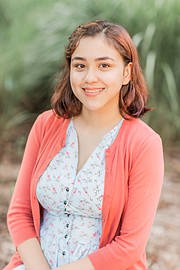 Tracy Waagner, a senior at McLean High School, will represent Virginia in the Division Finals of the Music Teachers National Association Southern Division Senior Vocal Competition. Waagner earned this opportunity after winning the MTNA Virginia statewide competition, singing classical art song repertoire in English, German, French, and Italian. The winner of the Southern Division competition will compete in the National Finals which will be a video round this year in mid-January.
Waagner, a soprano, has studied classical voice for five years with Peggy McNulty. Waagner has enjoyed opportunities to hone her craft at summer intensive programs for vocal performance at The Washington National Opera's Opera Institute, Interlochen Center for the Arts, and University of Cincinnati-College Conservatory of Music. Locally, Waagner has performed with Choralis as a High School Singing Scholar.
At McLean High School, Waagner studies Theatre Tech and is Wig Master and Hair Designer for TheatreMcLean. She has served as Wig and Hair Stylist for the Sterling Playmakers Community Theatre. A longtime dancer at Perfect Pointe Music & Dance, she is rehearsing a tap solo "Bli Blip" with choreographer Philip Baraoidan.
Music Teachers National Association is a nonprofit organization comprised of 20,000 independent and collegiate music teachers committed to advancing the value of music study and music making to society and to supporting the professionalism of music teachers. Founded in 1876, Music Teachers National Association is the oldest professional music association in the United States.
To receive more information about the MTNA National Competitions, including competition rules and applications please contact MTNA national headquarters at (888) 512-5278, mtnanet@mtna.org or visit the website at www.mtna.org.