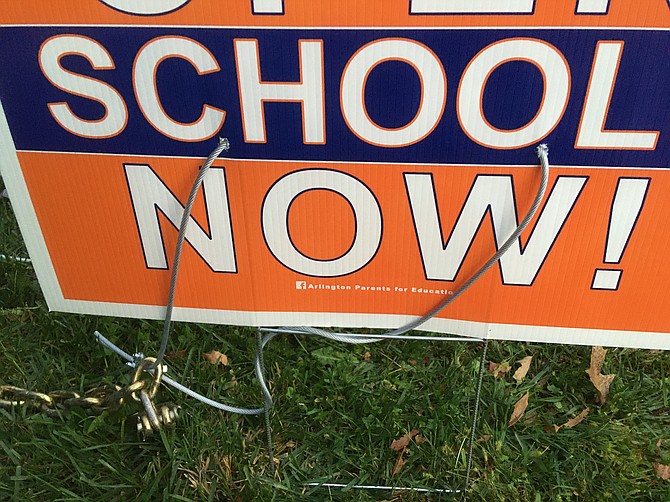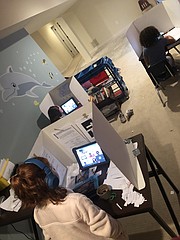 Sept. 8, early October, November and now 2021. Arlington Public School students have been on a roller coaster ride since the pandemic restrictions were announced in March. Schools were closed temporarily and then opened with virtual learning, which is where they remain today except for a small number of students.
Some families have adjusted pretty well; others not so much. Some worry about the health threat posed by coronavirus in the classroom and the threat it poses to themselves and the teachers. Others are more concerned about the social deprivation and academic backsliding that are resulting from the lack of in-person learning.
Miranda Turner, who is on the Steering Committee for Arlington Parents for Education (APE), a parents' advocacy group in favor of a safe measured return to in-person education, says "The virtual doesn't work well for my kindergarten and 3rd grade kids."
She says a kindergarten student needs to know how to raise their hand, follow directions, sit in a circle, and socialize. And it's a lot of sitting all day for the third grader.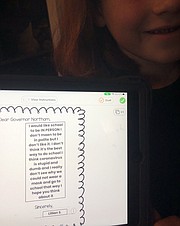 "You get kicked out a lot over and over [from virtual classes]; it's just something that happens." She adds it is important to have human interaction with the teacher and with the other students. "It's just not the same on the internet. They are proceeding as though virtual is a realistic option." Her daughter wrote a letter in October asking Governor Northam to open the schools.
Amber Tyler, mother of a second grader at Discovery Elementary, says "the virtual learning works for us. My daughter is engaged. But there are times I have to remind her. You can't stay engaged for hours." She says this is a hard choice but everybody has to do what makes sense for them. Tyler says when she described to her daughter what it would be like to go back to school with masks and social distancing, her daughter didn't think she would like it and wanted to keep learning virtually.
Emma Baker, mother of a high school and middle school student, says both of her daughters have Individualized Education Plans (IEPs). The frustration levels are different with her two daughters. The kids are often working by themselves and "my younger daughter is used to having someone around in the classroom to help her when she has trouble with a math problem. We had to hire a tutor for her. Kids should have been in school since September. I would choose hybrid in a heartbeat."
In mid-July ACS announced a plan for a phased hybrid learning plan to begin in the fall, which would offer parental choice on their preferred instructional delivery method. School began Sept. 8 with virtual learning only.
The planned return to school was prioritized by the student's level of need and ability to access learning remotely with the projected return date for level 1 in-person at mid-late October.
Level 2 was projected to begin Nov. 12 for PreK, Kindergarten, 1st and 2nd grades, including English language learners, students with IEPs as well as high school students enrolled in selected courses at the Career Center. December was the projected date for 3rd, 4th and 5th grade students to begin in person. All APS middle and high school students who had chosen hybrid were projected to return mid-January.
The schedule was revised in early October after feedback from parents and revised health statistics, with the deadline for parents to update their preferences for instructional delivery delayed until Oct. 21. The family selection process indicated that of 13,557 families, 2,432 changed from their initial choice of hybrid to distance learning while 445 changed from distance to hybrid. This resulted in 52 percent choosing hybrid (a combination of in-person and virtual) and 42 percent choosing virtual.
Superintendent Dr. Francisco Durán believes the shift to preference for virtual reflects the increased incidence of coronavirus numbers. He says the school system has numbers for coronavirus cases by zip code. For instance, Carlyn Springs Elementary was the only school to have a 100 percent response rate to the parental preference poll.
"Eighty-three percent [at Carlyn Springs Elementary] chose virtual learning because of the high COVID rate among this largely Hispanic community. Most of the people know someone or have someone in their family with COVID, and many have no health insurance," Durán said.
Tyler said they have made their decision to go completely virtual partly because they have some underlying health concerns. "It would be very scary if COVID came into our home."
Since initial plans for reopening were announced in July, dates and plans for reopening have changed a number of times leaving uncertainty for schedules, work and day care arrangements.

Turner says, "It's been brutal." She never told her daughter about the changing deadlines for return to school, "having hope taken away."
Durán says he changed the timeframe in early November when the Arlington case coronavirus incident rate entered into the high-risk area. Durán adds he monitors the data consistently and looks at the decision in a holistic way, also using CDC primary indicators. He said there is a lot of different research, and there are varying perspectives. "I don't know if there is a perfect answer. It's a new phenomenon and we're still learning about COVID."
Durán explains in addition to assuring safety, there are operational metrics with complicated logistical decisions to be made. He says, "It's not a simple list for reopening." You have to consider transportation with only 11 children allowed on a school bus, matching teachers (virtual or hybrid) with parental choices (virtual or hybrid) and the disruption that would be caused by opening and closing school over and over.
Durán says he has talked to a number of parents and understands their concerns. Since Arlington schools had temporarily closed in March due to COVID and had moved to virtual learning, the evolving health metrics and guidelines set by the Virginia Department of Health have necessitated revising the school reopening plans a number of times.
But Duran views it as his responsibility to assure that the school system has looked at all of the data, that all staff and students have been considered. And he says you see schools around the country going in and out of school with the resulting disruptions for families, teachers, bus drivers and support personnel on all levels.
Russell Laird, who has a second grade daughter, says when this first happened he thought they should make decisions two weeks at a time. "We didn't know a lot in the spring but we know a lot more now." He says his daughter is enrolled at Key Elementary in a bilingual program, and it's tough to learn a second language on line.

Laird adds his daughter is an over achiever but it's tough on her and especially on teenagers in their vulnerable years. "It's a travesty. Some of them are physically hurting themselves."
Laird says that schools are not super spreaders, and research overwhelmingly documents that schools are not a risk. Baker says restaurants and gyms are super spreaders. "Nobody says schools are super spreaders. All other places are open. Why not schools?"
Turner says, "I think in Arlington specifically there is a lot of higher level of risk adversity." She says if you make virtual better it could be a good alternative but the present system of dropping the in school system onto virtual doesn't work.
She says the emotional health of the kids is big enough to risk the low threat of coronavirus spread in the schools. "We could open school five days a week for younger students and assess this for the older students."
Laird feels strongly that virtual isn't working and gathered 1,000 signatures on a petition in the spring and recently had 500 "Open Schools Now" signs printed.
"Did you see the person at that ridiculous press conference this week in Fairfax wanting to go all virtual? That was me. I believe they called me a heckler." He says a number of the signs he had printed have been destroyed, and he is now bolting them down.
All agree that every parent should have a choice. Baker says, "If you choose hybrid, you choose for your own reason. It says you have made the decision to take the risk. You have taken on the responsibility. You have to start somewhere."
Superintendent Duran says that he views the decision to open the schools as his responsibility. "If we go back in person, I have to be sure I have looked at all of the data, that all staff and students have been considered. And until recently we didn't have all of the proper equipment for the isolation rooms such as the proper PPE."
But Baker thinks the bigger issue is forcing the teachers back into the building. An APS poll found that 45 percent of the teachers wished to return and 54.8 percent supported distance learning.
Laird says teachers who refuse to teach in person should be fired. Baker considers them "essential workers."
On the other hand, Tyler worries about forcing teachers to do something that isn't safe. I don't know if I were a teacher how comfortable I would be going back into the classroom."
Durán says, "It isn't that the teachers don't want to go back. Many of them are not able to come in due to health risks, age. It's concerning to me that many of the attacks on teachers are personal. They are working so hard, and it's not so easy to teach virtual."
Another part of the issue is the technology. Many parents complain that the Zoom sessions can be difficult to maneuver and their students can't do it by themselves.
Laird says he will be busy working at home and his daughter will come and say, 'daddy, I need help.' "I'm not an IT guy. They have how many apps and pretending a second grader can do it." He just gets back to work at home and his daughter interrupts him again.
Baker recalls when the pandemic hit in March with the school closing there was much to be desired. "No one saw it coming, and the technology, in my opinion, didn't have things set up and ready to go." She said they were spinning in a circle; the Internet connection didn't work; the students couldn't understand an assignment and they didn't get to see their peers and teachers. She says her girls didn't learn much.
But she said by September things had changed and there had been improvements. "It was really night and day, and I appreciate that. But we know that it's not healthy to stare at a screen. Oh my gosh how thrilled I am to have our teachers."
Durán says there are still some parts of the county where the students have a device but don't have access to the Internet. "We know who these families are and some schools have established Internet access outside the school. Teachers know the families who are not logging in and they reach out. Internet access should be a basic right in 2020.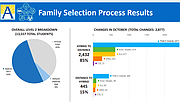 "Feelings run strong on all sides and we've got to get together and talk to and listen to each other. We all want the same thing. Everyone wants the best for their children."
Baker says this is very frustrating. "Arlington County has a lot of money and we pay a lot of taxes. It is a wonderful place to be. However, a lot of decisions are made in a vacuum. We've got to be creative," Baker said. "There are some intense people out there."
Tyler says, "I'm frustrated when you feel anger from either group. No one knows the right answers. I feel like everybody needs to take a deep breath. I know people don't like to hear this but it could be a teaching opportunity. This is crazy hard, but it's just a few months of your life."
To access the School Board November 5 presentation: https://go.boarddocs.com/vsba/arlington/Board.nsf/files/BV3TQH6ECFC8/$file/D-1%20School%20Year%202020-21%20Update%20110520%20Presentation.pdf