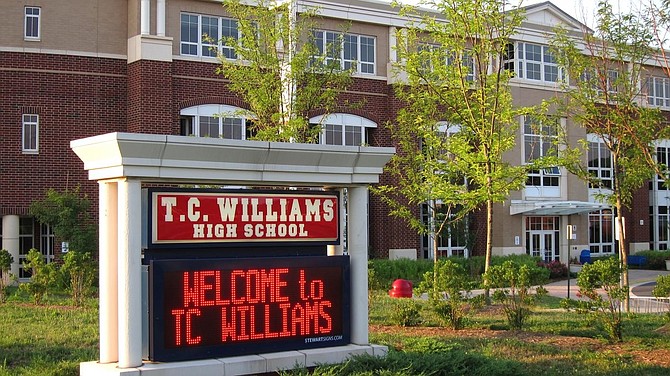 Following months of heated debate, the Alexandria School Board voted Nov. 23 to rename two city schools, including T.C. Williams High School of "Remember the Titans" film fame.
In a 9-0 unanimous vote, the board moved forward in the process to rename both T.C. Williams High School and Matthew Maury Elementary School.
"This is a historic moment for everybody," said Superintendent Gregory C. Hutchings Jr. "For many years, people have been trying to change the name of T.C. Williams, and they really have not been successful."
Hutchings, himself a graduate of T.C. Williams, will present options for new names in the spring with any name change taking effect at the start of the 2021 academic year.
In an editorial for Tes earlier this month, Hutchings wrote that "Thomas Chambliss Williams was an aggressive racist, a staunch supporter of segregation who had no shame in stating his belief that black and white students learned 'differently' and should be kept apart. Inexplicably, it has taken until today, 55 years since the school opened, to see a committed renaming process that may finally remove him and his legacy from the only public high school in Alexandria."
Opened in 1965, the high school was named after Williams, the Alexandria schools superintendent from the mid-1930s until 1963. Williams resisted desegregation in the wake of the 1954 Supreme Court ruling in Brown v. Board of Education mandating desegregated public schools across the nation.
In the 1920s, Maury Elementary School was named for Virginia resident Matthew Fontaine Maury, known as the father of modern oceanography and naval meteorology. Maury joined the Confederacy during the Civil War and moved to Mexico following its defeat with the intent to recreate a colony based on the South's plantation slavery.
The push to rename T.C. Williams dates back decades, with unsuccessful attempts made in 1998 and in the early 2000s. The movement gained strength in July of this year when several online petitions and social media sites began calling attention to the issue in the wake of national protests following the death of George Floyd in May.
Following the board vote, one Facebook group changed its name from "Rename T.C. Williams High School Now" to "Yes, We Renamed That High School in Alexandria."
Moderators, Lindsey Woodson Vice and Marc Solomon, wrote: "Congratulations are in order to this group! This epic development was decades in the making and a result of the tireless efforts of community leaders, activists, students, alums, and finally our ACPS school board. I extend gratitude to you all for helping to make this happen. Onwards and upwards for ACPS!"