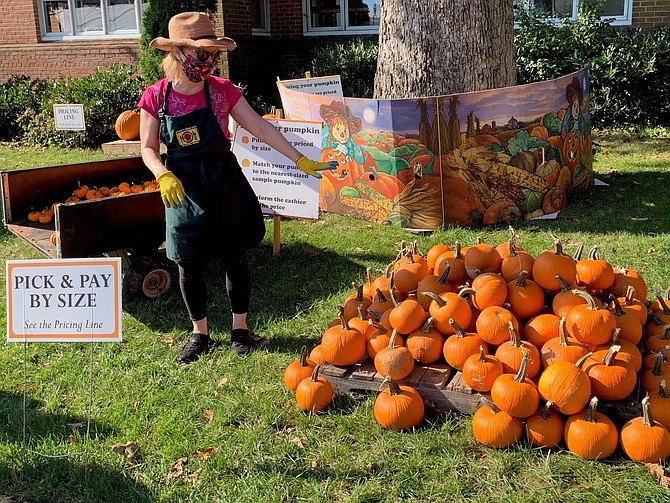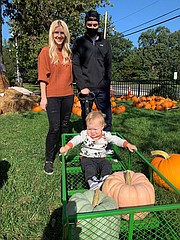 The corner of Seminary Road and Quaker Lane is once again ablaze in a sea of orange as Immanuel Church-on-the-Hill hosts its 27th annual Pumpkin Patch fundraiser for charity.
"The pumpkin patch is a wonderful ministry for many reasons," says the Rev. Randy Alexander, Rector of Immanuel. "The entire parish is involved. This is our welcoming door to the community and it gives us the resources to do God's charitable work. It's truly faith in action."
The pumpkin patch officially opened Oct. 4 and runs through Oct. 31.
"We are taking all reasonable COVID precautions," said Jamie Conrad. "We are certified by the city under its ALX Promise program and hope to be a welcome bit of normality in a frightening sea of uncertainty."

Two 18-wheelers of pumpkins arrived Oct. 3 with the normal bucket-brigade approach to unloading the trucks replaced by a forklift. Socially distanced groups of parishioners then unloaded the pumpkins for display.
The pumpkin patch offers all sizes of pumpkins from small hand-held "spookies" to extra-large pumpkins for jack-o-lanterns. Prices start at $1 and go up based on size. Also for sale are homemade soups, baked goods, knit wear and autumn Halloween-themed crafts.
The pumpkins and gourds are sustainably grown by Navajo farmers on a Navajo Indian Reservation near Farmington, New Mexico. All net proceeds will be used to support the church's outreach activities at the community, regional and international levels.
Last year, over 25 charities received support, including local nonprofits Carpenter's Shelter, ALIVE!, Lazarus Ministry, Bishop Walker School, Alexandria Neighborhood Health Services, Haiti-Micah Project, and others.
The Pumpkin Patch is open every day with hours Monday-Friday from noon to 6 p.m. and weekends from 10 a.m. to 6 p.m. All visitors must wear a mask and practice social distancing. Touchless purchasing options are available. For additional information, visit https://www.immanuel-on-the-hill.org/pumpkin-patch.html
Immanuel Church-on-the-Hill, 3606 Seminary Road. 703-370-6555.