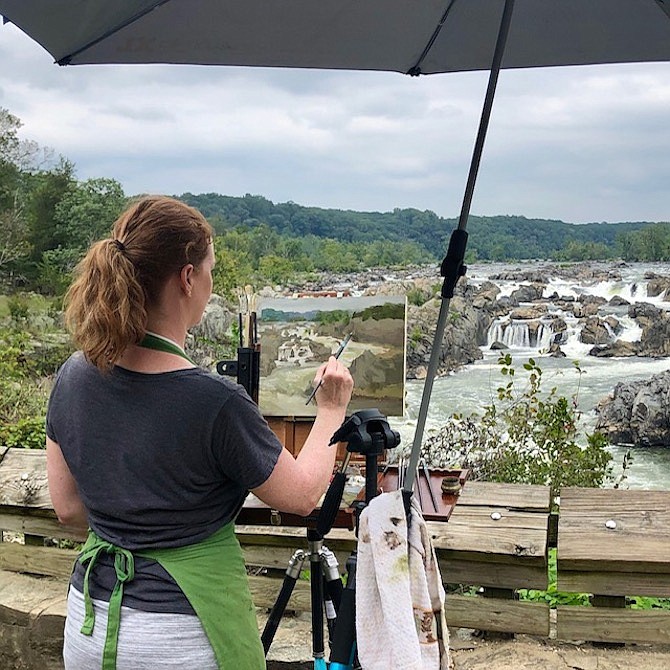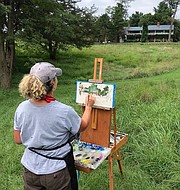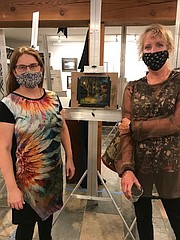 In normal years, the week after Labor Day has painters scattered around Great Falls for the community to see and approach during the Paint Great Falls: Plein Air Competition. But this was not a normal year, so the popular paintings of Turner Farm Park, Great Falls Park, and Colvin Run Mill were fewer and paintings like "My Own Backyard" and "At Belle Haven Marina" were created. The annual outdoor painting event – sponsored by The Arts of Great Falls and prizes provided by Celebrate Great Falls Foundation – allowed for flexibility to paint "anywhere in Northern Virginia and even in your own backyard." The goal was to get artists out of their homes to paint "Plein Air" (outdoors) to be able to social distance. The event was a big success with the capacity of 25 artists reached and paintings created at a wide variety of locations from backyards and golf courses, to our favorite Great Falls spots. The 38 pieces entered into the competition were hung in the gallery making an interesting exhibit and sale.
Awards were announced on Friday, Sept. 25, in a very 2020 way – via Zoom and Facebook Live. Executive Director, Julie Casso, placed ribbons on the winning paintings and read the judges notes for the online crowd amid "thumbs up." The competition judge was well-known national artist and author Robert Johnson (https://www.robertjohnsonart.com/). Johnson looked at the paintings from many angles and distances before choosing prize winners and honorable mentions.
In addition to the daily paint outs, a Friday night Quick Paint in Great Falls Village Centre was added to the schedule this year. Nine artists including oil painters, watercolorists and pastel artists were given two hours to compose and paint en plein air. Painting outside is challenging in itself with changing light and fighting bugs; the Quick Paint event brings the pressure of time and competition making it a fun event to watch. Judge Elizabeth Floyd had a tough time choosing the winner – 1st Place pastel painting "Evening Square" by Lori Goll.
The paintings are viewable in the online gallery at https://greatfallsart.org/online-gallery-2020. All art is for sale and proceeds benefit The Arts of Great Falls foundation.
Award Winners
The following artists were chosen for their excellence:
1st Place "Hometown Market" by Jill Banks, Oil Painting
2nd Place "Great Falls Gate" by Cindi Berry, Oil Painting
3rd Place "Mercury Fountain Reston" by Robert Gilbert, Watercolor
Honorable Mentions (in alpha order):
"Misty Morning" by Karen Bateman, Oil Painting
"Lazy Fall Day at the Lighthouse" by Debra Dartez
"Wildflowers" by Lori Goll, Pastel
"Train Coming" by Lorrie Herman, Oil Painting
"Hidden Springs" by Pattee Hipschen, Oil Painting
"Farmer's Market (Great Falls Centre) by Rajendra KC, Watercolor