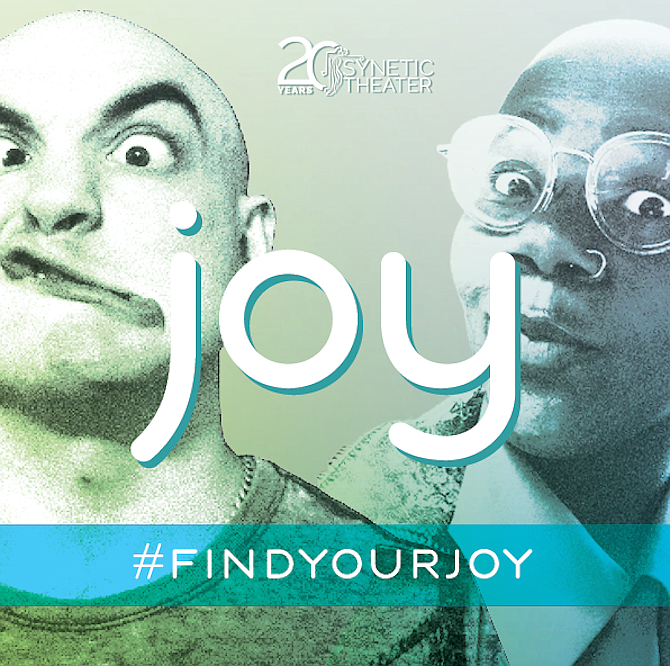 Synetic Theater in Arlington is staging live performances of "Joy" from Oct. 16 to Nov. 8, 2020 via Zoom. Company member Vato Tsikurishvili (directed by Paata Tsikurishvili) and Maria Simpkins (directed by Katherine DuBois) star in the intimate​, autobiographical​ show ​about Maria and Vato's own discovery of joy in their lives. Audiences ​capped at 25 ​households will receive a hand-selected prop box package in the mail for use during the show to kick off their journey back to joy.
With the pandemic, show adaptor Chris Rushing said the world seems hard and bleak right now, so he believes everyone could use more joy in their lives. "But joy isn't something that you just stumble on, it's something that must be sought," he said. "I was interested in using some of our company members' personal stories and their own relationship with joy in order to help everybody else find joy in their own lives."
He continued: "And I was particularly interested in how we could bridge the digital divide we find ourselves in. The hope is that doing this live, interactive, piece where audience and actor hold the same items in our own individual hands, we can create a shared communal experience – one that brings us all joy."
He said the hope is to remind everyone that we're not alone. "And while we can't experience theater in the traditional sense, we can turn these perceived weaknesses, distance and the virtual world, into a strength. We can create an experience that makes us feel connected again," he said.
Directors Katie DuBois Maguire and Paata Tsikurishvili said jointly that the world today has a sense of stagnation, of waiting, bunkering down, and hesitating. "I want to remind people that they can be searching for joy," they said.
The challenge in staging the show virtually, they said, was finding the balance between a vibrant and deep aesthetic of theatricality and a grounded and personal story.
As far as audience takeaways, they added: "Now is the time to share your story with your community. Personal history is a wonderful way to enrich your community and find connection."
Actor Vato Tsikurishvili said he isn't really playing a character, per se, but he's being himself and hopefully won't be acting like himself. "But I will transform into different characters throughout the show; I'll be bringing back some of the roles I've played before, so if you see Caliban playing poker with Quasimodo, it's totally fine, it makes sense. I promise," he said.
As far as audience takeaways, he added: "Joy. That's what I want you guys to take. Joy, you all want it in your lives and I need to give it with mine, (you could say I've been going through withdrawal-like symptoms) I just want y'all to enjoy your time with me, that is my main goal. "
For tickets, visit https://synetictheater.org.
More like this story