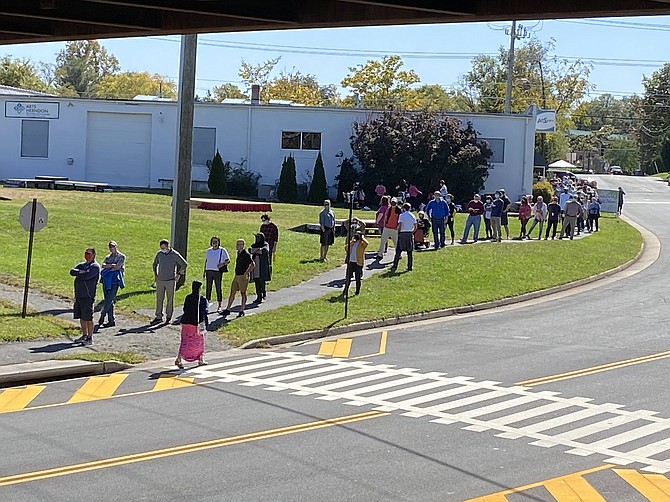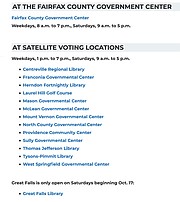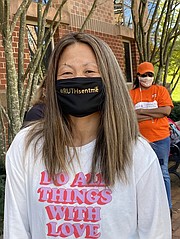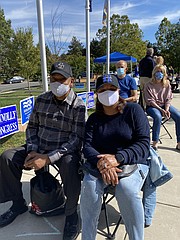 The need to drop their ballot into a secure drop-off box or slide it into a voting machine, spurred thousands of voters to wait in long lines on the first day of in-person early voting at satellite locations in Fairfax County on Oct. 14. With Virginia's new state law permitting registered voters to use absentee/early ballots, an additional 14 in-person early voting satellite locations opened that day. Another location opened in Great Falls on Saturday, Oct. 17. The 15 new locations are in addition to the Main Fairfax County Government Center's location open 8 a.m. to 7 p.m. Monday-Friday and Saturday 9 a.m. to 5 p.m.
Except for the Government Center and the new Great Falls locations, voting times at the 14 new locations are weekdays, 1 p.m. to 7 p.m., and Saturdays 9 a.m. to 5 p.m. The Great Falls location is open Saturday, Oct. 17, 24, and 31, 9 a.m. to 5 p.m. Any registered Fairfax County voter can vote early and at any early site. The last day to vote at any early location is Saturday, Oct. 31, at 5 p.m. In addition to expanding the number of polling locations, Fairfax County instituted curbside and drive-up voting at these sites, a critical resource for voters who are unable to enter an in-person polling place to cast their vote.
WHEN THE POLLS OPENED at 1 p.m. on Oct. 14, voter lines at the North Government Center in Reston and the Herndon Fortnightly Library wrapped around their respective buildings and down nearby sidewalks. On the second day, a similar scene played out. Voters who applied and received their official absentee ballots in the mail could jump the three-to-four-hour line and drop their ballots in the drop-off boxes.
According to Todd Strelow of Reston, Elections Supervisor Herndon Fortnightly Library, on Oct. 14, 343 individuals voted in-person on the machines; 128 of them were Town of Herndon residents. Additionally, 267 voters who had secured official absentee ballots from the County of Fairfax Office of Elections dropped their ballots in the drop-off box, equaling a total of 591 ballots cast. In Reston, Dan Per-Lee, Elections Supervisor North County Government Center, reported that on Oct. 14, 494 individuals voted in-person with an additional 356 voters dropping their ballots in the drop-off box, equaling a total of 850 ballots cast.
The Connection asked voters in Reston and Herndon why they chose to vote early. At the North County Government Center in Reston, Mark Pitchford and his wife Tashunda of Reston sat in folding chairs at the front of the line. "We want to be sure our votes are counted. We didn't trust the postal system," he said. Tashunda added, "What I learned is to be prepared. This is our Plan A, chairs and early." Marcy and Thomas Wilbur of Herndon were also at the front of the line in Reston. Marcy said, "I'm here today because it is critical for everyone to vote, especially in this election due to the controversy regarding ballots." According to Lourdes Mercado of Reston, she was voting because of a "hunger for change in our government, society and us as individuals." She said, "This is the first time I've witnessed a deep divide in our people and government as well."
Voters in Herndon echoed similar remarks. According to Tanya Forbes who voted in Herndon, she did not receive her absentee ballot in the mail and was concerned. "With my work schedule, I had to come today." Pointing to the lettering on her mask, Kim Reynolds of Herndon said, "Ruth sent me."
There are three ways to vote in the upcoming elections on November 3, according to Fairfax County. To vote absentee by mail, individuals should apply now. The deadline is Friday, Oct. 23. The fastest and most secure way to apply is online on the Virginia Department of Elections website.
For in-person early voting, there are the 14 satellite voting locations that opened Wednesday, Oct. 14, the one in Great Falls that opened Saturday, Oct. 17 and the Fairfax County Government Center that opened Sept. 18. The last day to vote early at all these locations is Saturday, Oct. 31, 5 p.m.
ON ELECTION DAY, Tuesday, November 3, polling places in Fairfax County will be open as usual, from 6 a.m. to 7 p.m. The Fairfax County Park Authority will host six new polling locations. The action was taken to ensure maximum available parking, enhance public safety relative to traffic and COVID-19 social distancing, and allow election officials to accommodate potentially large crowds. These six sites, Cub Run RECenter, South Run RECenter, Oak Marr RECenter, Spring Hill RECenter, Frying Pan Farm Park Visitor Center and Green Spring Gardens Horticulture Center, will be closed to customers to facilitate voters. Visit Office of Elections - Fairfax County for more information about early voting, vote by mail, sample ballots, track ballots, registering to vote and election results.