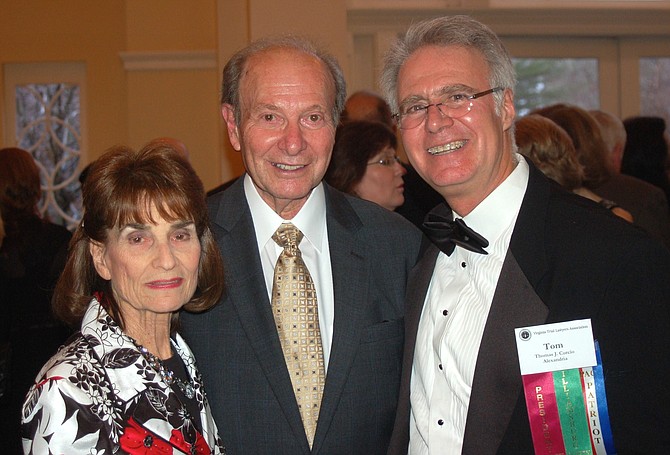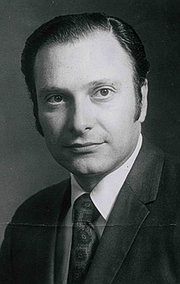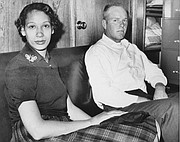 In 1963, Bernie Cohen was barely out of law school, practicing on King Street in Alexandria and doing pro bono work for the American Civil Liberties Union. A letter from Mildred Loving to then-U.S. Attorney General Robert Kennedy seeking help in allowing her and her husband to return to their home state of Virginia was passed on to Cohen, who took up the challenge that would ultimately change the course of history across the country.
The Lovings had been banished from the state for the "crime" of being married. Mildred Loving was black and her husband Richard was white. The young couple had been arrested and jailed in Caroline County shortly after their 1958 marriage for violating the state's anti-miscegenation statute known as the Racial Integrity Act of 1924.
Cohen and partner Phil Hirschkop represented the couple in the 1967 landmark U.S. Supreme Court case Loving v. Virginia, where the Court held in a unanimous decision written by Chief Justice Earl Warren that state bans on interracial marriage were unconstitutional, declaring that the "freedom to marry" belongs to all Americans.
On Oct. 12, the trailblazing Alexandria trial attorney died of complications from Parkinson's Disease at an assisted living facility in Fredericksburg. He was 86 years old.
"The historic work performed by Bernie and Phil extended beyond the heterosexual interracial marriages that at the time were banned in 16 states," said Tom Curcio, a partner and friend of Cohen for 20 years. "Loving was precedent for the U.S. Supreme Court's 2015 Obergefell v. Hodges decision in which the Court ruled that the fundamental right to marry extends to same-sex couples. Not bad work for a couple of young lawyers working pro bono from a small office on King Street."
Bernard S. Cohen was born Jan. 17, 1934, in Brooklyn, N.Y. He received his undergraduate degree in economics from City College of New York in 1956 followed by a law degree from Georgetown University in 1960.
"The historic work performed by Bernie …. extended beyond the heterosexual interracial marriages that at the time were banned in 16 states."
— Bernie Cohen law partner Tom Curcio
Cohen put himself through law school working as a labor economist at the U.S. Department of Labor from 1956-1961. He began practicing law in Northern Virginia in 1962.
"Bernie had a very successful and varied law practice for more than 40 years," Curcio said. "He had a burning passion for representing people needing help and for righting wrongs."
Cohen represented Alexandria in the Virginia House of Delegates from 1980 to 1995. He championed legislation to allow death with dignity for the terminally ill, protect tenants' rights, and grant child visitation rights to grandparents, step-grandparents and other family members.
"Bernie represented small local mom-and pop businesses, was a nationally recognized trial lawyer in the areas of personal injury and product liability and was an early advocate in the area of environmental law," Curcio said.
Cohen taught environmental litigation at George Washington University and was also a faculty member at the National College of Advocacy at the Harvard School of Law. Locally, he was counsel to environmental groups in a lawsuit to prevent a 36-acre landfill in the Potomac River at Hunting Creek. He retired from practicing law in 2006.
Cohen was a former chairman of the Alexandria Democratic Committee and Alternate Delegate to the National Democratic Convention. He was recognized by the Virginia Trial Lawyers Association in 1994 with the Distinguished Service Award for his long tenure of public service and the interests of justice.
Cohen was a longtime member of Agudus Achim Congregation prior to his relocation to Spotsylvania. He is survived by his wife Rae Cohen, daughter Karen Cohen of Haymarket, son Bennett Cohen of Centreville, and three grandchildren. In lieu of flowers, donations may be made to the ACLU, Legal Services of Northern Virginia, or The Michael J. Fox Foundation for Parkinson's Research.

A funeral service was held Oct. 15 with a memorial tribute to be planned at a later date. A virtual Shiva was held Oct. 21. Video of the funeral service can be viewed at: https://drive.google.com/file/d/1s29VpJz9xg-uJuJCrixZSIcKtM2UWLic/view?usp=sharing
"Bernie was a true legal lion," Curcio said. "While I will miss him, I take comfort knowing that Bernie had a happy and loving family, outstanding legal and political careers, and that he and RBG [Ruther Bader Ginsburg] are kibitzing in Heaven right now."