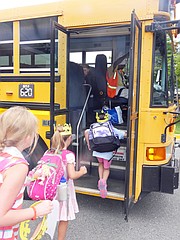 Newspaper headlines on March 13 broadcast "Breaking News: Arlington Public Schools Closing Monday Through Spring Break." In the ensuing months as coronavirus restrictions were redefined, schools closed for the remainder of the year, then summer activities were cancelled, and fall school began on Sept. 8 with virtual learning only.
Now seven months later Arlington County Public Schools (ACS) has announced plans for a phased hybrid in-person learning plan with parental choice on their preferred instructional delivery. They offer an opportunity for parents to update their return to school selection and transportation questions that they made in mid-July online through ParentVUE. This process for Level 2 closes on October 21 so that staff have adequate time to prepare.
The targeted phased return to hybrid in-person learning is to be prioritized by the student's level of need and ability to access learning remotely. This model delivers synchronous instruction four days a week Tuesday-Thursday with two consecutive days in person and virtual instruction the other two days. Monday will be asynchronous for teacher planning and small group interventions if necessary.
The complicated school opening decision included interrelated plans on health and safety procedures involving masks and a new regimen of health screening and hand sanitizing; a ventilation assessment and recommendation; and five levels of return from full distance learning to full in-person instruction over a period of months with related staffing needs for each level. Due to the state's physical distancing guidelines, buses will only be able to carry about 11 students at a time, necessitating several trips and expansion of some elementary walk zones.
The hybrid in-person/distance learning model described on the APS website has the following targets:
Level 1– students with disabilities who require direct support to access distance learning. Projected return date mid-late October.

Level 2—PreK-5th grade students including English Learners and students with Individualized Education Plans (IEPs) and high school students enrolled in selected Career & Technical Education (CTE) courses at the Career Center. Projected phased return starting November 12 for PreK, Kindergarten, 1st and 2nd grade students plus CTE students and phased return starting the week of Dec. 1 for 3rd, 4th and 5th grade students.

Level 3 —All APS middle and high school students who selected hybrid, in-person instruction. Projected return date mid-January.
The notice indicates "if community health conditions worsen, APS in collaboration with the Arlington County Public Health Department will pause at the current return level, reverse, or suspend all in-person instruction." Protocols have been established for students or employees who are unable to pass a health screening each day before school or develop symptoms during the school day.
As the plans move forward, parents struggle with upcoming decisions on whether to continue full-time|virtual learning or whether to move to hybrid. Reasons for their decisions can be complicated and may not be clear cut as they weigh the inability of their children to juggle the virtual classes with concern about lack of socialization so important to a school experience to health concerns with a return.
One parent with children at Discovery Elementary School doesn't see any benefit in returning to school right now in the middle of a pandemic. She says her son was out 17 days last year with the flu, and until there is a vaccine he is better at home. "We are being asked to make a decision before flu season.
"No one talks about what teachers want. My sense is teachers don't want to go back until there is a vaccine. Also in a lot of older school buildings the ventilation is not up to par. And this is an airborne virus."
She explains, "Our on-line learning has been amazing. The teacher has been zealous, and our kids have gotten in the groove." She says a lot of people she knows are happy with virtual and there is a lot of noise about going back. "But is there a majority?"
However, she notes that the experience can be dependent on where you live and your own personal experience. "Kindergarten is a tough ask online." She knows in some other areas like S. Arlington there can be challenges with internet access and some parents aren't happy with the inconvenience of juggling work and school.
And homes with a span of ages can be difficult. "I have to set a timer so kids stay on task. Someone has to be there but it's easier for me because I have twins in the same grade."
Jason Christ, who moved to Arlington with his family the first week of April, says their 6-year-old and 8-year-old daughters haven't gone to Jamestown Elementary in person yet but "the teachers on the Zoom classes are truly amazing there."
Still, he says that while virtual learning may be ok for kids of high school age, it just isn't working for younger kids.
"The technology is challenging; they can't change from one Zoom class to another, and they may have to download another app. The kids think they are turning in their assignments but they're not. Then we get a call from the teacher." He says learning is supposed to be independent but with their kids their age someone has to be in the room most of the time. "Our kids are less than enthused. It just isn't working for us."
He adds since they just moved to Arlington during the pandemic, the kids haven't been able to establish friends. "We're pretty much on our own. Our experience is that there is a tough mental strain on the kids of not being in school. It's hard to quantify. But two days a week is better than nothing. It will be a significant help."
Christ knows that you have to be socially responsible and assess the amount of risk. "But we are in a bit of a bubble here. Our kids see other kids going back to school." He says there is also a serious disruption when you are making child care decisions. "If you know it is all virtual you make one decision; when you know it is two days a week you make a different decision. When you flip back and forth, it's tough."