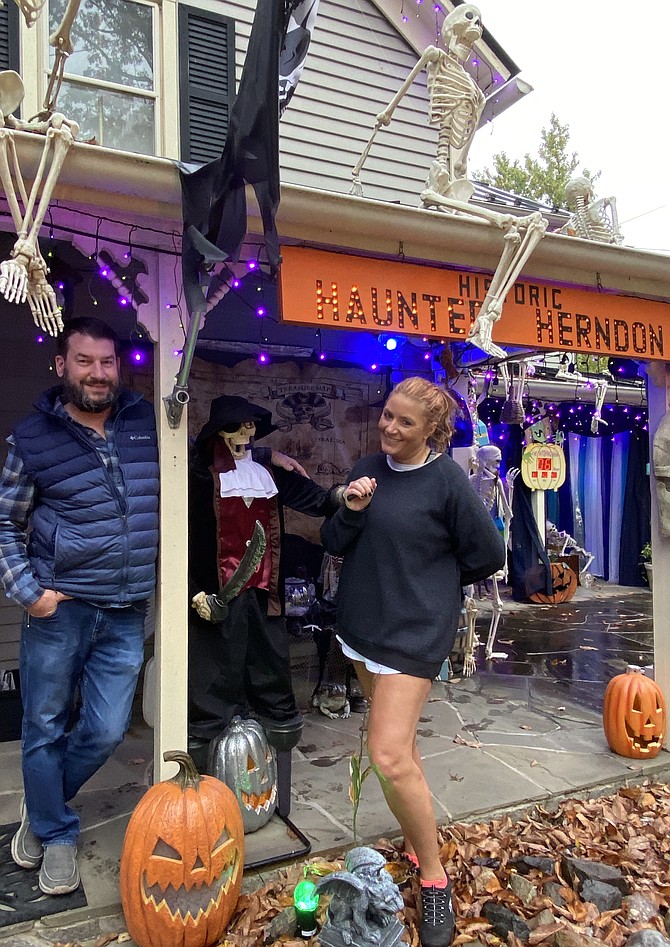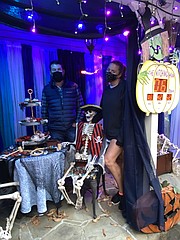 Bob Mathews and Colleen Delawder are the perfect couple, at least when it comes to their customized Herndon Halloween House on Spring Street. Mathews admits he is not the creative one; he's the grunt man. "I pull out the decorations and wait for the directions," he said.
Delawder, on the other hand, is the design scene genius. She envisions the vignettes, breaths life in her staged sets and Mathews builds them to suit the personalized annual theme. No year is like the last; each feature different accessories and key figures telling a one-of-a-kind story: 2020 is the year of the pirate skeletons.
According to Mathews, each year, it looks like nothing until it gets toward October, and it all comes together as Delawder provides the magic. "I'm the ultimate 'skeleton fluffer.' I am just as amazed as the people that walk by," Mathews said.
This year visitors have been quite different. Most mention to Mathews that they discovered the house when making deliveries in the surrounding neighborhoods and then decide to bring their children and grandchildren to see it. "Yeah for Amazon and FedEx," said Mathews.
When it comes to taking everything down, though, Delawder is nowhere to be seen. "I find every excuse possible to become unavailable," she said. Mathews said the number one question he receives each year when decorating is where he stores everything. "My answer is it all goes in the attic of the garage, but of course, it takes some creative packing skills to get 45 skeletons and everything else packed and backed into this tight space."
Mathews shared a small unknown fact. He and Delawder installed electrical outlets on the fence and under the porch years ago to limit the extension cords. "This year, 2020, we realized we need more outlets," he said.