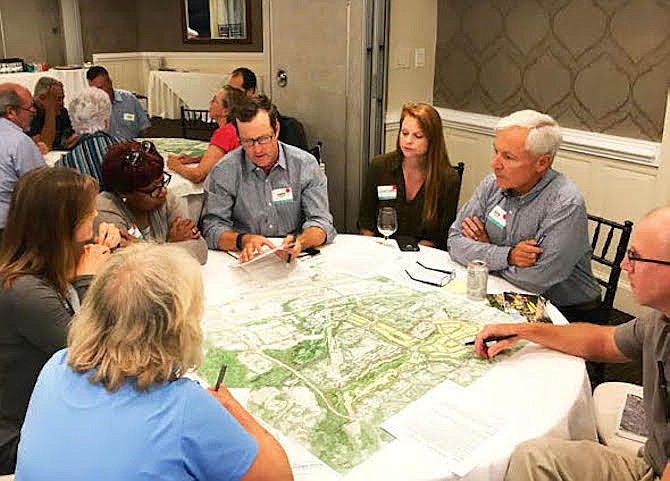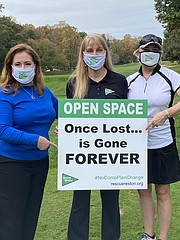 Hunter Mill Supervisor Walter Alcorn (D) issued a surprise statement early Friday morning, Oct. 23, ending what he termed "a good deal of uncertainty and even anxiety" among some constituents in the Reston portion of his district. Their concern centered on a plan by Wheelock Communities that purchased the 160-acre Hidden Creek Country Club property in Reston. It sits north of the Dulles Toll Road near Wiehle Avenue. The real estate development company is exploring the creation of a public park and a range of housing options on the property. Changes to the property's land use would require an amendment to the Reston Master Plan that is part of Fairfax County Comprehensive Plan and a rezoning. Alcorn said, "I do not support changing the Fairfax County Comprehensive Plan's current designation of this property (Hidden Creek Country Club) as a golf course and consider the matter closed."
According to the Plan as viewed at FairfaxCounty.gov, the property is termed private recreational use, specifically to remain a golf course. Alcorn said he based his decision not to support changing the Fairfax County Comprehensive Plan's current designation of this property based on last week's review of all direct communications with his office via emails, phone calls and letters about the property. Alcorn said, "There is no support from surrounding communities for changing the comprehensive plan. In fact, it is not even close – there are more than five residents against every supporter," he said.
THE NEWS sent shock waves to current property owner, Wheelock Communities. Three years earlier on Oct. 23, 2017, the real-estate development company acquired the private country club that included a 36,000 square-foot clubhouse, an 18-hole course, swimming pool, and indoor and outdoor tennis courts.
According to the company's website, based on several focus group meetings with more than 20 area residents representing diverse interests and dozens of meetings with community representatives providing community input, Wheelock had explored repurposing the private golf course and country club to provide the Reston community with the following:
"An approximately 100-acre public park complete with miles of connected trails and new recreational facilities
Significant environmental benefits (among them, more than a mile and a quarter of degraded stream restored to their pre-golf course condition, establishing healthy wetlands and wildlife habitats)
New home-ownership opportunities in Reston."
Upon learning of Alcorn's no designation change statement, Dan Green, Principal Wheelock said in a Media Statement: "We were extremely disappointed in Supervisor Walter Alcorn's statement this morning regarding Hidden Creek and respectfully disagree with his findings that led him to the conclusion to not support a more in-depth County led analysis as of a potential change to the Comprehensive Plan and how that might address Reston and Fairfax County objectives." Green said Wheelock received support from some adjacent clusters from their community engagement, many of the club's neighbors and others throughout Reston. "We are encouraged by this show of support and will continue to engage the community about the future of Hidden Creek and what it can mean to Reston," he said.
Lynne Mulston is the North Course Chairperson at Rescue Reston. It is a grassroots organization of volunteers opposed to redevelopment attempts by owners of Reston's two golf courses, Hidden Creek Country Club and The Reston National Golf Course. "The Reston community's voice has been clear and strong on the Hidden Creek issue...We thank Supervisor Alcorn for being responsive to over one thousand constituents who responded to Rescue Reston's call-to-action and contacted his office. The importance of Reston's diverse population seen taking part in recreational opportunities at Hidden Creek is at the forefront here. Hidden Creek now has reported slightly over 600 members and also serves as a home course for the golf team at McLean High School. South Lakes High School's home course for their golf team is The Reston National Golf Course. Golf is vibrant in Reston and continues to thrive during the pandemic."
DESCRIBED as an inclusive, family-friendly, private country club on its website, the operation of Hidden Creek Country Club is dependent on income from its various membership categories – golf, swim and tennis, swim and social, clubhouse and others. Also, members do not pay assessments. Alcorn said that he recognized that this property's long-term use as a golf course depended on people willing "to pay to play golf." He encouraged community members who wished to see the property remain a golf course "to pick up the game and go play."