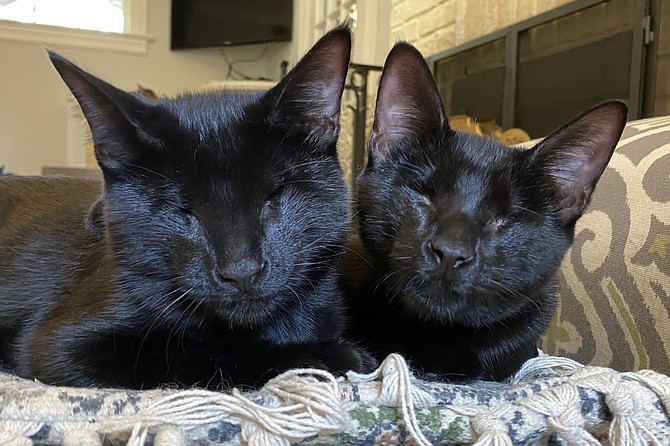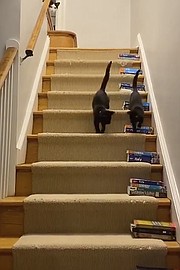 A mom with no name. And a litter of kitties with eye and sight issues. Sullivan (Sully) and Keller (Kelly) didn't have an easy start. Born into a large community of feral cats in rural Virginia, they were living outside when a good samaritan found the tiny kittens and resolved to rescue them along with their mother.
But the regular meals, comfy pillows and catnip enjoyed in the foster home weren't enough to replace the freedom of life in the great outdoors for mom. The rescue knew they had to let her go. To prevent future pregnancies, she was spayed before being released a few weeks later.
Feral "community cats," who survive kittenhood, live an average of two years, according to the ASPCA website. That's compared to the generous lifespan of indoor cats, which ranges from 13–17 years.
I'd like to believe that bio mom recognized her babies had special needs and that they would be better off getting the quality veterinary care that humans could provide. And I imagine her, just healed from surgery, giving those sweet bundles of fur a quick goodbye snuggle and one last loving look before disappearing into the wild.
Sully and Kelly were born with a congenital condition called microphthalmia, which prevented their eyes from fully developing. Kittens born with this condition, which can be caused by an infection in the mother, are often euthanized under the assumption that no one will want them.
But Sully and Kelly were fortunate. They were rescued by the Lost Dog and Cat Foundation (LDCF) about a month ago. The folks at LDCF paid for the two to have surgery to close their open eye holes, to prevent infection. And they committed to keeping the brothers safe and happy until their forever home is found.
I was amazed to learn that blind cats are able to do just about everything a sighted cat can do including self-grooming, enjoying toys, climbing, jumping on (and off) of furniture, finding their food and water bowls and yes, using a litter box. How do they do it? Apparently, similar to people without sight, they rely on other senses including touch, scent, sound and memory. And, they rely on their whiskers more than sighted cats to judge proximity to objects.
According to foster mom, Jen Boger, Sully and Kelly easily navigate their foster home and negotiate family dynamics (Jen and her husband have three other cats). And Boger says they climb just as high and compete for toys just as well as the rest of the clowder. Yup. That's your bit of trivia for today. A group of cats, you guessed it, is referred to as a "clowder."
It's worth mentioning that Kelly has a seizure disorder, well controlled by medication. It doesn't get in the way of her zest for life.
Sully and Kelly love nothing better than snuggling with each other and with their foster parents. During work hours, they can most often be found nestled in Boger's lap and/or shoulder. And they live for the moment when foster dad, Ian Warrington, comes home from work and doubles the cuddling.
Sully and Kelly long to find their forever home. They hope that you will want to meet them so they can show you that being different doesn't make them "less than." Rather, it makes them wonderfully unique. And they feel it's worth mentioning that adopting two black cats just after Halloween would significantly enhance their "gotcha day" story.
To learn more about this dynamic duo, go to https://www.lostdogrescue.org/ or email cats@lostdogrescue. And if you are touched by their story, but don't think these friendly felines are the right fit for your family, please share. Let's help Sully and Kelly find their forever home. You can follow Jen and Ian's cat adventures on Instagram @pokeypotpie
ArPets is a weekly feature for highlighting the well-loved pets of Arlington as well as animals who are available for adoption. If you or your dog, cat, iguana, bunny, rat or any other pet, has an interesting pet story to tell, email me at joan@joanbradyphotography.com.
Joan is an award-winning Connection Newspapers columnist and local photographer specializing in pets, children and families and contemporary business portraits.