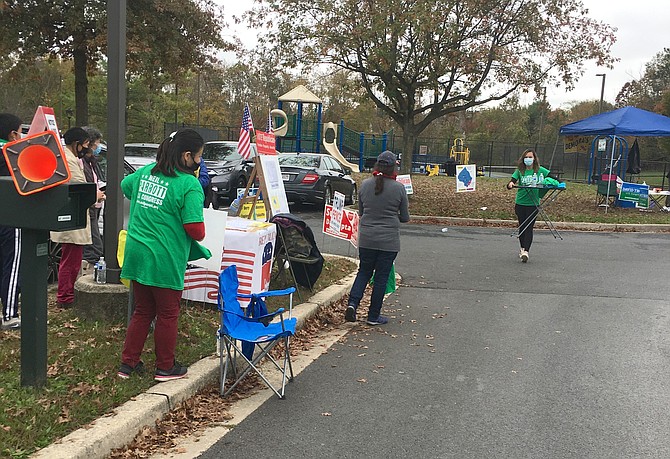 George Fenster arrived at Potomac Community Recreation Center at 5:20 a.m. Monday morning to get ready for the first day of Early Voting. There was already a line, he said.
Voting didn't begin until 7 a.m. but Fenster had to set up a tent for Democratic volunteers to use while answering questions and distributing campaign literature to those coming to vote.
"Within an hour the line was 200 people," Fenster said. "That was before 7 a.m."
Hours for Early Voting at all eleven of Montgomery County's Early Voting Centers are 7 a.m. to 8 p.m. all week including Saturday and Sunday, plus next Monday, Nov. 2. Election Day is Tuesday, Nov. 3. Hours that day are also 7 a.m. to 8 p.m.
Where you choose to vote will impact your wait time. According to the Montgomery County election website: www.777vote.org, times at the eleven early voting sites ranged from no wait to 90 minutes. Waiting time at Potomac Community Recreation Center at 4:30 p.m. Monday was listed as 30 minutes.
The longest wait was 90 minutes at the Executive Office Building in Rockville. Shortest was no wait at Germantown and Wheaton Recreation Centers.
When I arrived at the Potomac site about 3 p.m. there was a traffic back up while voters looked for parking spaces and a line outside the Rec. Center with people waiting to get inside to vote. But, by the time I parked, spoke to a few people, and went to take a picture of the line, it had disappeared.
Waiting did not seem to be an issue for voters coming or going.
Duncan and Lynne MacKeever of Potomac said they waited 37 minutes.
"I timed it," Duncan MacKeever said.
Lynne MacKeever said when she saw the traffic in the parking lot she wanted to turn around and go home but she and her husband stayed to vote.
"It was just going to get worse," Duncan MacKeever said.
Ian Gorham, who was at the Rec Center campaigning for the County's sitting judges said he arrived at 6:45 a.m. and there was already a line.
There are just some people who want to be first, he said.
By 4 p.m. there was no line at all, though the parking lot was still busy and full.
Nancy Long, of Rockville, said she did not wait at all, she just walked in and voted.
"I didn't want to wait until next week," she said.
Another reassurance came from Nick of Potomac who didn't want to share his last name.
"It moves pretty fast, they have a lot of voting booths," he said.
Remember that on Election Day, your usual polling place will probably not be open. On Election Day, only 39 of the usual 240 polling places will be open. It's worth your while to vote early.