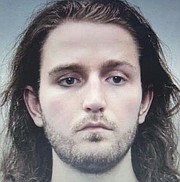 North Old Town was on lockdown for several hours Oct. 26 following a double shooting that left an Alexandria police officer wounded and a suspect fatally injured on the 600 block of First Street near the Old Town Holiday Inn.
An additional suspect in the case, 26-year-old Mitchell David Thompson, is in custody after turning himself in to Virginia State Police late Monday evening.
Alexandria police officers responded to a report of shots fired at 5:01 a.m. at the Holiday Inn Hotel. Once on the scene, two individuals involved in the shooting fled the area on foot. A pursuit of the suspects took place in the area of North Royal and Second streets during which an officer was shot by the suspect in the lower body.
"Our officer received a through and through wound to his leg and has been treated and released from the hospital," said Police Chief Michael Brown. "I spoke to him at the scene – we were very lucky."
The suspect took off and officers and K9s continued their search near the intersection of Montgomery and Fairfax streets, where another exchange of gunfire took place. It is still unknown if the suspect was hit although he was later found deceased in the vicinity of the railroad tracks.
The investigation is being handled by the Virginia State Police, who said that no injuries were reported inside the hotel. A stolen firearm was found in the possession of the deceased suspect, who has not been publicly identified as of Wednesday afternoon.
The state medical examiner will conduct an autopsy to confirm whether the deceased suspect was killed by police. Three police officers are on routine administrative leave following the incident and police have not indicated which suspect they believe was involved in the exchange of gunfire that wounded the officer.
"My concern right now is with our officer who was injured," said Mayor Justin Wilson. "I know the entire community joins me in wishing for a quick recovery for the officer and expressing our gratitude for their service to our community in a very dangerous situation this morning."
People in the area between Bashford Lane and Montgomery Street and between Washington Street and the Potomac River were asked to stay indoors, with doors and windows locked, as police searched the area.
Anyone with information about the incident is asked to call the Virginia State Police at 703-803-0026 or via email at questions@vsp.virginia.gov.