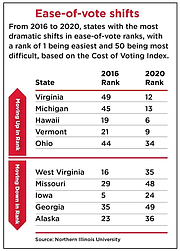 The Nov. 3 election ends in less than one week. And I say "ends" because the election has been underway for several weeks now, and over 60 million people nationwide have already cast their ballots! As you can see on the graphic from the Virginia Public Access Project (VPAP), over 2.3 million Virginians have voted already -- early in-person and by mail. This number dwarfs the total absentee votes that were cast in Virginia during the last presidential election in 2016 — we are now well over four times that previous total — and people are still voting. Here in the 44th Delegate district, our neighbors in Kirkside precinct have the largest early voting turnout to date with 48.9% of registered voters. Almost half of all voters! That is followed by record turnout by Hollin Hall and Marlan voters at 47.9 and 47.8% respectively. Bucknell, Hybla Valley, Belle Haven, and other precincts along Richmond Highway are running lower, but still at strong early voting levels, from 30 to 40%.
It's not just in Virginia either. Around the country, some form of no-excuse early voting is allowed in 38 states and the District of Columbia this year, some for the first time ever with new laws passed or due to the COVID-19 pandemic. Indeed, Virginia is leading the nation in early votes cast, and in expanded voting accessibility, moving from the 49th hardest state to vote four years ago, to the 12th easiest place to cast your vote in 2020 — the largest jump in rank for any state, according to Northern Illinois University. Virginia joins New Jersey, Vermont, and South Dakota as tied for the fourth-longest early voting period in the country: 45 days prior to an election. Alabama allows voting 55 days early, Pennsylvania 50 days, and Minnesota 46 days.
This year is our first election with many of the voting access reforms enacted by our new Democratic majority in the General Assembly, and Virginia voters are taking full advantage of fewer barriers to their voting rights. Probably the most substantial is the enactment of no-excuse-needed absentee (early) voting. Why you would need an excuse to give to the government about why you want to vote early never made any sense to me. That's your business, not the government's. Whatever your reason is to vote early, you are not alone, and here in Mount Vernon and Lee we have had long lines at our two early voting locations at the Government Centers at 2511 Parkers Lane and at 6121 Franconia Road, respectively. When I went on Saturday in the morning, the line moved fast and was no longer than 90 minutes. One voter told me that he had been waiting to vote for four years! With his mask on, hiding his smile, it took me a moment to realize he was joking, but obviously, folks recognize the significance of this election and are unwilling to wait another day to vote. Indeed, the long lines have been inspiring to witness. Note that curbside voting is also an option too if you are COVID positive or unable to walk inside due to health concerns or advanced age.
This Saturday, Oct. 31 is the last day for early voting prior to Election Day on Nov. 3 (now a state holiday). The budget that we passed during the Special Session included language and funding for prepaid postage on mail-in absentee ballots, fulfilling my initiative to provide this earlier this year with my bill HB 220. This was an important cause prior to COVID — eliminating more costs to voting — but this need was exacerbated by the coronavirus pandemic and the push to increase the accessibility of voting by mail. Budget language also mandated that localities install dropboxes to receive absentee ballots, which has eased lines for in-person voting and alleviates fears about delays in the mail service. The requirement for witness signatures for absentee ballots has been temporarily waived, and I plan to introduce legislation eliminating this requirement altogether as it just another nonsensical barrier to voting. In addition, to further ensure that all votes are counted, especially those that are coming from overseas from our service members and Americans living abroad, the deadline for ballots postmarked by Election Day to be received in order to be counted has been extended to the Friday following the election by 5 p.m.
Also, election officials must contact a voter within three days if a mistake is discovered with their ballot that would keep it from being counted, and voters will have until noon on the third day after Election Day to correct it. Remember, your vote not only makes a difference but it is your constitutional right. Please exercise it and vote!