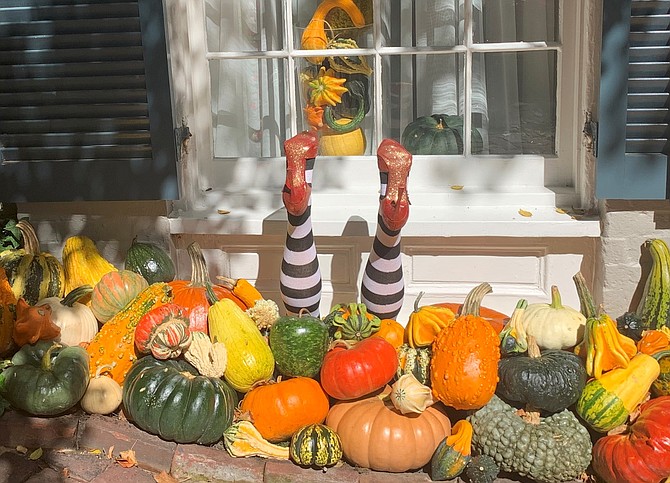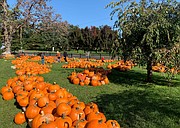 Halloween will look different this year, with COVID-19 safety a priority as children and adults look for alternative ways to celebrate the ghoulish holiday.
While Halloween is not a city holiday, officials have been notified that the annual community gathering on Lee Street and the Del Ray Halloween Parade has been cancelled for 2020. But options abound to safely enjoy the holiday, ranging from the Immanuel-Church-on-the-Hill Pumpkin Patch to a scavenger hunt on Mount Vernon Avenue in Del Ray or a Ghost and Graveyard Tour in Old Town.
The Immanuel-Church-on-the-Hill Pumpkin Patch is open through Oct. 31 at the corner of Seminary Road and Quaker Lane. The pumpkin patch offers all sizes of pumpkins as well as homemade soups, baked goods, knit wear and autumn Halloween-themed crafts. https://www.immanuel-on-the-hill.org/
In Del Ray, the Del Ray Business Association is hosting its first Halloween Scavenger Hunt featuring businesses that have festively decorated their storefronts. The hunt began Oct. 23 and continues through Halloween.
Walk the Avenue (in costume or not) and find Halloween-themed items in Del Ray's murals and decorated businesses. Four randomly selected winners will receive a $50 gift card. Visit https://drba.wildapricot.org/ for scavenger hunt clues and instructions.
The Old Town Ghosts & Graveyards Tour continues to operate under COVID-19 safety protocols and is also offering an online Zoom tour for anyone who would be more comfortable enjoying a virtual experience. https://www.alexcolonialtours.com/.
Another pandemic-safe entertainment option is the Alexandria Drive-In Theatre. Presented by Alexandria businesses ALX Community and The Garden, the series will run from Oct. 31 to Dec. 5 at 5001 Eisenhower Avenue. A variety of movie classics and family favorites will be featured beginning with a double feature of Casper and The Mummy on Halloween night. For tickets and more information, visit https://www.alexandriadrivein.com/.
The traditional Del Ray contests for Best Decorated House, Best Group Costume, Best Pet Costume and Best Decorated Block return this year in a virtual format. Due to COVID-19 restrictions, DRBA will partner with the Alexandria Boys & Girls Club and Community Lodgings in offering community members the opportunity to purchase a costume for a specific child. Visit https://drba.wildapricot.org/ for more information on the contests or to purchase a costume.
For additional suggestions and guidelines from the Alexandria Health Department on how to celebrate Halloween safely, visit https://www.alexandriava.gov/Halloween.