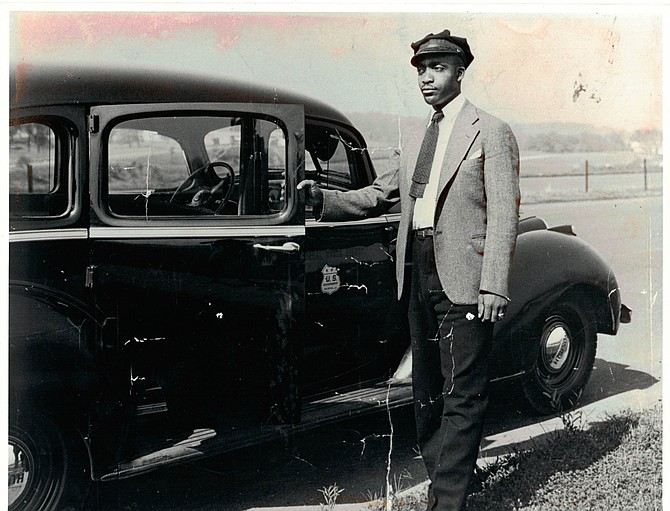 In 1930, James Thomas Ford was a 17-year-old who lived with his mother and siblings in a rural community in Victoria, Lunenburg, Virginia. He helped his family by doing odd jobs. Early on, James knew what he wanted in life, so he decided to migrate at 17 to Alexandria, Va.
Once he arrived in Alexandria, he obtained odd jobs until he landed a job with the U.S. General Service Administration (GSA) as a general clerk. While he worked at that job, he obtained two part-time jobs, one as a custodian cleaner and the other as a driver for the Alexandria African American Cab Company called Star Cab. His cab number was number 19. He had a chance to learn about Alexandria from his cab driving colleagues like Buddy Wilson, Will Charity, Jerry Grimes, James Mitchell, Norman Reynolds and others.
He was always looking for a better position. He left GSA for a chauffeur position at the Department of Agriculture, Farm Credit Administration, where he received a Meritorious Service Award in 1967 for his devotion to his job as a loyal employee. He was fondly remembered as a driver who liked smoking cigars. He knew Washington, D.C. inside out, and when the top brass came to town, they would call on him. James was also a popular driver on his part-time job as a cab driver. When customers called for a cab, they would ask for the "Cigar Man."
James was always making plans for his next step in life. In 1968, he started making plans to establish his own business. He made that transition when he retired on July 31, 1970 with over 20 years of service with the Farm Credit Administration. He became an entrepreneur, owning the Tip Top Custodial Service business in Alexandria. Some of his clients were the Christian Science Church, Immanuel Lutheran Church and School, Alfred Street Baptist Church, Roberts Memorial United Methodist Church and doctor's offices and law firms. He and his children worked side by side and became successful in their business.
James was a member of Roberts Memorial United Methodist Church, where he served as president of the Usher Board and was honored in 1998 by the members of his Church for his services. He became a member of the Blue Lodge Masonry in 1946, and a member of Acacia #32 Lodge in Alexandria, Va.
Mr. James Thomas Ford Sr. was one of eleven children born in Richmond, Virginia to Thomas and Rosa Ellis Ford on September 13, 1913. James married his first wife, Florence Brown from Alexandria in 1934. They had five children, James Jr., Frazier, Raymond, Milton and Viola. In 1958, he married his second wife, Josephine Amanda Wilkins from Warren, North Carolina; they had seven children: Pamela, Deborah, Rosie, Phillip, Lavonne, Mary and Tracy.
By 1994, Mr. Ford's health was declining; he let his sons James Jr. and Raymond take over his business. On Aug. 19, 1999, the "Cigar Man" was surrounded by his wife and children when he passed away; he was 85 years old.
The City of Alexandria gave him a good life. He was able to achieve his dreams in Alexandria by purchasing his house at 702 North Patrick Street, worked for the Federal government and owned a business.

Many people who knew Mr. Ford will remember him dressed in his suit, smoking his cigar and offering others a cigar as well.
Char McCargo Bah is a published author, freelance writer, independent historian, genealogist and a Living Legend of Alexandria. She maintains two blogs, https://theotheralexandria.com/ and https://findingthingsforu.com/.