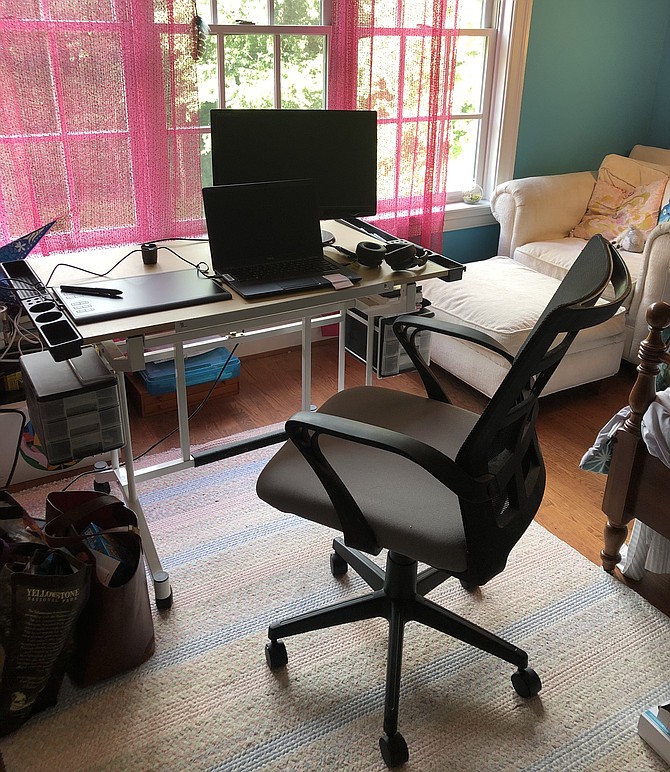 Diane Hausman, a fourth grade teacher at Colvin Run Elementary School, is entering her ninth year of teaching; but in many ways, she said, it feels like her first.
Fairfax County Public Schools (FCPS) announced in July that it will begin the 2020-2021 school year entirely online, with four days of "live, face-to-face" online instruction on Tuesday through Friday, and asynchronous "independent learning" on Mondays. For many teachers, this means learning new skills for remote instruction and creating lessons that are adapted for the online setting, sometimes from scratch.
"I know I'm going to have to work a lot more this year: not learning what to teach them, but putting it into a virtual format that's engaging for kids," Hausman said.
The Fairfax County School Board voted in early July to delay the first day of school by two weeks, until after Labor Day, in order to provide staff members with more time to prepare for the fall: a change that Hausman welcomed.
"My work-life balance [in spring] was nonexistent," she said. "I'm grateful I have until the 8th of September, because I'm gonna need all that time."
Lamya Alany, an English for Speakers of Other Languages (ESOL) specialist at Kent Gardens Elementary School in McLean, said that preparing for the virtual setting also leaves her with a mental load.
"I haven't stopped working since March 13. Whether I'm actively on the computer or not, it's always on my mind: 'How am I going to do this? How can I make this better? How can I learn something new to make sure that I can do my job?'" Alany said. "We're all really, really trying."
FCPS has faced backlash over its fumbling transition to remote learning in spring, as well as its decision to resume fall classes virtually.
Hausman said that these controversies have put some pressure on teachers for the upcoming fall. She has tried not to look at Nextdoor, the hyperlocal social networking service, where frustrated parents vented their complaints in the spring.
"People were blaming teachers for things, and our hands were tied," Hausman said. "We were doing what we were supposed to do, and could do, under the circumstances."
ACCORDING TO FCPS, teachers and other school-based staff have received instructional training in virtual teaching techniques. Still, many teachers expressed concern about the emotional and social dimensions of the classroom.
Patty Hansen, a 6th grade teacher at Colvin Run, found that her students were "quieter" in remote classes, and they tended not to volunteer answers as often. She attributed this in large part to the novelty of virtual instruction, and predicts it will improve in the coming fall as students gain familiarity with remote learning technologies.
However, Hansen worries that the remote setting will pose a barrier to her ability to check in on students' emotional and social well-being during the pandemic.
"I don't know how they're responding emotionally to the current conditions, or the effect that this has had on their social lives," she said, also stressing that students' emotional well-being is necessary for cognitive learning.
Several teachers also expressed their concern about starting the new year with a new group of students. When FCPS went virtual in the spring, teachers knew the students they had been teaching prior to the pandemic; this will not be the case in the fall, Alany explained.
"Starting the school year, and not ever having met the student in person, is going to be interesting," she said. "My biggest concern is making those students feel comfortable, and then trying to get them to progress, so they get the education they deserve."
Hansen said that going into the fall, she hopes to emphasize the social aspect of learning, using "breakout rooms," in which students can talk in smaller groups, to foster small-group discussions. Hausman added that her approach to the school year will be to use student-centered learning as much as possible, "giving them as much voice as possible so that they can feel heard, and they can hear each other."
Alany, an ESOL instructor, stressed the importance of maintaining students' confidence in the classroom, especially those navigating school in a second language. She is concerned that the nonverbal signs of encouragement she usually gives students may not be conveyed in the virtual setting.
"The small nods, the pat on the back, the eye contact, the smiles – you don't always get those small gestures that really give students confidence," she said. "The content, I can do anywhere...but what's missing is being able to make sure the students feel safe, and they connect with you, so that they will take chances with language."
Alany also said that the pandemic has affected ESOL students' English-learning.
"The students have more time in home language, and they're not being pushed to speak and interact in the target language that they're learning, in English," she said. "I think that the natural progression of language-learning took a hit."
DESPITE THE MANIFOLD LIMITATIONS of the pandemic, Hausman has accepted the fall as a welcome challenge.
"Despite everything, I'm really looking forward to getting back to work again," Hausman said. "I think that you don't grow if you don't have a little bit of change in your life. It's some painful growth, but I feel like I'm going to grow a lot from this experience."
Ultimately, Hansen said, a teacher's job remains the same this year: to provide students with a welcoming, stimulating learning environment, "pandemic or not."