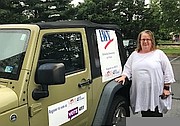 It's on. It's off. It's on. It's raining.
Due to the coronavirus pandemic, the annual Nauck antique car event scheduled in June had been repurposed to a neighborhood parade to be held on Aug. 29. Then the aftermath of the hurricane hit Arlington on Friday night. Even though other events such as the County-sponsored Census Palooza II had been postponed on Friday, the parade organizers didn't give up. They gave parade participants instructions to go ahead and line up at Drew Elementary School on Saturday morning unless it was raining two hours before the scheduled 11:00 a.m. departure time. Then at 8:37 a.m. word came down. No parade.
Pam Berg had decorated her olive green jeep for the parade with League of Women Voters posters.
"I guess I'll just drive around the neighborhood in a one-man parade." But she says one of the residents saw her efforts and told her, "Hey, I just want to thank you for all you are doing. I really appreciate it."

Portia Clark, head of the Nauck Civic Association, says they hope to reschedule for Sept. 12.