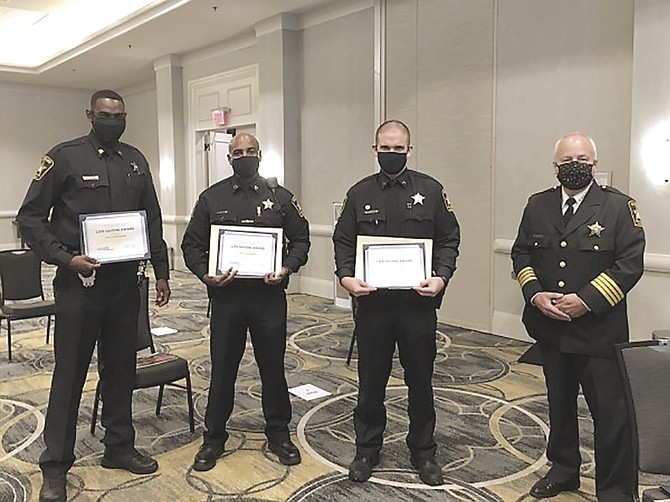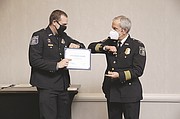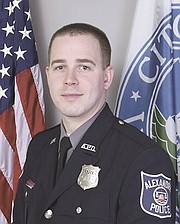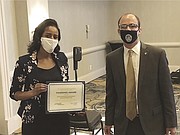 The Chamber ALX held its 2020 Valor Awards Aug. 27 at the Hilton Old Town Alexandria in a hybrid ceremony that adhered to social distancing guidelines while honoring the city's first responders for their heroic actions in the line of duty.
New this year were the Pandemic Awards, presented to healthcare and essential services personnel working on the front lines of the COVID-19 pandemic.
Sponsored by Inova Alexandria Hospital, the event was live streamed to the general public with honorees attending in person while adhering to social distancing guidelines to prevent the spread of the coronavirus.
Among the honorees was Police Sergeant Michael Vaccaro, who was awarded a Bronze Medal for placing himself at risk of death by going between citizens and a gunman who opened fire in Old Town in 2018. After neutralizing the threat, he performed life saving measures at the scene.
Alexandria Sheriff's Department Deputy Jason Bebow, Deputy Devon Neckles and Deputy Julio Ocasio were recognized with Life Saving Awards along with 17 firefighters and EMTS from the Alexandria Fire Department.
Misgana Aregai, the volunteer coordinator for Meals on Wheels, accepted a Certificate of Valor on behalf of Senior Services of Alexandria, which tripled the number of community members served to over 2,000 in response to the pandemic.
In the pandemic award category, Inova Alexandria Hospital's Support Service Team received a Certificate of Valor, the Inova Alexandria Hospital's Emergency Department and Critical Care Team received a Life Saving Award, and the City of Alexandria's Health Department received a Life Saving Award.
Arlington Police Corporal Nichole Pehrson received a Life Saving Award in an unusual circumstance that recognized her response alongside Alexandria Police Officer Sara Thomas in saving a family from a burning residence last January while the two were off duty.
The 2020 Valor Award Honorees: Alexandria Health Department, INOVA Alexandria Hospital Support Services, INOVA Alexandria Hospital's Inpatient Team, INOVA Alexandria's Emergency Department and Critical Care Team, Neighborhood Health, Senior Services of Alexandria's Meals on Wheels Team, Firefighter John Ashby, Deputy Jason Bebow, Captain Andy Beckett, Firefighter Tara Blunt, PSCO II Valerie Bonsu, Lieutenant Henry Cook, Firefighter Tyler Degenhardt, Firefighter Sandy Godsey, Officer Lorenzo Hardy, Firefighter Peter Hunter, Firefighter Dylan Kempton, Firefighter/Medic Ryan Kilner, Captain Jason Kuehler, Officer Lisa Kolodzinski, Firefighter/Medic Lyndsay Loper, Captain Bryan Meckes, Deputy Devon Neckles, Deputy Julio Ocasio, Arlington Police Officer Nicole Pehrson, PSCO II Shavaughn Priestly-Smith, Officer Luis "Henry" Segura, Captain John Silverwood, Sergeant Zygmond Slevinski, Motor Officer Loren Smith-West, Firefighter James Swanick, Paramedic Lori Taylor, Officer Sara Thomas, Firefighter Rudy Thompson, Sergeant Michael Vaccano, Firefighter Sokthear Van, Officer Wesley Vitale, Officer Shakita Warren, Captain Eric Whitmore, and PSCO II Latoya Wilson.