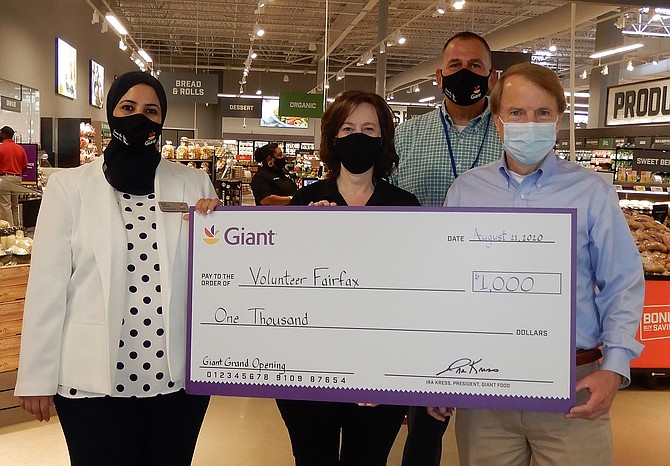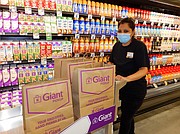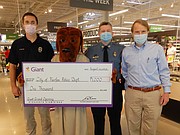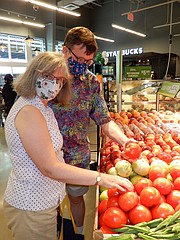 Giant is already a food store familiar to Fairfax City residents; but now they have one to enjoy at 9400 Fairfax Blvd. in the new Scout on the Circle development. It opened Friday, Aug. 21, much to the delight of the shoppers there.
"I've been watching it go up and wanted to see it," said Fairfax's Peggy Ericksen. "I think it's lovely and clean and has a very good selection. It's convenient, the parking is wonderful, and the staff is accommodating."
The 53,000-square-foot store was designed to address the way today's consumers shop by expanding popular departments, providing more amenities and helping customers easily find their favorite products, while discovering new offerings. This new location also created 180 new jobs for the local community.
Upgrades include expanded prepared food, meat and seafood service counters, a larger natural and organic department and selection, and a fresh-cut fruit station and juice bar. Also available are a floral shop, full-service Starbucks with café seating, a beer/wine shop, bakery and a PNC bank with two ATM machines.
Giant began its first day of business here by being a good neighbor. It presented $1,000 checks each to Britepaths, Volunteer Fairfax, Rebuilding Together Arlington/Fairfax/Falls Church, and the City of Fairfax Fire Department and Police Department. "We're proud to be part of the community, and we just want to give back to it," said Giant spokesman Daniel Wolk.
FAIRFAX MAYOR David Meyer attended the grand opening and was pleased with what he saw. "The City is thrilled to have this new Giant here," he said. "This is the first, new-construction grocery store in Fairfax in several decades, and it's a great location with easy access, plus a parking garage and surface parking.
"One measure of the economic vitality of a community is having access to high-quality food in top-flight facilities," he continued. "This Giant sets the standard for best practices in future grocery stores."
Focusing on energy efficiency, this store was built with LED lighting throughout, plus additional doors and refrigerators throughout deli, dairy and produce sections to keep items fresh and cold while also conserving energy. It's light and airy, too, with aisles 7 feet wide or larger.
The store also features a pickup service. Shoppers place their grocery orders via GiantFood.com or the Giant Food mobile app, and in-store associates will hand-select, pack and deliver orders right to the customers' cars. Or, if desired, people may have orders delivered to their homes.
Shoppers may view Guiding Stars, nutritional-value ratings on items' shelf tags. They may also access Giant's team of licensed, in-store nutritionists for free, online and phone consultations, as well as online nutrition classes and webinars. To sign up for a class or contact a nutritionist, go to giantfood.com/nutrition. There's no pharmacy, but during the store's first two days open, Giant pharmacists from elsewhere administered both flu and non-flu shots.
"Giant has had a presence in the Fairfax area since 1954, and we're excited to bring shoppers an additional location to better serve the growing needs of the community," said Giant Food President Ira Kress. "With all the added features and amenities, this store can serve as a one-stop shop," And because of its new and improved décor and layout, he added, "Every department is designed with the shopper in mind."
AMONG THE CUSTOMERS last Friday were Bill and Heather Brennan. "It's very exciting," said Bill Brennan. "It's a beautiful store."
Agreeing, his wife said, "It's a 10-minute walk from our house, and it's great to have something within walking distance."
Giant executive Gary Budd said being a part of Scout on the Circle "gives us the opportunity to serve many more people in the community that we weren't able to before. We're excited to offer our quality food and convenient services to the development's new residents, shopping-center visitors and the entire neighborhood around Fairfax Circle. We're confident this new location will serve this community well."