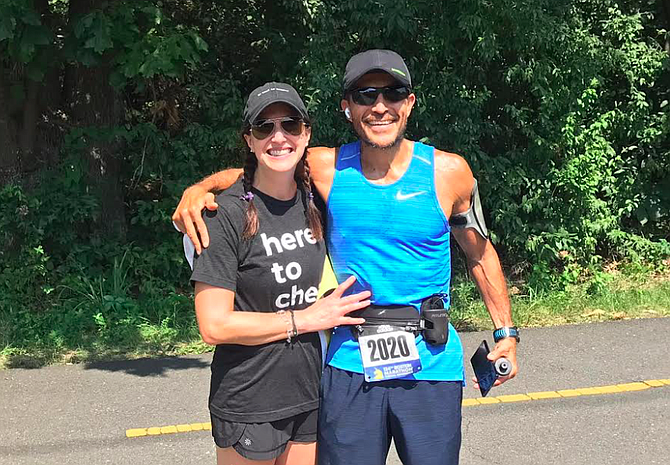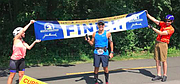 On Sunday, Sept. 6, Great Falls resident Luis Narvaez ran in his first-ever Boston Marathon, which was held virtually due to the COVID-19 pandemic.
This year, participants are required to complete a continuous marathon any time between Sept. 7 and 14, wherever they are in the world. The Boston Athletic Association, which organizes the annual marathon, also created an app that mimics runners' experience of the actual course in Boston, including audio cues such as the National Anthem at the beginning of the course and applause at the finish line.
Narvaez completed the race in the Vienna/Reston area. His 26.2-mile loop included stretches of the Washington & Old Dominion Trail, Wiehle Avenue, and Baron Cameron Avenue.
Sunday's marathon was the culmination of an intense six months of daily training for Narvaez. He devoted three months to developing his running speed through interval training and short, high-intensity runs, and he spent the final three months building up his endurance.
He has been a long distance runner for about ten years, and has run a total of 23 marathons in his life, seven of them last year alone. He ran his fastest marathon in 2018, with a time of 3 hours and 13 minutes. Narvaez plans to participate in the Marine Corps' 50km Ultramarathon in October for the sixth year in a row, and he has qualified for the 2021 Boston Marathon as well.
Narvaez is a Senior Program Manager at a satellite communications company and is a licensed Personal Trainer. He owns a gym, "Train with Luis at Great Falls" on Colvin Run Road, which offers fitness plans including triathlon training, marathon training, and strength programs.
Narvaez said that he ran the race in remembrance of the victims of the 2013 Boston Marathon Bombing, hoping to support and show his solidarity with the Boston community.On the day of the race, Narvaez was cheered on by his wife Angela and several of his friends.