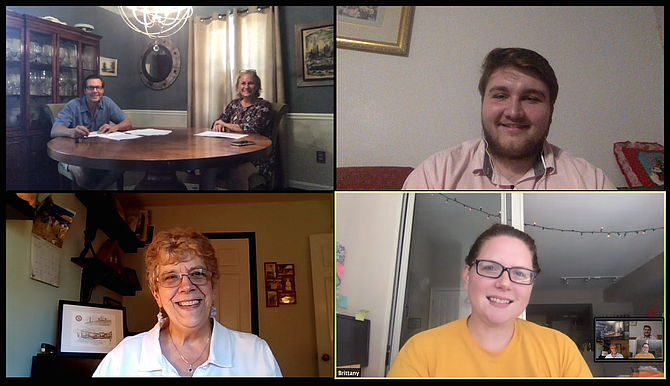 After a few months of being shut down due to Covid-19, the Little Theatre of Alexandria is staging an in-person production of "Love Letters" from Sept. 11-27. Taking place over the span of 50 years, the play is a humorous and emotional look at the love letters exchanged between two childhood friends. This production is part of Little Theatre's Fall series, "Small Theatre for Unusual Times." Tickets are available for free. Written by A.R. Gurney, the show is produced by Nick Friedlander and executive produced by Russell Wyland.
According to Director Joanna Henry, "I wanted to direct this play because it's clever, witty, and realistic. It's different than other plays because the actors are reading the letters they wrote to each other over the years. The two characters are slowly revealed as their personalities emerge from the letters."
She added: "Through these letters, both characters expose the pitfalls, expectations, and various pressures that they felt as they aged 50 years over the course of the play – pitfalls, expectations, and pressures that we all feel as we journey through life. It's an intriguing character study, and I love delving into the characters of plays that I direct."
She said this is an unusual play because of the actors reading the letters aloud to the audience. "We watch and hear the two characters grow up during the play through what is revealed in those letters. My hope is that the audience will observe the characters listening to and reacting to each other – and will understand them."
Because the rehearsals were held on Zoom, Henry said it was challenging because she bases a lot of her directing on feeling the connections with the actors, as well as their chemistry with each other. "However, our two actors are married to each other in real life, so I knew the chemistry was there, and it was nice to be able to have them in the same room, at the same table, for our Zoom rehearsals instead of in totally separate places miles apart," she said.
As far as audience takeaways, she added: "I would love for our audiences to leave the LTA theater feeling that, even with our differences, we can find compatibility, acceptance, and harmony. In this play, we see two very different people who grew up together, went their separate ways, and yet always reconnected. "
Nicky McDonnell, who plays the role of Melissa Gardner, says she's actually many characters in one. "She transforms from a hopeful, creative, talented, funny young child to a 'lascivious old broad' as she puts it in ACT II," she said. "…And yet for all her shortcomings, Melissa sees the world for what it is – no blinders, which is why perhaps she is able to paint and draw her truth so well. She has a terrific sense of humor, but also a boiling over grief which is hard to contain – though she does."
In real life, she and her husband have been together for 27 years and they have never worked together. "It took a new level of trust to sit down and do this play together," she said. "Our performance experiences over the years have been separate and, in some ways, private. Also, reading the play per the playwright's instructions was challenging – no mugging, no crying – just read. It's hard to trust that the words, the story and the delivery are enough to entertain an audience. Just two mid-lifers reading at their desks for 80 minutes or so … it's tempting to try and do more to keep it moving at the proper clip."
She said she hopes the audience walks away with a powerful reminder of relationship. "As we redefine our homes and our relationships during this Covid time, we realize more than ever how important our friends and family are in our lives. How much we need them. It's a perfect time for letter writing to those we love and cherish. It's a perfect time to connect – no matter your means – Zoom, phone calls, distanced get togethers, etc."
Steve McDonnell, who plays the role of Andrew Makepeace Ladd III, said his character is a dedicated family man and a responsible rule-follower. "He lives by directions his father taught him – to honor obligations to his family, his country and himself, in that order. He was taught that those born to privilege have special responsibilities and he lives his life following those guidelines."
He continued: "Andy loves to write, especially letters to Melissa, the person he has loved his entire life but was never able to be with. He follows the path he was destined for and only veers from it in private, and only with Melissa. She is his lifelong friend and confidant. But he never allows himself to divorce from his responsibilities long enough to accept her as his companion."
As far as audience takeaways, he added: "I hope the audience takes a hard look at their lives and remembers what it was that used to be important to them and how they may have never pursued it because of the responsibilities they accepted as they grew. Maybe they too have someone they have known forever and maybe they can revisit the times they shared."
Because tickets are free, donations of any amount are welcome. Donations may be made through Eventbrite when you order your ticket, in cash at the performance you attend, by calling LTA, or online by clicking the donate button on the website at: http://thelittletheatre.com/opportunities/#donations.
The theater is located at 600 Wolfe Street, Alexandria, VA 22314. Call the box office at 703-683-0496 or visit http://thelittletheatre.com/.