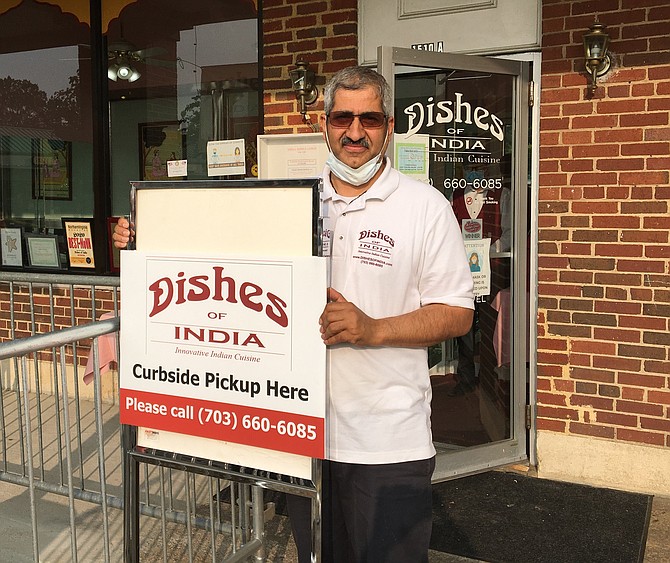 Dishes of India provides delicious Indian food for lunch or dinner. It is located in Belle View Shopping Center and is currently open for carry-out only.
The menu features chicken, lamb, seafood and vegetable dishes with biryani-rice based dishes also available. Instead of the famous lunch buffet, Dishes of India is now offering special "small bowl" lunches with a variety of meat, vegetable, and rice options.
This family-owned and operated restaurant opened June 17, 1997. Chef-owner Ramanand Bhatt began cooking when 16 years old in New Delhi, India at a roadside café. From the beginning of his career his desire was to open his own restaurant. At age 25 he traveled to Spain, where he worked at a prestigious Indian restaurant for five years. Returning to India, he worked for Air India flight kitchens as an assistant chef for 15 years. In 1981 he came to the United States, continuing to fine-tune his skills, plan and save and eventually opening his own restaurant in 1997.
His son, Naresh, manages the restaurant and the work of two other chefs who specialize in Tandori and curry cooking. The other son, Gopal, takes care of the front end. Dishes of India is focused on traditional authentic Indian cuisine using only the freshest ingredients and the best spices.
The family believes the secret to the delicious meals created at Dishes of India may be the extraordinary gift of happiness from God they feel which is transferred to the cooking. Many restaurant customers are dedicated patrons returning often for consistently great meals.
In 2003 Dishes of India was destroyed by Hurricane Isabell and the flooding in Belle View. It took a year to renovate the restaurant and reopen. There were so many hurdles to re-open the restaurant but with the help of many community organizations and loyal customers it was possible to restore Dishes of India and open for business again.

The full menu may be seen by visiting the website at https://www.dishesofindia.com/. Customers may visit the restaurant and order curbside or order online at https://www.toasttab.com/tandoor-india-inc-1510a-belleview-blvd/v3
Dishes of India
dishesofindia@aol.com
1510-A Belleview Blvd., Alexandria, VA 22307
https://www.dishesofindia.com/
703-660-6085
Dishes of India is the "Restaurant of the Week" from Mount Vernon Lee Chamber of Commerce. Restaurants are an industry deeply affected by the Covid-19 pandemic. Support local restaurants and help retain the variety of wonderful eateries in our community.