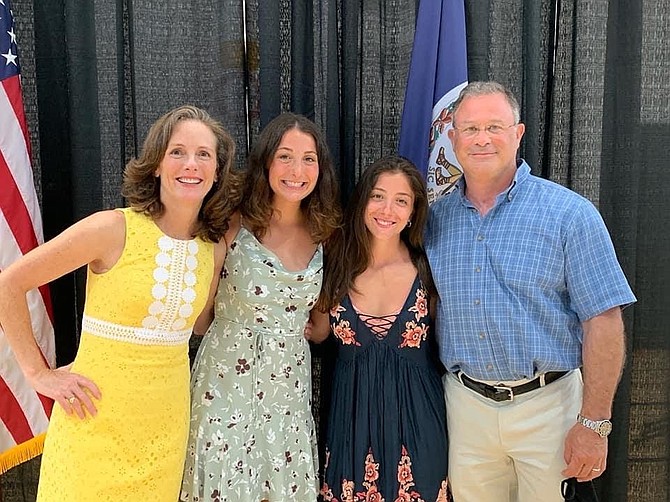 The Town of Vienna is a very special place, with its best attribute being our sense of community. It is a town of more than 16,500 people, yet it feels as if we all know each other or at least have a connection. Vienna residents are passionate about their neighborhoods, downtown, and activities. They have block parties, walk and bike to restaurants and shops and they play sports, sing, and dance, and do art. However, above all, they volunteer. It is not just the parents who are volunteering: empty-nesters, single folks, and children alike share this passion for service.
Thank goodness we have volunteer groups to help put on all of the events in town. My daughters always loved Viva! Vienna! and started looking forward to the next one the minute it ended on Memorial Day. Most of our events are family-oriented and there is always something for everyone to do. We usually have food, drink, and music. We love these events because it brings the community together.
THE TOWN closes Maple Avenue for two parades per year – the Halloween Parade and the James Madison High School Homecoming Parade. These are two of my family's favorite events. Whether you are a spectator or participant in the Halloween parade, the energy can be felt by all. People line the curb with blankets to assure a good spot in anticipation of the evening event and groups line up on Branch Street getting ready to walk, dance or ride down the avenue. It is a coalition of people working together and having fun.
The Friday before the big Madison Homecoming game creates a buzz of excitement in town. Parents, teachers, locals, business owners, and employees cheer the many teams and clubs of students as they parade down the street from the Vienna Presbyterian Church to James Madison Drive. The spirit is palpable for Vienna's high school and we can all be sure that we are a part of the Warhawk spirit!
If someone wanted to see some of the best parts of Vienna, I would ask them to walk or ride the W&OD Trail from Cedar Lane to Northside Park. Along the way, they will see the beautiful flora and fauna, wildlife, and other people strolling the trail. After crossing Park Street, they will immediately see the "Taking Flight" sculpture. It is a tribute to our late Mayor Jane Seeman and all Vienna volunteers. It shows that our town cherishes its volunteers and public art. Inside the Vienna Community Center, one can see the new Field House/Gym and the renovated Rodger W. Seeman auditorium. Both places bring people together to play pickleball or basketball, watch or act in plays and musicals, or gather for a special event. Just a few feet away is Waters and Caffi Fields where you can catch a sports game. Continuing on the trail will take you across Maple Avenue to the Town Green where people love to meet for a picnic or watch a band play.
THE NEXT STREET is a favorite of many. History abounds along Church Street with the old Chapel, The Freeman House and Museum, Little Library, Bouton Hall, and the Old Bank Building. There are quaint and unusual shops and eateries, and the streetscape is reminiscent of the late 19th - 20th century small-town America, making it a lovely place to stroll. Further down the trail brings you to the Red Caboose which is fun for kids to climb up and enter and a great meeting spot. Just pass that is the mural by Harris Miller that captures the spirit of Vienna. Everywhere you turn, there is an opportunity for community.
If you are new to Vienna and want to get involved and make new friends, join one of the many service clubs, non-profits, PTA's, town boards and commissions, or just take a stroll down the W&OD and you will be sure to meet people. Our neighborhoods are "a little slice of heaven" as my neighbor John Shults once told me. There is huge support and love between our businesses and residents, and we all volunteer to make our town a better place. We are #OneVienna and I welcome you to our town and our community.