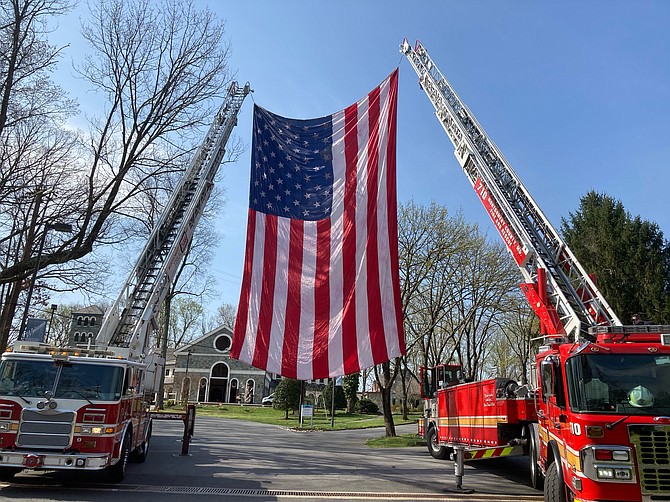 Stephen Francis Miller, 66, retired Deputy Chief of the Cabin John Park Volunteer Fire Department, died March 26, 2021.
Miller joined the fire department when he was a 16-year-old in 1971.
"Every little kid wants to be a fireman. Some of us just don't grow up, I guess," Miller told the Almanac in 2006 when being presented with a lifetime award from the fire department. Miller continued volunteering another 15 years after receiving the lifetime service award.
"It's very rewarding to work in your community and help your neighbors," Miller said to the Almanac at the time. "I get a great deal of satisfaction just from doing that.
A ceremonial two ladder funeral procession was held on Tuesday morning, April 6, passing by both the Cabin John Park Volunteer Fire Department on Falls Road and then on River Road. His ceremony will take place at Our Lady of Mercy on April 6, 2021 at 11 a.m.
STEPHEN MILLER was born in Takoma Park, Md. on Aug. 23, 1955, to Melvin and Magdalene (Lauer) Miller.
Miller attended Our Lady of Mercy Catholic School in Potomac through 8th grade; his family described him as an active athlete and a devoted Catholic. He graduated from Winston Churchill High School in 1972.
He started volunteering with the Cabin John Park Volunteer Fire Department at 16. And at 18, Miller met the love of his life, Judy Hughes. They married in 1977 in Potomac.
"Judy was his devoted caretaker and partner, always filling his life with love. Together they lived a life of love and commitment," according to an obituary prepared by Miller's children.
They loved to travel, especially to their family beach home in Duck, N.C.
VOLUNTEERING FOR CABIN JOHN Park Volunteer Fire Department was a family affair.
Miller's father Melvin Miller also volunteered with the fire department, and his mother assisted with administration. Stephen Miller grew up with a passion for emergency response, something he could share with his father, according to his family.
The family tradition would continue when Steve's daughter Holly Miller joined the department in 2003, when she was 19.
"As a firefighter, I believe he's someone that anyone can look up to," said Holly Miller of her father. "He's gone so far as a volunteer in his career. "Another thing I respect about him is that he may be a deputy chief but he still participates in every aspect of the fire dept, even down to cleaning the firehouse and washing the fire truck," she said.
MILLER'S DEDICATION TO VOLUNTEERING at Cabin John was a lifetime commitment. He rose through the ranks from a junior member to Deputy Chief. He served more than 20 years as Deputy Chief to Chief Jim Seavey, who died in 2018.
Seavey described Miller as "our man on the front lines" who is "available almost 365/24/7."
"He's there all the time and when people ask him how he's available to respond all the time, his simple answer is, 'That's what I choose to do,'" said Seavey.
MILLER WAS a leader in Montgomery County's Swift Water Rescue team. Even after his operational retirement in 2009, he remained a part of the team as an advisor. This team is responsible for saving hundreds of lives over the years and because of its dedicated, professional, and hard working members under Steve, they became a nationally recognized team.
Steve carried this passion beyond Montgomery County, as he served as the chairman of the Higgins and Langley Memorial Awards, and was a member of both National Association of Search and Rescue (NASR) and International Association of Water Rescue Professionals (IWARP).
Miller was an expert in the water rescue community.
Steve joined the International Association of Fire Chiefs, and as a part of the organization was a member of the Volunteer Combination Officers Selection where he served on the board of directors for six years. This allowed him to make contributions on a national level to career and volunteer combination departments like Cabin John.
IN ADDITION TO VOLUNTEERING as a firefighter and deputy chief, Miller had a career with the District of Columbia Fire Department. He was appointed to Truck Company 2 on February 16, 1975.
Miller worked various assignments as firefighter in D.C. for over thirty years, his longest assignment being with the Special Operations Battalion at the DCFD fire boat – John Glenn, from which he retired on Dec. 24, 2005.
"The fire service gave Steve lifelong friends and family that allowed him to live a life of service which was always his true calling. There are few people in life who could have given themselves so selflessly to help others in every facet they could find. His family will always remember the laughs, the memories, and the support and love the fire and rescue community gave him," according to his family.
MILLER IS SURVIVED by his wife of over 44 years, Judy; his children Stephen Miller Jr., Patrick Miller, and Holly Miller; his granddaughters Charlotte and Evie Schaeffer; his mother Magdalene Miller; his sister Suzanne (Brett Nelson) Miller and brother Mark (Renee) Miller; and his beloved dogs Kelly and Mickey. Steve is predeceased by his father, Melvin Miller.
In lieu of flowers, the family suggests donations may be made in Deputy Chief (Retired) Steve Miller's name to the Higgins and Langley Memorial and Education Fund (https://higginsandlangley.org/) or A Forever Home Rescue Foundation (https://www.aforeverhome.org/).