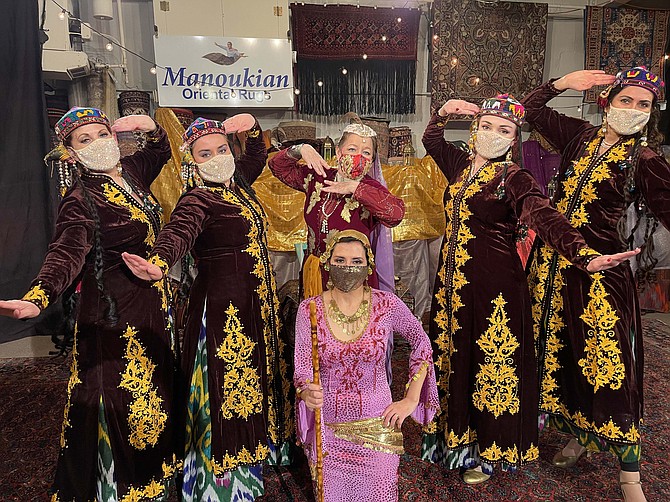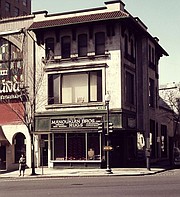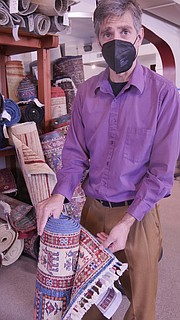 A stack of 3x10-foot runners lines one of the walls at Manoukian Brothers Oriental Rugs on Columbia Pike. Mikael Manoukian, currently managing the three-generational business, says these are the most popular today along with the 6x9 and 8x10. He says people move around a lot and don't like to carry a big rug around with them. "This one is a stylized Afghan rug with a geometry design."
A deep red 10x17-foot rug with blue accents is spread out on the floor in the middle of the room. "I just picked this up yesterday for deep cleaning and repair. It is a Persian Sarouk; it's like the Rolls Royce of rugs." Manoukian explains Persian rugs have their own nomenclature depending on location, like wine. This particular rug is 95 years old and was purchased on Black Friday in 1929, the day after the stock market crashed so this rug has value both as an heirloom and as history itself.
Mikael says last March when COVID-19 hit they closed down the store for three weeks. But he says they have a small manageable staff of three including his mother, Dona, who is in charge of administration, and Hernan who has been their master weaver and repairman for 30 years. So they decided they could safely open up with curbside service outside.
"We pick up rugs outside people's houses or roll them up and put them outside the store." He said they haven't had a slow year on the service side. "I think it depends on the vitality of the customer base. Sometimes today's customers are children of people who were our customers in 1960."
Mikael says he thinks their customers haven't lost their jobs and are working at home. "They aren't spending their money on vacation. They look at their house all day, and getting their rug cleaned is one thing they can do to fix up." But he adds that their customer base is older and "we want to be super careful and respectful."
Manoukian Brothers Oriental Rugs was established on Washington Circle in 1922 when Manouk Manoukian opened his first store after fleeing Turkey with three brothers. They joined to create Manoukian Brothers Rugs.
For decades the four brothers brought hand knotted rugs from the New York rug importers to the local area where their customers browsed and bargained over strong coffee and lengthy negotiations. Manoukian Rugs is the oldest oriental rug store in the Washington area and moved to Columbia Pike in 2018 when they lost their long time lease on Washington Circle. Today the store carries 600 rugs, all hand knotted and from Middle Eastern countries with a few from China. "They last a long time."
Mikael says his father, Paul, was the son of the youngest brother to start the business. Paul worked as a civil engineer for the Washington Metropolitan Area Transportation Agency and eventually took over. For over 20 years Paul and his wife streamlined the business processes to transition the business from old systems to new ones.

Mikael says his father is 87 now and at home. "It's been tough on him. He's been doing this since he was a kid. He was a trader and he knew rugs and pistachios. Much was expected of him generationally, more than of me I think."
Since Mikael has moved into managing the business, he has concentrated on updating the technology, creating an email list and designing a website. Like his father, Mikael balances his own career as a video producer for the arts with managing the carpet business. He explains, "I figured out when I wasn't making ends meet as a performer that I needed to find a sustainable income." So he turned to doing video for the arts.
Mikael's interest in the arts has spilled over to "Live From the Rug Shop," a series of concerts live streamed from the Columbia Pike building and focused on performers in the Washington Metropolitan Area. Last month they celebrated the Persian New Year with Central Asian Dance by Nomad Dancers and belly dance by Raqs El Hob. He says "you can do bellydancers in a small space like we have here but you couldn't do ballet."
Mikael promotes the artists through Paypal with an opportunity for those tuning in to contribute to the artist if they wish. "I'm trying to keep it as diverse as I can." He would like to try bluegrass and has outreach to a mariachi band. Artists who have appeared since the concerts began in September include a mix of traditional Afro Caribbean music, two cellos and a local favorite, Rick Franklin, who takes us on a Blues journey.
Mikael adds that looking ahead in April he has scheduled the rock blues Dave Kline band for April 18, local singer songwriter Domenic Cicala on April 19 and classical guitarist Cristian Perez & Friends for April 20.
Mikael says, "It is an attempt to help get artists back in the game and lift up the spirits of everybody." Concerts can be accessed at https://www.facebook.com/RugShopConcerts.
Article updated April 8, 2021.