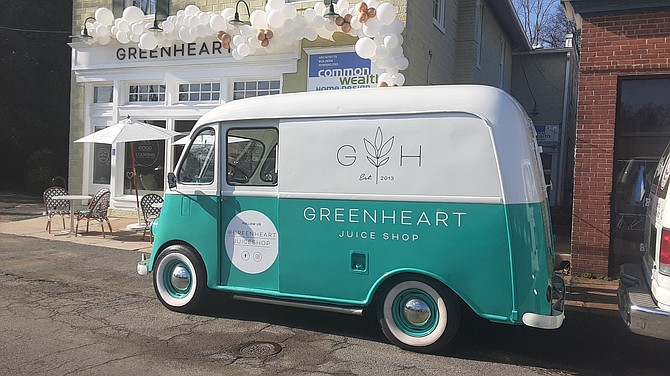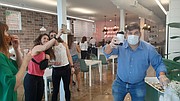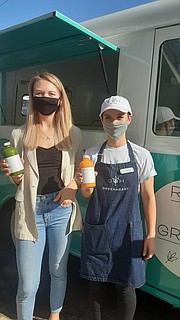 The "MJ" is a juice mixture of celery, cucumber, kale, spinach, parsley, lemon, mint, pineapple, apple and ginger, and a top seller among juices at the Greenheart Juice Shop that just opened off the bike trail in Vienna.
"We call it salad in a jar," said store manager Christina Childs, who grew up in Vienna and now lives in Oakton. "It sounds real healthy but it tastes real good too," she added Alicia Swanstrom, the co-founder of the store along with CEO Matt Cahir.
Greenheart was full of customers on Friday, March 26, as they had their "soft opening," and picked a sunny, warm but windy day to welcome the juice crowd of Vienna. Nearby resident Amanda Norton was enjoying her Green Machine Smoothie, Avacado Toast and Sweet Potato Waffle. "The cashew butter brings out the sweetness," in her smoothie, she said.
It was that kind of morning, with balloons out front and "Chef Rob," aka Robert Micciulla, in the kitchen making a list of natural delectables. The "Blue Jalapeno" is his specialty, which contains dried blueberries, and green pumpkin seeds called "pepitos," which are popular in Mexico. "We have simple, full flavored, fresh ingredients," he said. Chef Rob honed his culinary skill in a Texas Barbecue joint, and then Michelin Star in England, and now he's the full time chef at Greenheart.
Their menu includes 18 varieties of juices which includes a coffee drink too, and an assortment of meals, soups, smoothies and bowls. They also have snacks and deserts like a Chocolate Orange Dream Cake and the AB&J Coconut Chia Pudding. The juices are $11 for an 18-ounce bottle; salads $11; soups $10, smoothies $12 and desserts $8.
Greenheart has had a presence at the Vienna Farmer's Market for the past two years, and delivers in Vienna so they already have a strong customer base, said Swanstrom. They are using word of mouth and social media to let all those customers know about the new shop at 208 Dominion Road. It's steps away from the bike trail, so "we're hoping to snag many off the bike trail," added Swanstrom.
Out front they have an old-fashioned food truck of sorts that will serve their juices and foods on the go. "That will be one of our stores on wheels," said Swanstrom, who added that not only will they be available for farmer's markets, but the truck will cater to weddings, corporate events and food truck events. The truck is named "Sprout," which came from a customer in a past contest. "We're super passionate about community, one of our customers came up with this name," said Childs.
What's an opening day without an "influencer," roaming about, doing an Instagram video out front, the way influencers do things.
"I'm supporting fellow women-owned businesses in health and wellness," said Stephanie Tear, the influencer that traveled over from Bethesda for the opening. "People like seeing new stuff go up, especially healthy places," she said.