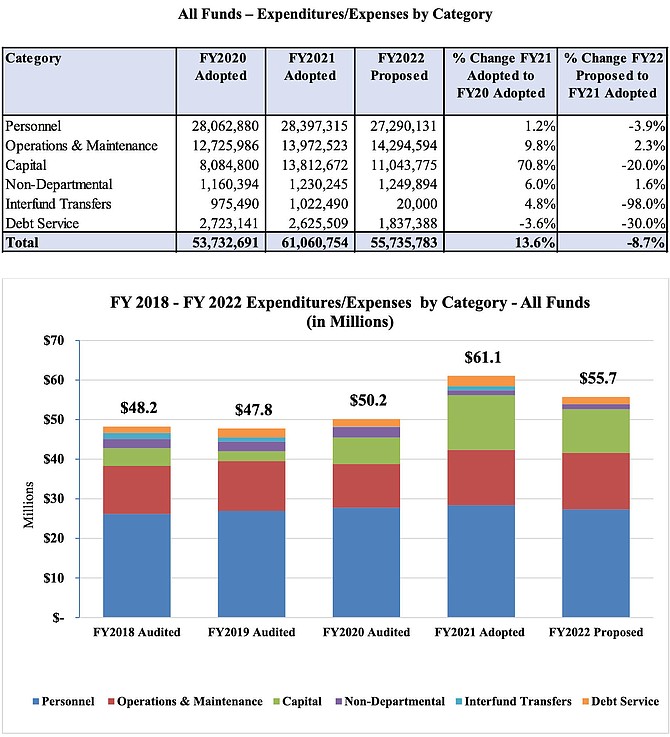 Programs and services are on the line in the Town of Herndon in the Proposed FY 2022 Budget. Town Mayor Sheila Olem and the six Councilmembers want to hear constituents' comments before they vote on the budget.  Now through April 27 is the opportunity for Town citizens to provide input at the two public budget hearings on April 13 and April 27. Citizen comments can cause changes to the proposed budget tthat could result in residents having or not having certain services or programs available to them they believe matter.
"The fiscal year we are now concluding has been, to put it succinctly, a year like no other," Town Manager William H. Ashton II said in an official Town News Release. "Town services and programs were significantly impacted, as were revenues across the board," Ashton said.
The Town Manager's Proposed FY 2022  Budget of $55,735,783 reflects a decrease of  $5,324,971, - 8.7 percent from the FY2021 Adopted Budget of $61,060,754. The decrease will cause some services and programs to be diminished or not available. According to Ashton, the impact of the COVID-19 pandemic is reflected in the austerity under which the Town must operate.
In Ashton's April 1 Transmittal Letter to the Mayor and Councilmembers, he wrote that departments were asked to submit budget requests at  5 percent and 10 percent reduction levels. "It (the proposed budget) focuses on core services – public works, public safety – as well as pandemic-related relief that is in the town's jurisdiction to provide," said Ashton.
If the mayor and councilmembers vote to adopt the proposed budget as written, it includes an average of a 3 percent pay-for-performance increase for town staff and a pay scale advance by 5 percent.
Citizens may register to provide comments to the council in various ways: www.herndon-va.gov/meetings or via Facebook Live at Facebook.com/Herndongov.   Citizens may also submit comments about the budget online at www.herndon-va.gov/budget or send an email to budget@herndon-va.gov.
 Highlights of the proposed FY 2022 Budget include:
• Maintenance of all town taxes at their current levels, with no increases, recommended;
• Selective allocation of federal and state grant-funded resources to capital projects, including construction of bus bays near the Metro stop, storm drainage improvements, and Sugarland Run stream restoration;
• Allocation of resources to fund Town Council priorities, as outlined in their recent discussion of future initiatives; and
• No personnel layoffs and inclusion of an average pay-for-performance increase of three percent, following a year in which no salary increases were issued.
The proposed Capital Improvement Program (CIP) calls for funding of longer-term projects such as alignment of Center Street, Elden, and Monroe Street intersection improvements, vehicular and pedestrian access to Metro, and Van Buren Street improvements.