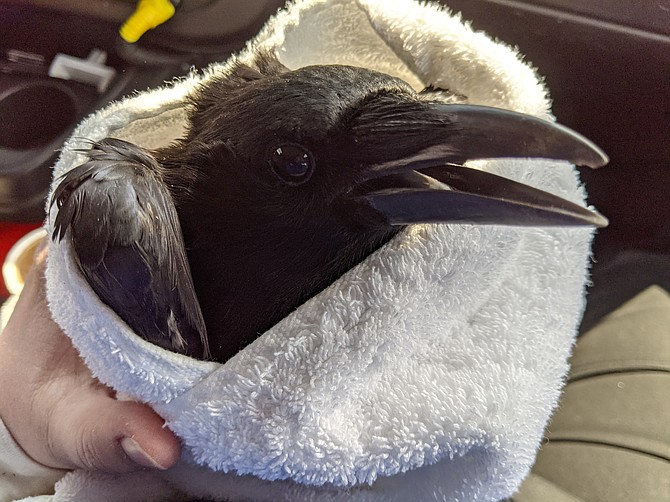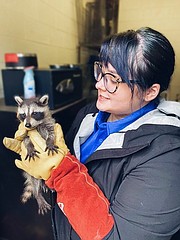 It's the time of year when Alexandria's wildlife comes to life — foraging, making nests and raising their young. That translates into action-packed days for Animal Welfare League of Alexandria's (AWLA) Animal Services Officer and wildlife specialist Megan Lawrence. A recent call concerned a common wildlife issue: squirrels.
"A tree had been cut down In Del Ray, and in the trunk was a squirrel nest containing three babies," Lawrence recalled. First, Lawrence and colleague Sgt. Megan Boyd removed the week-and-a-half-old babies from the log, which was now on the ground. The babies had not yet opened their eyes or developed their fluffy tails, Lawrence recalls. "They just had a thin layer of gray fur — and lots of fleas. We picked them off one by one," she said.
Lawrence and Boyd placed the babies in a modified shoe box cushioned with a synthetic squirrel nest — hand-knit by AWLA volunteers — and nailed the box as high as they could on another tree. "But the babies started screaming, mom came running and then she looked at us." She had already made a new plan: She took the babies out of the nest and transported them to a new one in another tree.
Wildlife, says Lawrence, is very resourceful and adaptable. "We screen them carefully before removing even injured animals to go to rehabilitation because it's best not to handle an animal that has a chance in the wild," she said. Since the officers were able to reconnect the baby squirrels with their mother in this case, the optimal outcome was reached.
Along with squirrels, Alexandria has rich populations of wildlife of many kinds: birds, raccoons, opossums, rabbits, groundhogs, foxes, deer and more. Lawrence has seen them all, starting with 12 years as a wildlife rehabilitator in Maryland, two of them as a licensed master rehabilitator. Lawrence grew up with wildlife, among a family who routinely rehabilitated injured and sick wildlife on their bucolic property in St. Mary's County, Md.

Lawrence, who spent time in nursing school and also has a degree in criminal justice, decided the job as an AWLA Animal Services Officer was a blend of everything she was looking for in an environment that emphasized compassion towards both animals and people. Working with AWLA staff, she learned how to handle domestic animals such as dogs, a pivot from skills honed with raccoons and skunks.
Lawrence said that sick and injured animals initially are evaluated, including consultation with veterinarians and wildlife rehabilitators, to determine what is best for the animals. If appropriate, the animals are then transported to anyone in a network of rehabbers who specialize in various wild species. A recent success story involved baby opossums discovered in the pouch of their deceased mother in a local backyard. Taken to a rehabilitator by the AWLA, they eventually were released back to the wild. "We give it everything we can," she said. "We'll even transfer animals to rehabbers who are hours away if it means they might have a better chance at success."
Lawrence says she works daily to topple people's misconceptions about wildlife. A common one is that raccoons seen wandering during the day must be sick. In reality, she said, raccoons are very opportunistic and sometimes will forage during daytime hours, especially in urban environments when they are more likely to find food during the day. Opossums will do the same.
Some people also get alarmed when they see a baby deer standing alone, believing the animal has been abandoned. More likely, Lawrence says, the mother has hidden the fawn while searching for food. Mother deer also keep some distance from their young so they don't pass their scent to them because that scent can attract predators.
"However, if a baby deer is standing in a yard and crying loudly, that is a big red flag," Lawrence said. "That probably means mom hasn't been around for quite a while and the fawn needs help." Lawrence advises calling the AWLA in that situation, as they are specially trained to observe and determine when assistance is needed.
Some people also think that wildlife aren't so great at parenting, Lawrence said, but in reality, most wildlife excel at it. Baby raccoons remain with their mother until they are quite large, she says, and generally receive excellent care. Foxes are very devoted parents, who co-parent their kits. Spending time rehabbing both a gray fox and a red fox inspired Lawrence's appreciation for the species — and even a tattoo. "Foxes are so smart and playful," Lawrence said. "They are my favorite animal."
More Information
The Animal Welfare League of Alexandria is a local 501(c)(3) organization that operates the Vola Lawson Animal Shelter, Alexandria's only open-access animal shelter. In response to the global pandemic, the AWLA has established a virtual adoption process and is operating a Pet Pantry that provides pet food and supplies to community members in need. The AWLA also offers assistance to Alexandrians with questions about wildlife and animals in the community. More information can be found at https://alexandriaanimals.org/.
Help With Wildlife
Wildlife are resilient and generally thrive without assistance from people, but if you see an animal who appears to be sick, injured or in danger, don't hesitate to contact the AWLA's Animal Services team using the Police Non-Emergency line at 703-746-4444.