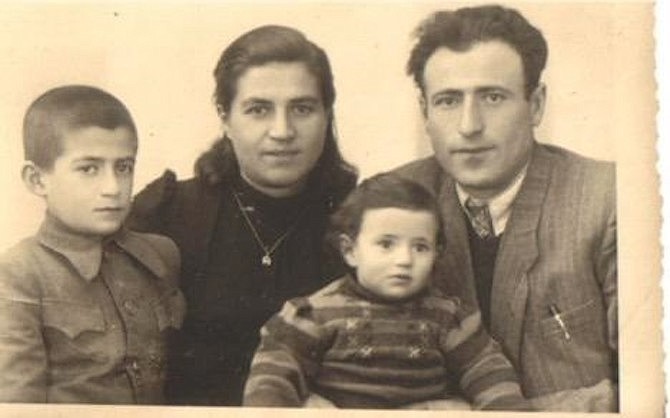 Sam Ponczak was just shy of two years old when Nazi Germany invaded Poland on Sept. 1, 1939. At the time, Ponczak was living with his parents in Warsaw in an area that would become known as the Warsaw Ghetto, a section of the city walled off by Germans in 1940 for the forced placement of Jews.
Four years later, on April 19, 1943, it was the site of the Warsaw Ghetto Uprising, the largest single revolt by Jews during World War II. By then, Ponczak's father Jacob had fled to Soviet-occupied Poland in search of safety for his family, leaving his wife and son behind.
"I had no idea what was going on at the time," Ponczak recalled from his home in Arlington. "We lived with my mother's brother and his family – eight people in a small place – in the Jewish ghetto. When the war broke out my father wisely expected that when the Germans arrived, it would not be fun."
Ponczak's mother, Sara, was reluctant to leave her own parents and siblings. But in November of 1940, she and Ponczak fled the Ghetto with the aid of a priest, who saw the two at the train station and shielded them from authorities.
"My mother was carrying me and wearing the Star of David on her armband," Ponczak said. "The priest told her to take the band off and get behind him. When asked, the priest said that we were from his parish. Did we know him? No. Did we pay him? No. But this is the man that saved my life."
Part of the escape necessitated walking across the frozen Bug River alone at night. Ponczak's mother kept falling on the ice while holding him in her arms, which Ponczak found amusing. Fearing that his laughter would get them caught, she gave him family photographs to play with.
"Sadly, I do not have any photos of my family from before the war," Ponczak said with regret. "Mother gave them to me to keep me from laughing. I was a kid and thought it was a game and tore them up."
Once inside Soviet-occupied territory, Soviet border guards arrested Ponczak and his mother. They were reunited with Ponczak's father and deported to Kotlas, a labor camp in Siberia.
"Kotlas was not like the German labor camps, but you could not escape from there," Ponczak recalled. "My father worked as a lumberjack and we lived in a Mongolian yurt – my family and a native woman who was assigned to stay with us. My father got rations so we could eat and my mother and I could walk around the camp. But the labor was hard and it was a grim existence."
Eventually the family was moved to Syktyvkar, the capital of the Komi Autonomous Republic in northern Russia. While there, Ponczak's father and mother, an expert tailor and seamstress, were assigned to make military clothing. In 1944, they were sent to the town of Kherson in Ukraine, where Ponczak's sister Gisele was born in 1945 and where the family remained until the end of the war.
Ponczak and his family returned to Poland in 1946. With Warsaw destroyed, they settled first in Reichenbach (now Dzierżoniów) then Wroclaw, where Ponczak finished high school. But antisemitism persisted so the family left Poland for France in 1957.
In 1959, they immigrated to Argentina and in 1964 to the United States. They settled in Baltimore, where the owners of Hamburger's Department Store offered Ponczak's father work tailoring clothing.
"In Argentina I realized that my best opportunities would be in the United States," Ponczak said. "My father had employment and I came on a student visa."
Ponczak, who obtained an engineering degree from the University of Maryland, met Frieda Greenblatt during his freshman year. The two married in 1965 and together raised three children.
"Dad didn't talk much about the Holocaust when we were younger," said Ponczak's daughter Raquel Hecker. "We learned more after he retired and began volunteering at the Holocaust Museum about 13 years ago. That's when he started opening up."
Now 83 years old, Ponczak is still sometimes reluctant to share his experiences, which included the loss of his uncle and family left behind in Poland.
"I believe survivors haven't talked about the Holocaust because they suffered so much," Ponczak said. "I was accused that I was not a Holocaust survivor by another survivor because he survived a concentration camp and I did not. And I understand that. I was in occupied Warsaw but I feel that the real Holocaust survivors were my parents, who did not have a lot of choices but still did everything they could to survive. They are my heroes."