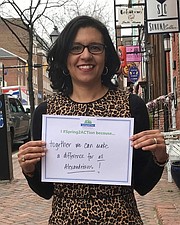 Spring2Action, Alexandria's annual online day of giving, officially begins April 28 and will run for 24 hours to raise funds for nonprofits across the city.
Hosted by ACT for Alexandria and co-sponsored by the City of Alexandria, Spring2Action was launched 11 years ago to connect donors with more than 130 local nonprofits and charitable causes to help meet the critical needs of those who are most vulnerable.
"This year, on April 28, Spring2ACTion will continue to be a celebration of what can be achieved through the power of collective action," said ACT president and CEO Heather Peeler in promoting this year's community wide event. "We appreciate all the local businesses, donors, nonprofits and everyone who champions Spring2ACTion. Acting together for the greater good is at the heart of Alexandria."
Last year's event raised $2.45 million for 160 different nonprofit organizations with nearly $13 million raised since the event was first launched in 2011. Donations made through Spring2ACTion's day of giving help participating nonprofits provide services such as food, shelter, animal rescue, tutoring, support for the arts, and more.
Susan Gerock has been a longtime donor and contributor of matching grants during the Spring2Action event.
"I love the idea of giving the nonprofit a goal to shoot for, to give their donors something to shoot for," said Gerock, vice president and Chief Information Officer of WashREIT. "The friendly competition and the opportunity to engage donors helps nonprofits stretch in ways that benefit their organizations and the people they serve."
Early giving opened on April 14 and continues through April 27. Various prizes will be awarded to participating nonprofits throughout the event, including those with the most early giving donors, most funds raised and the most donors during select "power hours."
"As COVID-19 continues to disrupt our daily lives, it continues to wreak havoc on the economy and the health of friends and neighbors," Peeler said in her online blog. "Communities of color and those on the financial edge pre-pandemic shoulder disproportionate hardship. The programs and services provided by Alexandria's nonprofits are needed now more than ever."
Added Gerock: "It's a great experience feeling like you're having a positive impact in the community."
To learn more about the participating organizations or to donate, visit https://www.spring2action.org/.