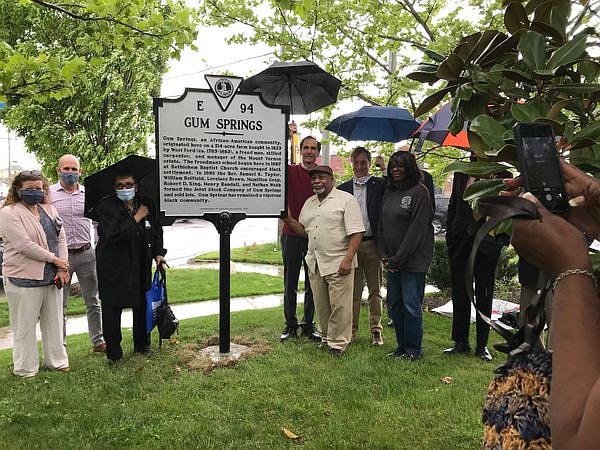 Gum Springs is the oldest African American community in Fairfax County, and the historical information was posted on two different historical marker signs posted there until cars came flying off Richmond Highway and took out both signs, years apart.
On April 21, local officials and Gum Springs residents unveiled another historic sign at the intersection of Fordson Road and Richmond Highway that once again marks this historical community as a part of Mount Vernon's history.
The new sign is on a hill, above the roadway and hopefully out of danger. "It would take a Lamborghini going 100 miles per hour to knock that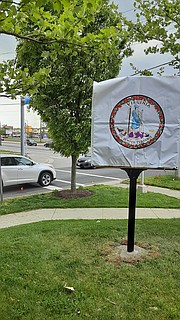 down," joked Del. Paul Krizek (D-44th) who was among the local officials at the dedication.
Krizek reached out to Capital One earlier about replacing the sign, and got a donation to cover the costs. Jonathan Griffith, the Managing Director at the Capital One Center said a contribution like the sign falls in line with their corporate values of diversity, inclusion and belonging.
"It made natural sense to help out," said Griffith.
The crowd at the roadside dedication included Queenie Cox, president of the Gum Springs civic association; Ron Chase, Founding Director, Gum Springs Museum; Reverend Charles Hall, Pastor, St. John Baptist Church; Jeff McKay, Chairman of the Fairfax County Board of Supervisors; Dan Storck, Mount Vernon District Supervisor; Jonathan Griffith, Managing Director, Capital One Center; and Rodney Lusk, Lee District Supervisor; as well as several Gum Springs residents.
Chairman McKay grew up in the Richmond Highway corridor as well. "This is home to me, and I know the rich tradition of Gum Springs," McKay said.
The sign unveiling came a day after Derek Chauvin, a former police officer, was found guilty in the murder of George Floyd. This case has been at the center of attention for the whole world for nearly the past year, and the Gum Springs sign was loosely tied to it because it is part of the issue that has become a national focus.
Last year, there was a video of Fairfax County police tasing incident in the parking lot in Gum Springs, so the community has had questionable police enforcement measures in mind. This was mentioned by more than one speaker.
"Yesterday was a turning point in justice," McKay said.
Krizek called it an "auspicious day."
Supervisor Dan Storck said the sign was part of remembering history, to "create a new future for all of us," he said. "Gum Springs isn't just a physical presence, it's a state of mind," he said.
Pre-Civil War
Gum Springs started on a 233-acre farm bought in 1833 by West Ford. A freedman's school opened on the site in 1867. (Desegregation of Virginia schools was still ongoing in the 1970s.)
The Woodlawn United Methodist church and school was started in Gum Springs in 1866, and many of the names of the early families can be seen around the Hybla Valley-Gum Springs area as streets that criss-cross the land. This includes Quander Road, after the Quander family, and "about 500 are descendants of Wes Ward," Krizek said.
Of the over 2,000 historical markers along the Virginia roadsides, there are only a small portion dedicated to African Americans, Krizek noted, but that is changing.
"Five more are going up around the Commonwealth," he said.
More like this story