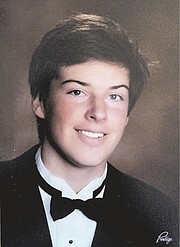 Tommy Lacey was a towering figure. At 6 feet 5 inches tall, he was a gentle giant with a passion for sports and hanging out with friends at Al's Steakhouse in Del Ray. A standout lacrosse player, the 2021 graduate of T.C. Williams High School was preparing to attend James Madison University in the fall when he died unexpectedly on Aug. 4. He was 18 years old.
Thomas Edward Lacey Jr. was born Oct. 1, 2002, to Nancy Lacey and Thomas Lacey Sr. He was raised in Alexandria along with younger brothers Jack and Will and sister Molly.
Tommy attended both public and private schools, including Trinity MOPS Preschool, Maury Elementary, Basilica School of Saint Mary, Bishop Ireton High School and T.C. Williams High School. He was known for his athletic prowess and love of sports, playing football as an ankle biter through his freshman year of high school. He especially excelled at lacrosse, playing for eight years at Alexandria Lacrosse Club, Bishop Ireton and T.C. Williams.
Summers were spent with family in Georgia along with an annual two-week stay at Camp Laney in Mentone, Ala., where Tommy forged many lifelong friendships. He was known for his toothy grin, easy going sense of humor, and his fierce devotion to his family and friends. As the oldest cousin on the Lacey side of the family, Tommy was the pied piper of spirited high jinks on family vacations.
Tommy, who died with his parents by his side, was predeceased by his grandfathers, Cdr. Archibald S. Thompson, U.S. Navy, and Robert A. Lacey, and his cousin, Albert H. Gruneisen, IV.
In addition to his parents and siblings, Tommy is survived by grandmothers Patryce Thompson and Eleanor Lacey, aunts Katherine, Margaret, Anne, Elizabeth, Ellen (James), and Natalie, his Uncle Robert and nine first cousins.
A funeral Mass will be held Thursday, Aug. 12, at 10 a.m. at the Basilica of Saint Mary, 310 South Royal St. Donations may be made in Tommy's memory to the WENDT Center for Loss & Healing, P.O. Box 45924, Baltimore, Md., 21297 or www.wendtcenter.org