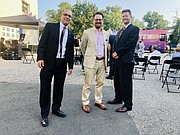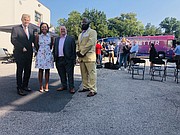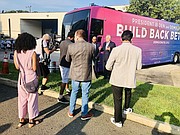 The Build Back Better Bus caused quite a stir last week at Port City Brewing, and not just because of the alliteration.
"I was going to do a speech just with all Bs," joked U.S. Rep. Don Beyer (D-8). "Banner, beautiful, bedrock, believable, beneficial, bodacious, brave, bountiful, brilliant, badass. And then I thought this is actually not a morning for alliteration."
It was a morning aimed at shaping the narrative for the coming fall election season. Democratic National Committee Chairman said Democrats would be focused on health care, job creation, infrastructure, child tax credits and tax cuts for families.
But the event in the Port City parking lot also ended up being about dodging a question about a key labor issue — overturning Virginia's controversial right-to-work law, which prevents employers from compelling employees to pay union dues.
Supporters of McAuliffe say the discussion about repealing the right-to-work law is a moot point because the current General Assembly wouldn't put the bill on his desk. But the state Senate is up for grabs in 2023, and a future Senate that has more progressive members could deliver a bill repealing the law on his desk in year three or four of his term, if he's elected.
So does the former governor think it's a waste of time to talk about what he might do if that bill lands on your desk?
"I've said all along I'm going to focus on the things that I can actually get done," responded McAuliffe. "Right to work cannot get out of the Senate. It can't get out of committee. It actually got out of the House and was defeated 85 to 13. So what I'm going to spend my time focused on are things I can get done."
McAuliffe said his labor agenda is raising the minimum wage and guaranteeing paid sick days as well as family and medical leave.
But the non-answer on right-to-work doesn't sit well with labor supporters who believe the existing law allows non-union members to freeload off the benefits of a union without having to pay union dues.
The non-answer also doesn't sit well with supporters of Republican candidate Glenn Youngkin. They point that McAuliffe said in a previous setting that he would sign a bill repealing the right-to-work if lawmakers put it on his desk.
"McAuliffe is getting to the point where he knows he's got to get some centrists or some swing voters to win the governor's race," said former Alexandria City Councilman Frank Fannon, a Republican. "Right now I think a lot of the centrists are going to go toward Youngkin, and what McAuliffe is trying to do is get some center."