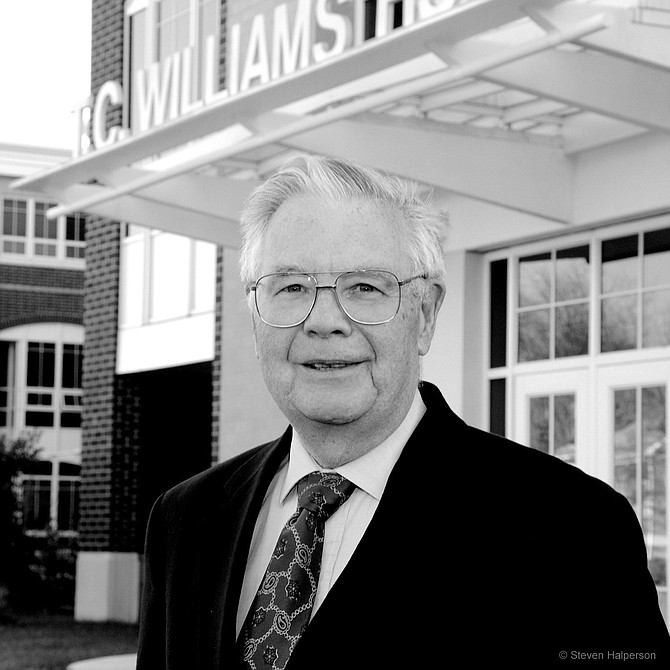 For decades, Connie Ring was a stalwart of public service. He served three terms on Alexandria City Council and as a member and chair of the Alexandria School Committee, was instrumental in the integration of Alexandria City Schools. On Aug. 19, the longtime community leader died at his home at Goodwin House Alexandria. He was 90 years old.
"Connie Ring was my mentor," said former vice mayor Bill Cleveland. "Along with Bob Calhoun, Connie brought me into the Republican circle. He taught me about conservative issues, but more importantly, he taught me about neighborhood issues and that's what Alexandria is all about."
Carlyle Conwell Ring Jr. was born May 25, 1931, in Camden, N.Y., the third of six children born to Carlyle Conwell Ring Sr. and Mary Lois Tooley Ring. He graduated from Jamestown High School, where his father served as headmaster. In 1951, he graduated summa cum laude with a degree in history from Hamilton College.
Ring began his law studies at Columbia Law School but transferred to Duke University School of Law to follow his heart and future wife, Jane Norwood Lee, who he met while working a summer job in Chautauqua, N.Y. He graduated from Duke in 1956.
Ring and his wife were married in secret in 1954 with a public wedding taking place in 1955. In 1956, the couple moved to Alexandria and together raised four children.
While practicing law, Ring pursued public service. He chaired the Alexandria City Republican Committee from 1961 to 1968 and from 1969 to 1978 served as an appointed member of the Alexandria School Committee as the school system was integrating its public schools. He served as chair from 1976 to 1978. He was a member of the Alexandria Redevelopment and Housing Authority for 11 years.
"Connie knew this city inside and out," Cleveland said. "He taught me about building coalitions and knew how to touch people, especially those in the African American community."
Ring was appointed by Governor Linwood Holton to serve on the Uniform Law Commission, chairing the committee that drafted the Uniform Computer Information Transactions Act of 2000, which was the only law governing valid contracts over the Internet. He was also a major author of the Uniform Commercial Code, Article 4A, which refers to remittances, and was adopted by all 50 states.
In 2011, Ring was named a Living Legend of Alexandria. He was also honored by Duke University, which selected him as the first recipient of the Charles S. Murphy Award for Achievement in Civic Service.
Ring is survived by his wife Jane, his four children and their spouses: Donna Lee and Eric Moss of Towson, Md.; Mary Elizabth "Libby" and Steve Lord of Stuart, Fla.; Russell "Rusty" Conwell and Lori Ring of Alexandria; John Roderick "Roddy" and Lisa Ring of Alexandria; 10 grandchildren and a great grandson.
A memorial service is scheduled for Aug. 27 at 11 a.m. at Westminster Presbyterian Church. In lieu of flowers, donations may be made to Westminster Presbyterian Church, 2701 Cameron Mills Road, Alexandria, VA 22302; The Alexandria Symphony Orchestra, 700 N. Fairfax Street, Suite 501, Alexandria, VA 22314; or The TWIG, PO Box 26324, Alexandria, VA 22313.
"Connie Ring was a man that felt real compassion for this city and all its people," Cleveland said. "He poured himself into me and I will never, ever forget him."