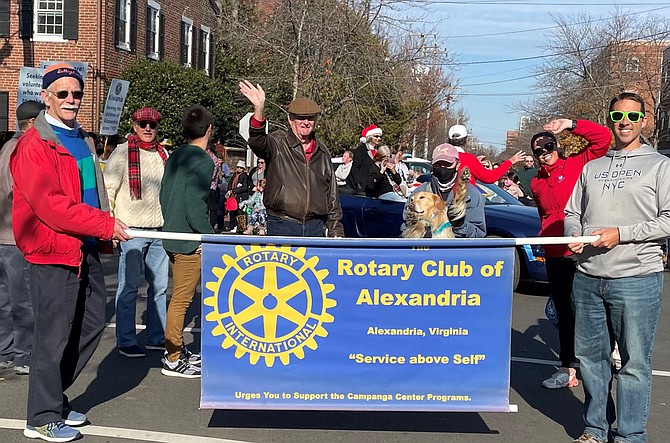 The sound of bagpipes returned to the streets of Old Town as the annual Scottish Walk Parade returned to celebrate its 50
th
 anniversary Dec. 4 following last year's pandemic-induced hiatus.
The parade and related Scottish Walk Weekend events benefit the Campagna Center, which has been serving children and families in the city for 75 years.
"We are so delighted to see so much of Alexandria out this morning to celebrate the 50th year of the Scottish Walk Weekend," said Campagna Center President and CEO Tammy Mann.
Pipes and drums from the East coast joined Scottish clans, reenactment groups, Scottie dogs and classic cars. U.S. Sen. Mark Warner served as Grand Marshal and walked in the parade alongside Jeanne Warner, widow of former U.S. Sen. John Warner.
"This parade has always been a highlight of the wintertime and I certainly missed it when it was gone," said Tish Dalton as she viewed the parade along King Street. "It's great that everybody is back out today."
Serving as the unofficial start of the holiday season, the Scottish Walk Weekend celebrates the Scottish heritage of Old Town Alexandria while benefiting Campagna Center programs that serve more than 2,000 children and families daily across the city.
Said Campagna Center board chair Janice Abraham, "We're excited and thrilled to be part of the city and this glorious  start of this season."
"This parade has always been a highlight of the wintertime and I certainly missed it when it was gone."
— Parade watcher Tish Dalton