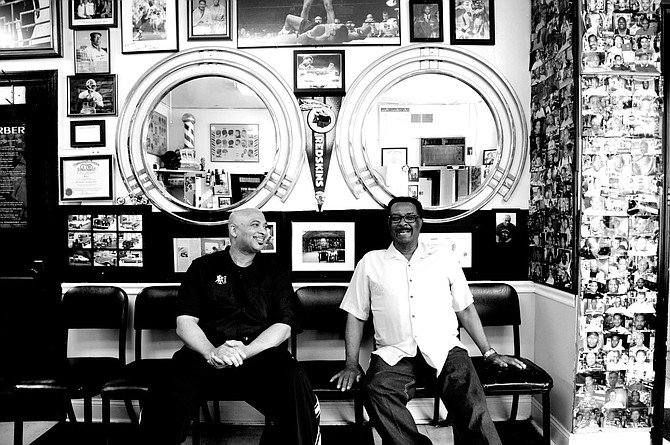 It was business as usual in Moore's Barber shop two days before Thanksgiving. Brian Carcuff sat down in the leather barber chair; he wanted to get a trim before the holiday. He and Jim Moore were talking football, guessing who was going to win the game. It was week 11 in the NFL and there were discussions of who was making what kind of money. They laughed and shook their heads at the idea of one player being offered over $100 million.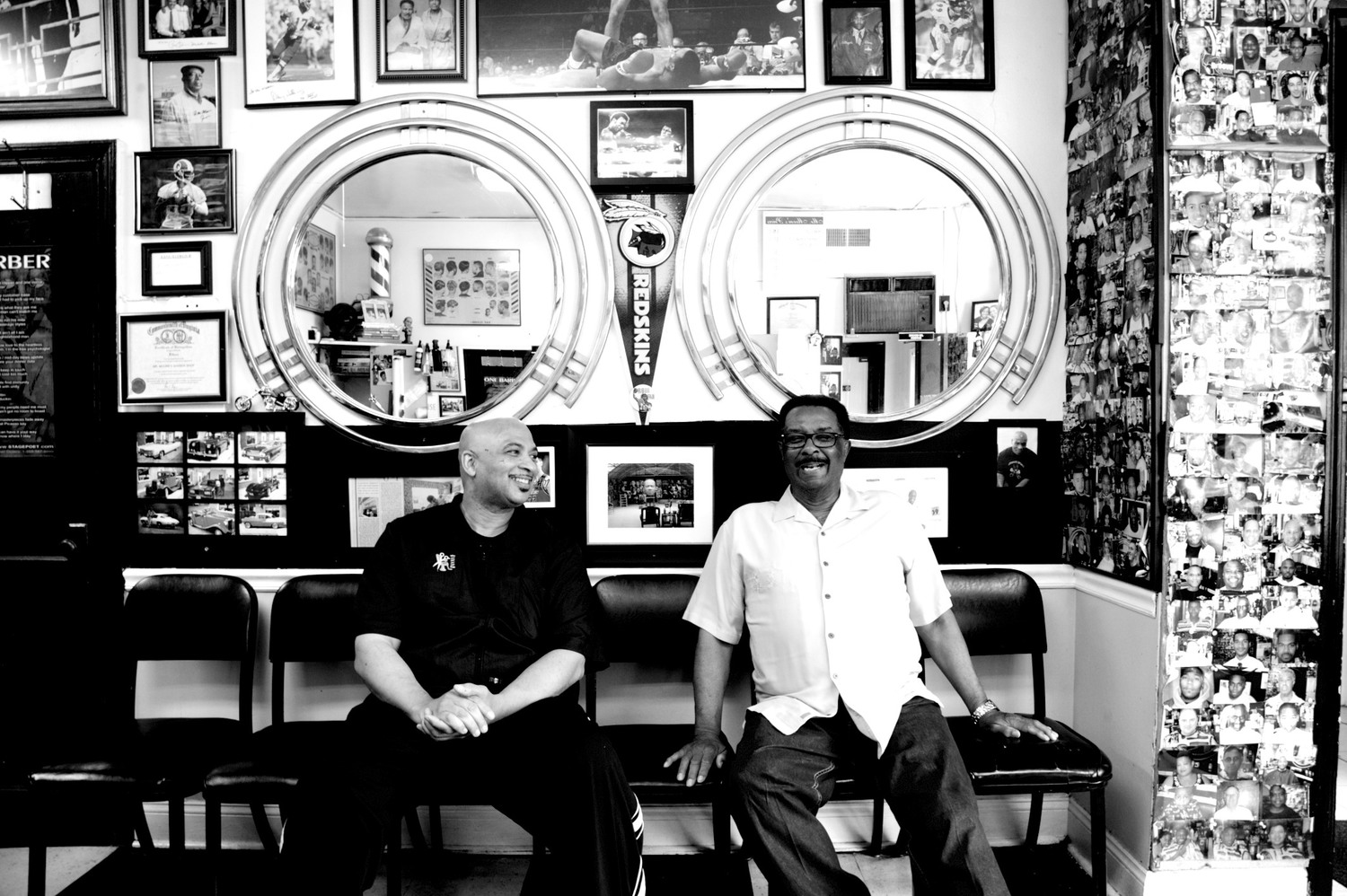 But it wasn't business as usual. Jim Moore had lost his father the week before. James Moore Senior died on Nov. 7 at the age of 88. "Sure I remember Mr. Moore," said Carcuff. "My mother brought me to the shop when I was 11 years old and I've been coming in ever since. What I can tell you about James Moore Sr. is that he was … regal. He had a presence about him. There weren't many black owned businesses in those days. Moore had his own business and that gave him a certain standing. There was something about him that made him special." 
"My first memory of coming in the shop to be with my father," said Jim Moore of Moore Senior, "was at age 7, when I started helping out there, sweeping up. I remember this one day when his partner, Rudolf Becton, challenged me to do fifty push-ups. He got down on the floor and did his fifty, and he was an older man. Whenever I saw him, he reminded me to stay fit." Becton was important in James Moore Senior's life, because he made it possible for them to set up shop in the African-American neighborhood of Hall's Hill back in 1960, when it was segregated from the rest of Arlington. Moore and Becton had gone to barber college together in North Carolina. When they graduated, someone said there were a lot of opportunities in Arlington, in Northern Virginia. There weren't any Black barbers there to cut African Americans' hair because Black barbers could make more money cutting white people's hair in the District. But if you had cut black hair then you couldn't use those scissors or clippers on a white person. So there was no one to cut Black hair in Arlington. Becton said to Moore, "Let's go!"  
Mr. Moore opened his first barber shop where the current Kentucky Fried Chicken building is on what was then Lee Highway and later relocated to 4807 Lee Highway in 1960. The shop was a favorite gathering place for residents of Hall's Hill. It wasn't just the haircuts they came for. Visitors could engage in lively conversations about politics, sports and community affairs. In the 1960s, Mr. Moore was the only barber in the county who served both white and Black customers. 
James Moore Sr. was born in Turkey, North Carolina, in 1933. He served in the U.S. Army as an MP during the Korean War. After getting out in 1955, he went to barber college. In addition to his barber profession, Moore was a volunteer fireman at Arlington Fire Station Eight, founded by African-American residents of Hall's Hill to fight fires in their neighborhood.  
Moore Jr. said his father was a role model for many young men. "They've come into the shop since he died and told stories of his advice to them or helping out in some way. He was a role model for me too, but I was interested in being my own person, I didn't realize how close we were until later. "
Jim Moore riffed on his father: "He believed in the importance of personal relationships and good customer service. To this day, Moore's Barbershop has maintained this reputation and is known as a place for a great haircut but also lively conversation and a friendly atmosphere." Moore continues to run Moore's Barbershop in his father's honor. When Moore began working in the barbershop, Moore Senior instilled his own values in his son. He taught him to never charge an unemployed person for a haircut, to go to the home of someone who is sick and cut their hair for free, and to always value personal relationships. He looked out for his community and cared for everyone that entered his barbershop. 
That caring is evident as the facebook posts about Mr. Moore Senior continue to flow in. One former customer from way back said, "I remember he gave me a part in my head and I was walked back up and had all my hair cut off." Parents wanted the hair cut very short so they could economize on trips to the barber.  
And Moore was ahead of his time in terms of offering books to young clients. One tribute to Moore said: "Mr. Moore was a generous man who believed in giving back to his community. For many years, right before school opened, he would provide free haircuts to teenagers in the community. He always contributed to programs for youth and the elderly and was often engaged in efforts to improve the community. For years, children who entered the shop could pick out a book to take home — many of the books at the shop featured black characters, which was a special treat to many children who had never read books with characters who looked like them. Along with their books, children could bring home a Dum Dum lollipop. When President Obama was elected for his first term, Mr. Moore provided the Langston Senior Center with a life size cut-out of President Obama so that the seniors could have their pictures taken with the President."
Over the years, Mr. Moore counted as his clients many high-profile individuals, including Coach John Thompson, Journalist Eugene Robinson, NIH Physician Dr. Roland Owens, and Brigadier General, US Marine Corps, Ahmed T. Williamson. The walls of his shop are filled with pictures of clients and pictures that mark landmarks moments in the history of the DC region.
What was James Moore Senior's legacy to his son? 
"Everything I am," said Moore, "but more than that, before he passed away, my dad said to me, 'The secret to life is relationships.' ('Yeah, I know that,' I said.)" But Moore senior had a point to make. "'No, I mean, sure, you got the relationship with God, your mom and dad, your wife and kids, and neighbors. But what I'm talking about is your relationship with anyone you meet … even for thirty seconds. It could be a homeless man, a waiter, a nurse, a cashier.  How you interact with them, how open you are to them, is what I mean. Because everyone has something to give to you and receive from you. And that is the secret to life."  
No wonder Mr. Moore's memory will endure in Arlington.