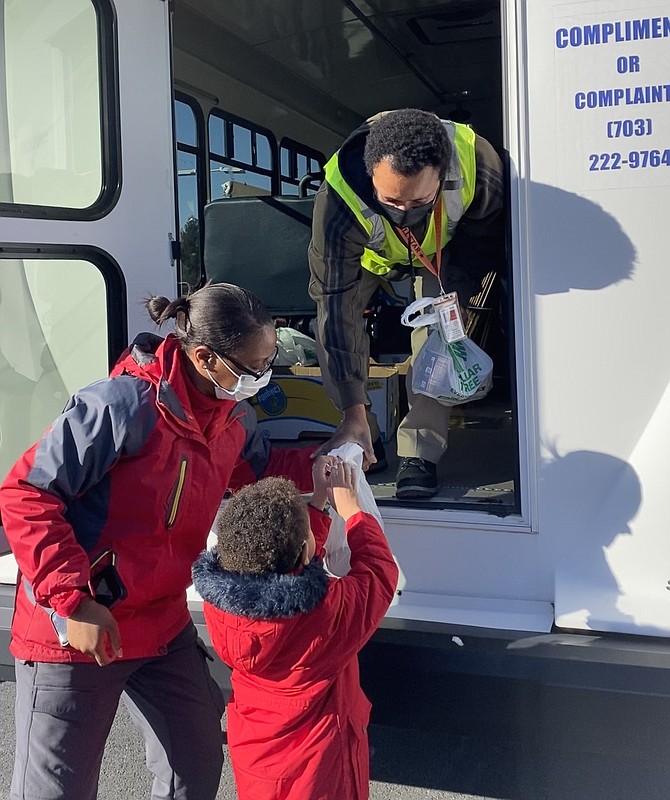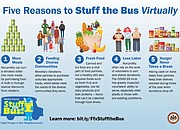 "The Wheels on the Bus" is a classic children's song that tells the story of a little bus going "All 'round the town." On Saturday, Jan. 30, Fairfax County's little Fastran buses traveled all 'round the county, to 21 locations, in a fight against hunger. For its tenth year, Stuff the Bus was at it again to meet the critical need to help restock local food pantry shelves after the holidays.
The demand for food has never been greater than this year due to the economic disruption caused by the pandemic. Little Fastran buses parked at 21 locations from 10 a.m. to 3 p.m. outside county facilities, including many Board of Supervisors' offices and the Pennino building in Fairfax to allow donors to comply with social distancing recommendations and collect food donations outside. The buses would return for second runs on Saturday, Feb. 6.
Cars arrived at the Hunter Mill District Supervisor's Office of Walter Alcorn (D), 1801 Cameron Glen Drive, Reston, shortly after 10 a.m. Residents of the district had been generous with prior Stuff the Bus donations during the pandemic. Collections at this site would benefit nonprofits Western Fairfax Christian Ministries and Cornerstones who, according to Supervisor Alcorn, "work tirelessly to support families dealing with food insecurity."
"Every jar of peanut butter or can of beans helps, and I am grateful for all supporting Stuff the Bus," Supervisor Alcorn said.
Esther Fausett of Reston and her son, Solomon, 5, were the first to place their items on the bus. "For my birthday, I asked my children to volunteer," said Esther.
According to the County website, for those who cannot donate in person, monetary donations can be made by visiting the partner nonprofits' websites or by visiting Volunteer Fairfax's Stuff the Bus Donation Page. Nonprofits can turn donated dollars into more meals with a monetary donation by purchasing food in bulk or through special discounts. Monetary donations also allow pantries to purchase culturally appropriate foods, fresh fruit and vegetables, low-fat dairy products, and lean proteins, which can't be collected through food drives.