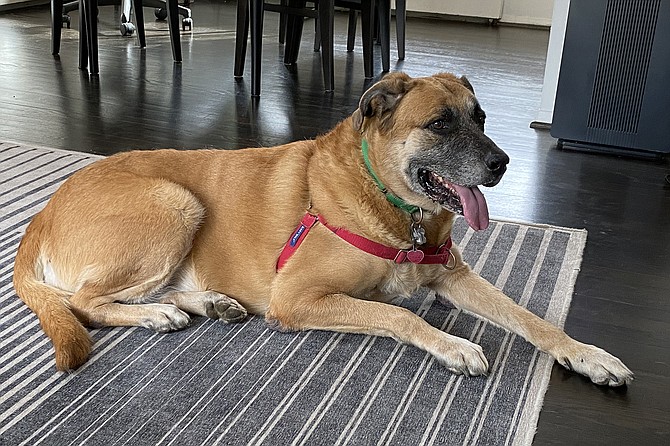 Have you ever heard of a situation where the family dog conveyed with a home sale? Yeah. Me either. But that's exactly what Sage's owners did when they sold their house in Philadelphia and left their four-legged family member behind for the surprised new homeowners to find.
When they dropped Sage at a local shelter, she was terribly overweight, sad and completely freaked out. It's impossible to know what her life was like in that house, but based on the little we know, it's probably a fair guess that it was not awesome.
And that being the case, Sage couldn't possibly have anticipated the joy and love that would greet her in Virginia.
Rescued by Arlington-based Lost Dog and Cat Rescue Foundation (LDCRF), she was placed in a temporary foster home and quickly settled in with the mom, two teenagers and three four-legged foster siblings. That's where Sage was when I first told her story in hopes of helping to identify an adoptive family for her. There was a fair amount of interest from Arlington Connection readers and the LDCRF promotion efforts, but sadly, no perfect match.
Sage was ok with that though. She loved her foster family. And the feeling was mutual. Unfortunately, when foster mom Claudia Salem needed to provide additional care for her mother, Salem knew she couldn't continue to give Sage the time and attention the canine needed. Heartbroken, Salem was determined to transition Sage to a great new foster family.
Enter foster family number two. They had fostered several dogs before Sage and were looking forward to fostering again. They heard about the abandonment and knew that Sage was "a big lady working on getting in shape." And that was apparently all they needed to know. They knew the foster pet parent drill; provide a safe and loving home until the perfect adoptive family was identified.
Losing the Salems was very hard on Sage. "[It was] seeing how much Sage missed her old family during her first few days here made us want to make sure she never went through a tough transition like that ever again," her new pet mom said, explaining why she and her husband decided to go from fosters to pet-parents. And that decision has been a great one, "We're so happy to have her in the family."
"When I saw the email, 'Adopting Sage' flash on my cell," says Salem, happily remembering that moment, "It was such wonderful news that I still get emotional when I think of it." Salem couldn't be more delighted that Sage has finally found her perfect family. "It wasn't the way anybody planned it or expected it. It just happened."
And that's truly the best.
If you are interested in adding a cat, dog or small animal pet to your household, here are a few local rescue organizations who might be able to help you find your perfect match:
Animal Welfare League of Alexandria
Animal Welfare League of Arlington
Lost Dog and Cat Rescue Foundation
ArPets is a weekly feature for highlighting the well-loved pets of Arlington as well as animals who are available for adoption. If you or your dog, cat, iguana, bunny, rat or any other pet, has an interesting pet story to tell, send email to: joan@joanbradyphotography.com.
Joan is an award-winning Connection Newspapers columnist and local photographer specializing in pets, children and families and contemporary business portraits.