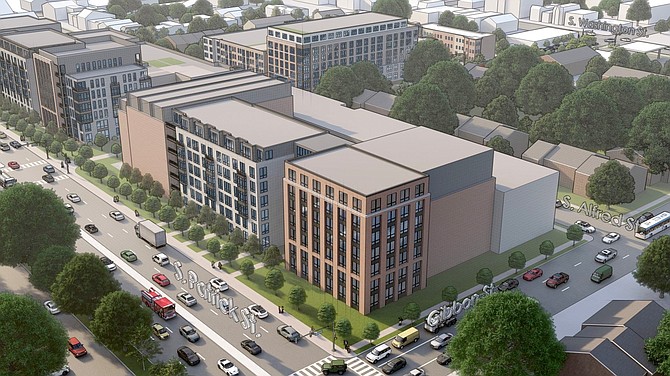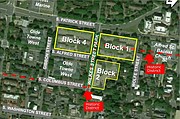 By unanimous 7-0 vote, the Planning Commission approved The Heritage of Old Town project, a 750-unit development in the Southwest quadrant of the Historic District of Old Town.
The final vote came after 1 a.m. Feb 3 following more than four hours of discussion and 42 public speakers addressing the docket item in the virtual meeting.
"The overall extent of input we received is even broader than just the speakers here tonight," said Commissioner Stephen Koenig. "But the proposal in front of us is fundamentally congruent with both the primary intentions and the vision of the [South Patrick Street Affordable Housing Strategy] and the market rate component is what is necessary to achieve the affordability."
The majority of speakers voiced opposition to the plan's height and scale, which increases the existing 244 two- and three-story units to 750 units in buildings up to seven stories high. The project extends west from S. Columbus Street to S. Patrick Street and south from Wolfe Street to Gibbon Street.
New York-based developer Asland Capital Partners acquired the 136,800 square foot campus, originally built in 1978, in November of 2019.
The proposed design drew criticism last September from the Board of Architectural Review, which was a recurring comment among those opposing the project.
"This proposal is an alarming departure of the principles of limited size and scale that has guided development since the creation of this historic district 75 years ago," said Gail Rothrock of the Historic Alexandria Foundation. "No one opposes affordable housing in the neighborhood – all of us agree that more affordable housing is very much needed and can be increased here, but not to violate the character of the neighborhood of the historic district."
The existing buildings consist of 140 affordable housing units and 104 market rate units. The new development will increase to 195 the number of affordable housing units while market rate units will increase to 555.
"There are some that say the city got a raw deal, that they are only getting 55 affordable housing units," said Asland CEO and founding partner James Simmons. "What the city is getting is nearly 200 units – the 140 that exist plus the additional units that are being created. That value is north of $100 million. While this may be a dent in what the city needs, those units would otherwise disappear."
The Commission voted to recommend that City Council approve the rezoning of the area as well as the Special Use Permits relating to bonus density and height modifications.
"Let's call these concessions what they are – bribes," said resident Julie Lineberry in opposition to the project. "We don't need to have guns put to our heads to meet our goals of affordable housing."
The plan goes before City Council on Feb. 20.