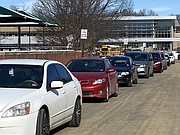 "It was quite a day," said Roberta Gosling of Reston, co-founder of South Lakes High School PTSA  Food Pantry. Last week, Gosling welcomed Friends of Reston Regional Library and E4E Essentials for Education to a drive-through in front of South Lakes High School. There, those with heightened needs could get items in just "one stop."
Gosling and Andy Sigle of Reston, part of the leadership team that launched the pantry in 2017 for students eligible to receive free or reduced-price lunches, stood ready. Sigle said, "The only thing we ask (now) is that they (food pantry recipients) are part of the South Lakes High School Pyramid… (People) having to pivot because of job changes or whatever, who need a stop-gap, have said that this comes in real handy…Last week, we did nearly 150 bags."
A large group of volunteers from the Friends of Reston Regional Library (FRRL) stood near the food distribution, ready to continue their Book Bites project distribution. Eileen Evon, Community Outreach Chair for FRRL, organized the voluntes with military precision to set up the tables and load them with bags of new books bundled by grade level. "None on the ground," Evon called out.
Inspired by other organizations across the country that had provided books in conjunction with school meal programs, volunteers for the FRRL Book Bites project were in the midst of their distribution of nearly $15,000 worth of new books to children at four Reston public schools. Volunteers fanned out and asked drivers the ages of children in their families, called them out, and other volunteers passed the appropriate bags forward, which the volunteers handed through car windows.
"We handed out 350 books @southlakeshs today," tweeted Reston Library Friends @lovebooksReston.
Alisa Harriot of Reston is one of the founders of E4E Essentials for Education. E4E is a supported and fiscally sponsored CORE Cause through the CORE Foundation, a non-profit organization.
Harriot stood beside a MI-BOX mobile self-storage container dropped off at the far end of the South Lakes High School parking lot. Beside it, Harriot had lined up surplus desks and chairs donated by Fairfax County Public Schools and headsets funded by donations. "As of today, we've donated 806 desks in Herndon and Reston," Harriot said. She added that they had given away more than 200 headsets and earbuds.
E4E volunteers also drive desks to people's homes. "They can't put them on the bus, and not everybody has transportation," Harriot said. "The next thing we are going to be doing are masks for back to school because everybody will need five masks and washing bags."
Representatives of the three groups acknowledged the support of their many sponsors and partners who helped them be the power to make a difference for their neighbors, among them, Good Shepherd Lutheran Church and Trader Joe's in Reston - SLHS PTSA Food Pantry, Scrawl Books and Jersey Mike's of Reston - FRRL Book Bites project and MI-BOX of Northern Virginia and Fairfax County Public Schools- E4E Essentials for Education.
Contact each group or organization's website regarding monetary, in-kind, and physical donations.